In a previous blog, we discussed the importance of minerals in the equine diet. Although present in very small quantities, minerals are essential to your horse, playing a role in everything from physiological functions to structural components of the body. Now, with Alltech Total Replacement Technology, Masterfeeds horse feeds contain 100% organic form trace minerals to mimic nature. But what does this mean for your horse? We're going to break down the process and why it is beneficial to keeping your horse happy and healthy.
---
Form matters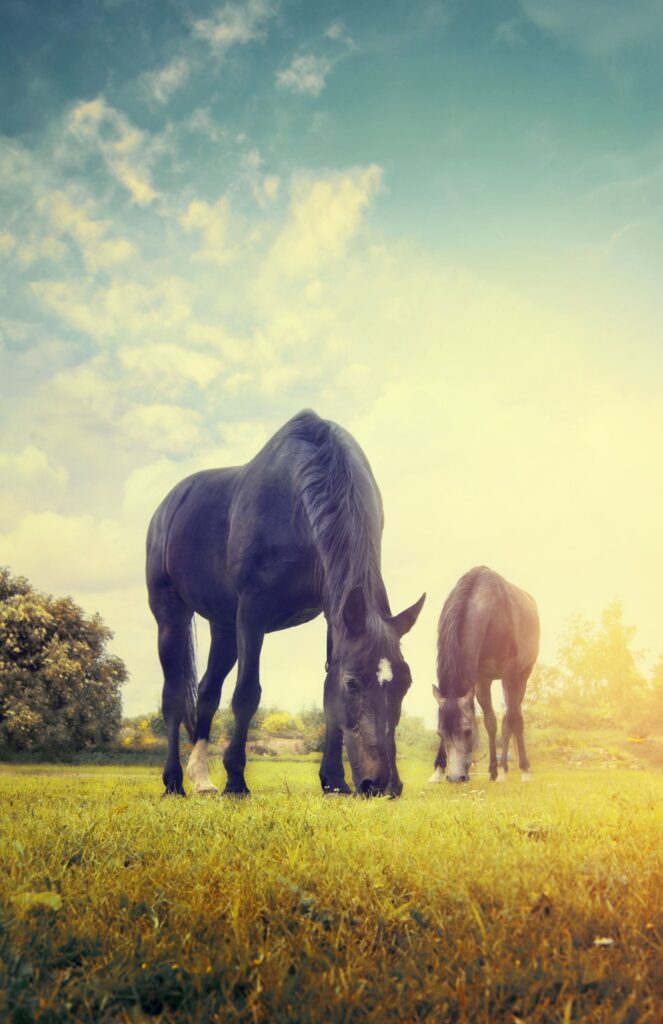 Traditionally when we think of organic, our mind is drawn to discussion on non-GMO crops. In discussing organic minerals, this is not the case. Organic minerals versus inorganic minerals in the equine diet is referring to the form in which they are present in and absorbed in the equine GI tract.
Organic minerals are those naturally found in plants and forage our horses consume. These are taken up from the soil from plants where they are stored in stems and leaves until eaten. These organic minerals are connected by strong bonds, able to withstand the acid levels in the equine stomach and allowing them to travel easily to the bloodstream for optimal absorption as nature intended.
However, as we know, not all soil contains the amount of organic minerals required to keep a domestic horse healthy. The bulk of these, then, have been added as inorganic minerals – metal salts which have been mined by humans and supplemented into diets. Although this has been an effective solution to ensuring horses get all the minerals they require, it has also been wasteful as inorganic bonds are not as strong as organic bonds, resulting in reactions and breakdowns in the equine GI tract and a large amount of mineral being flushed through and excreted rather than absorbed and utilized by the animal.
---
Chelation: Transforming to Organic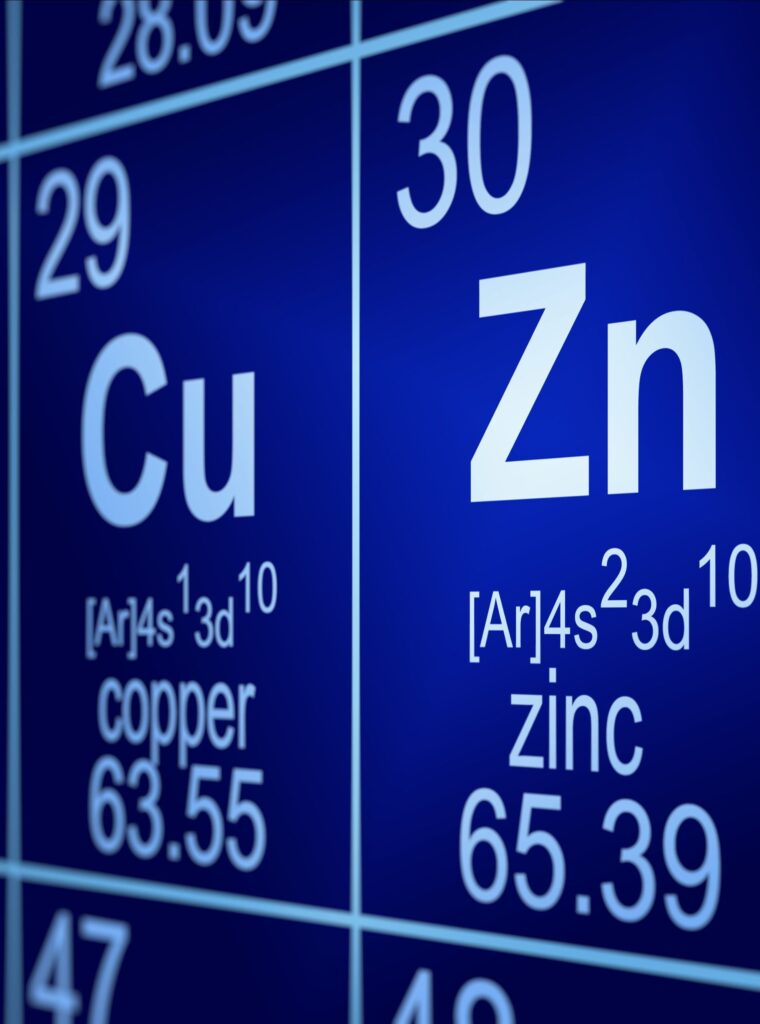 In order to mimic nature as closely as possible and make all trace minerals in the equine diet more bioavailable and readily absorbed through the GI tract into the bloodstream, inorganic minerals then have to be made into organic minerals. How does that happen?
Through Sel-Plex® and Bioplex® technologies, inorganic minerals are chelated – absorbed from the ground and put into protected amino acid compounds. By binding minerals to amino acids and peptides, minerals form a strong bond less susceptible to reactions and breakdowns while travelling through the GI tract to be absorbed into the bloodstream.
These chelated minerals closely mimic nature, just like the organic form your horse eats in the pasture, and that which is absorbed significantly more effectively than the metal or inorganic form.

Efficient absorption of trace minerals in the equine diet is key for optimal health results and benefits, so replacing all inorganic mineral forms with organic forms ensures that horses are getting the most out of their daily supplementation.
---
Less really is more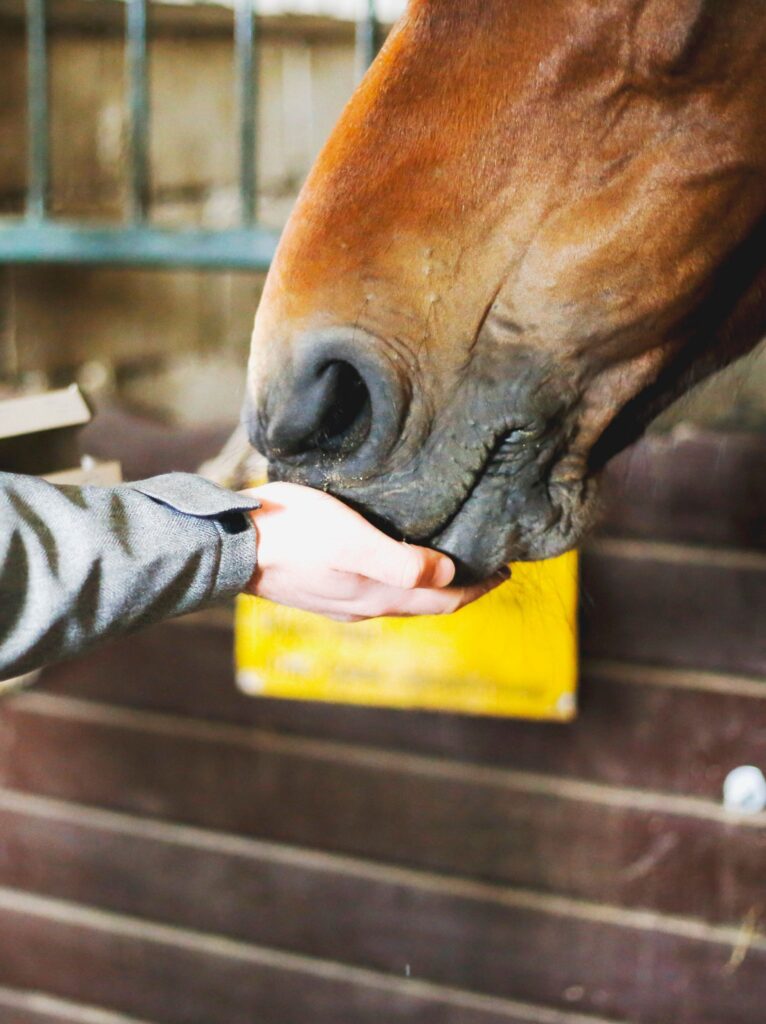 While our feeds have been a partial replacement (a mix of organic and inorganic forms of trace minerals) as of late, our move to 100 percent organic forms of trace minerals ensures optimal digestion and utilization of minerals in the equine diet.
Chelating minerals to be more plant-like means that less really is more. With the amino acid and peptide protection, these minerals are significantly less likely to be flushed right through the horse's system and excreted, and more likely to be absorbed. Higher absorption requires lower levels of mineral supplementation – rather than over supplementing, knowing that a majority of inorganic form minerals will be broken down and flushed out without while travelling through the GI tract, organic mineral supplementation requires about one-fifth to one-third of the amount of minerals in the same amount of feed.
Due to increased bioavailability and absorption, organic minerals pack an even larger punch on their effectiveness. This means the benefits of selenium, iron, iodine, copper, cobalt, manganese, and zinc – minerals promoting development, immunity, and overall function – are optimized in your horse's body. It also means they are less likely to negatively react to each other in the GI tract, making the total replacement technology both safer and more effective on your horse.
Masterfeeds now includes Alltech Total Replacement Technology in all of our equine feeds. The inclusion of Bioplex and Sel-Plex chelated trace minerals now replace all inorganic sources of trace minerals and selenium. This means that the minerals you choose to feed your horses with Masterfeeds products will be better absorbed, stored and utilized by your horse – because with a better source, less mineral is really more mineral working for your horse for a happy, healthy life. Check out our featured products below!

For more information or to schedule an on-farm call or hay analysis from one of our reps, visit our website, contact us, or email us directly at: happyhorses@masterfeeds.com
---
Product Spotlight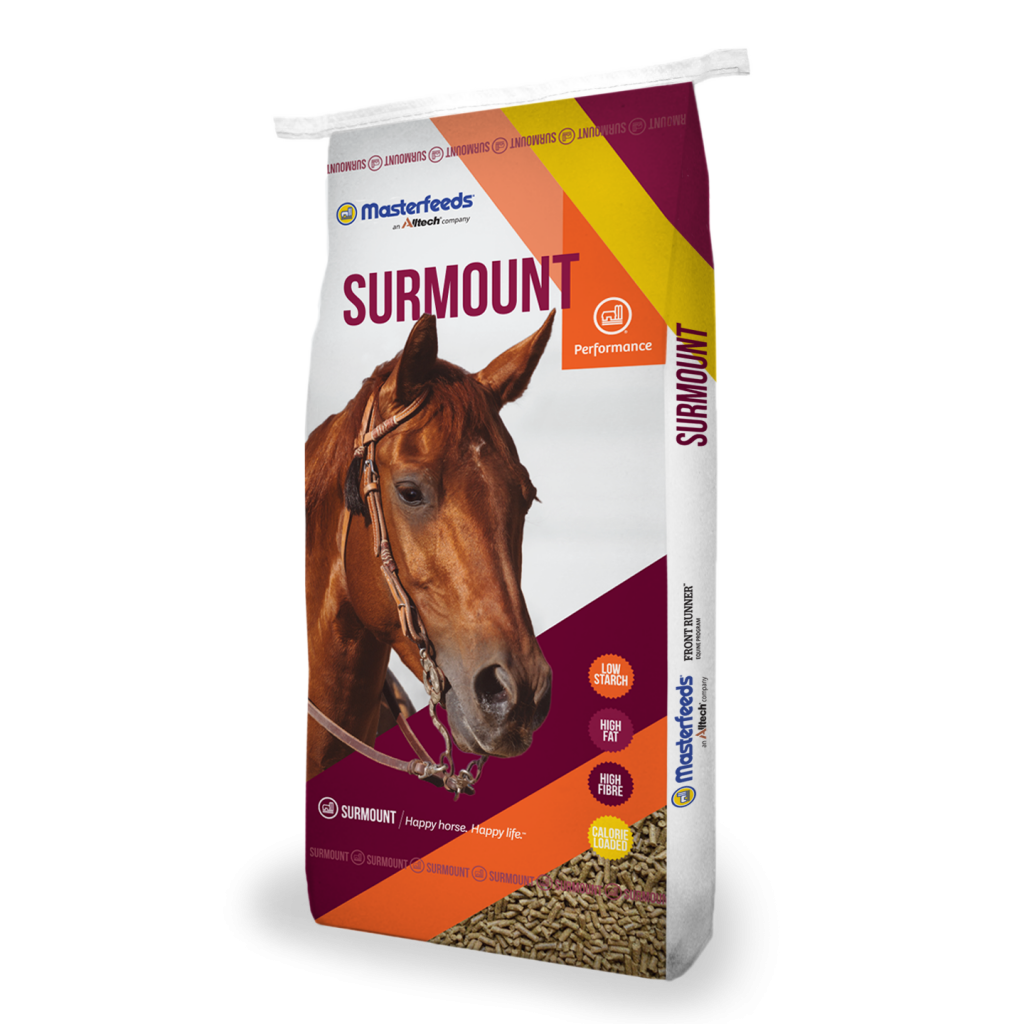 SURMOUNT (PELLET) EAST | WEST
FOR ALL TYPES OF EQUINE ATHLETES
Surmount is our gold standard for fat and fibre nutrition for your horse. This premium ration is relatively high in calories, very palatable, and an excellent choice for those owners and trainers looking for a premium fat and fibre ration that is well fortified with vitamins and minerals. The controlled starch content provides a relaxed working energy for the horse, making it a great choice for hunter trainers, western pleasure trainers, amateur dressage and any other discipline looking for quality feed without making horses "hot".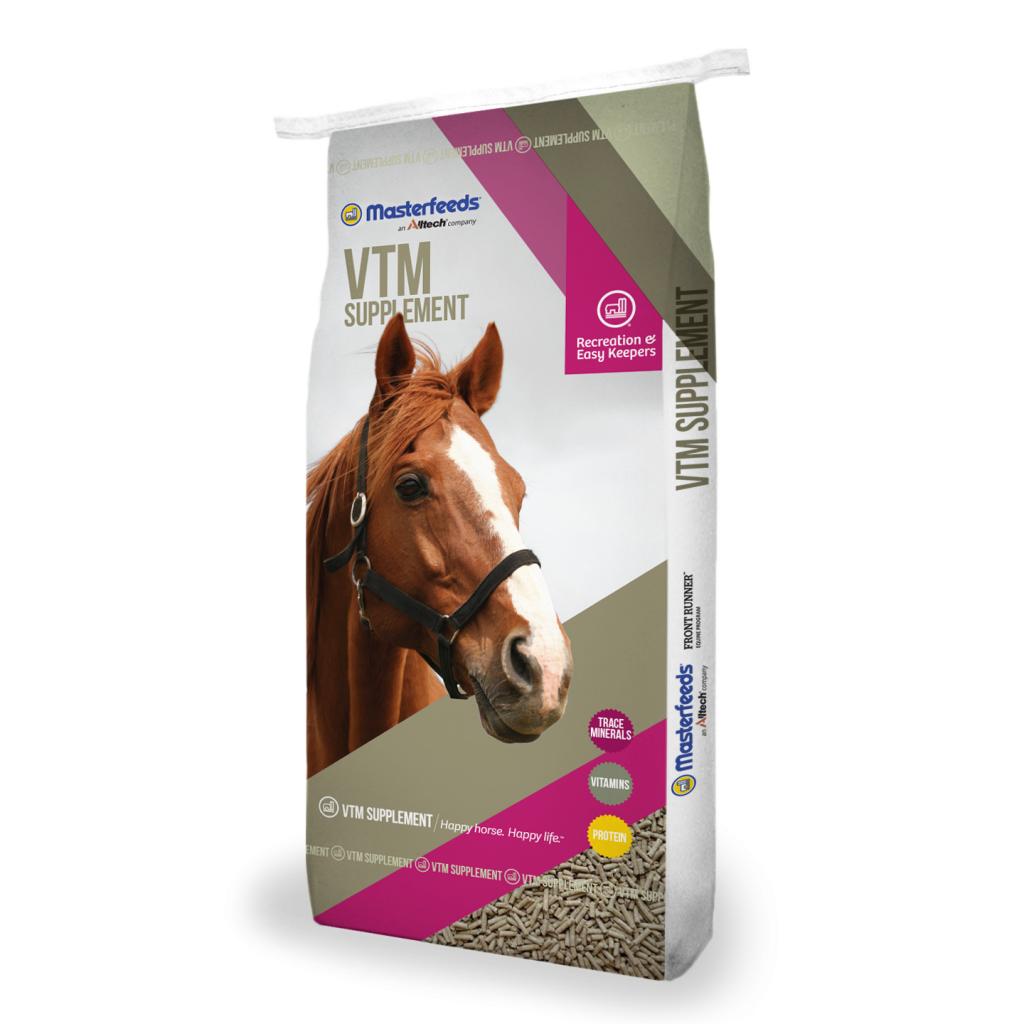 VTM PROTEIN SUPPLEMENT (PELLET) EAST | WEST
FOR ALL CLASSES OF HORSES WHEN EXTRA NUTRIENTS ARE REQUIRED
A trace mineral and vitamin supplement with high protein. It can be mixed with grains to make your own ration or top dressed on complete feeds to add additional minerals, vitamins and protein. Very palatable and versatile, it's a great choice for all classes of horses when extra nutrients are required without the extra fat content.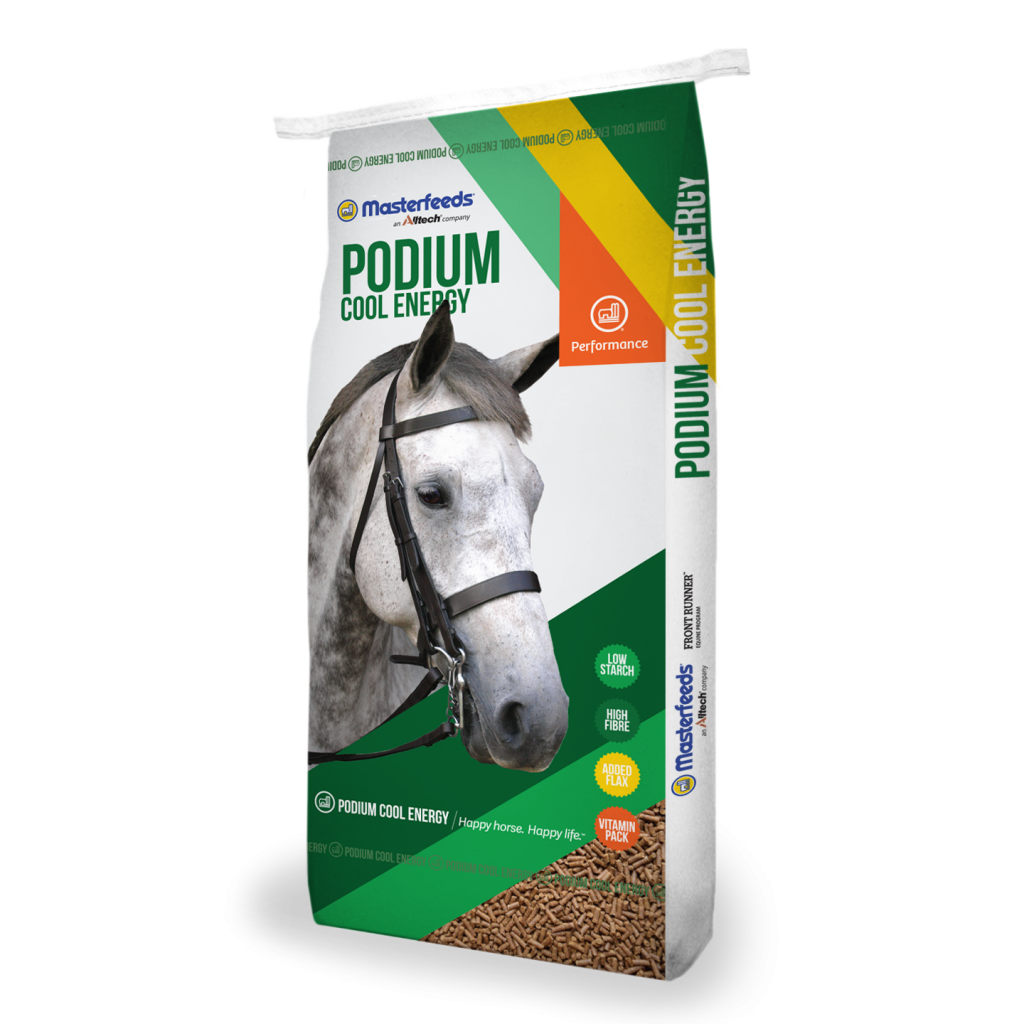 PODIUM COOL ENERGY (PELLET) EAST | WEST
FOR HIGH PERFORMANCE ATHLETES
A favourite for owners and trainers looking for a very low starch feed for high performing athletes. With proven results in reducing ulcer incidence and tying up, it is a great choice for standardbred racehorses, eventers, and any trainers and riders looking for an ultra low starch ration. Added flax provides an excellent source of Omega-3 and it is fortified with our premium vitamin mineral pack for a complete and balanced feed.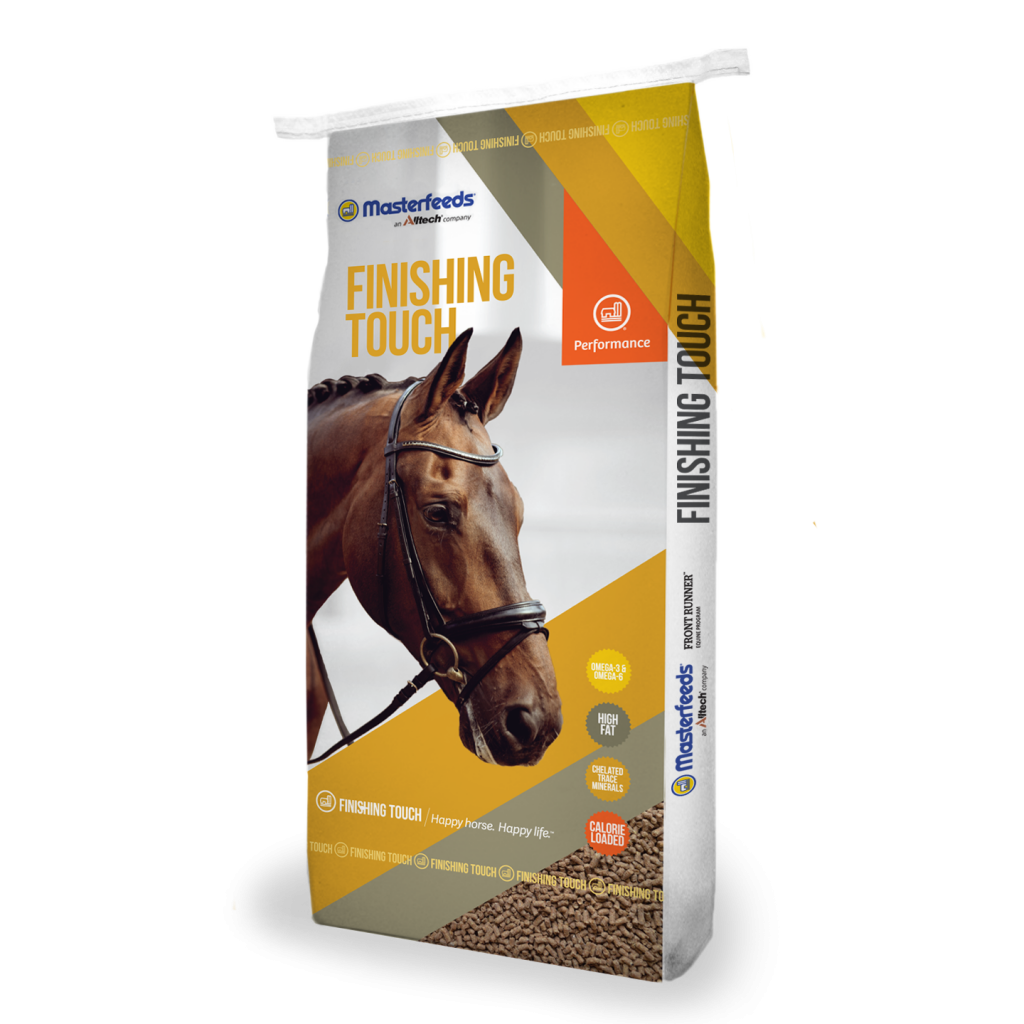 FINISHING TOUCH (CRUMB) EAST | WEST
FOR IMPROVED PERFORMANCE, WEIGHT GAIN & COAT CONDITION
A smart energy addition to any developmental diet. This high fat supplement is designed to be top-dressed on a balanced complete feed to increase caloric density and add fat calories as an energy source. A very palatable formula for improved performance, weight gain and coat condition. This is an excellent choice for extra fit and finish on sale and show stock and for enhancing fertility during breeding season for both mares and stallions.
---
Related Posts
---