While thoroughbreds are (obviously) a breed known for racing, they have also been known to be a favourite in second career homes across the country for decades. Due to their athleticism, spirit and smarts, it seems the mighty OTTB can handle any discipline thrown at them post-race career. While it's exciting to purchase your first (or fifth!) OTTB, it's important to consider the differences from life on the track verus off the track, and the nutritional consideration that can be made to help them through that transition as smoothy as possible with their diets.
---
Consider lifestyle changes.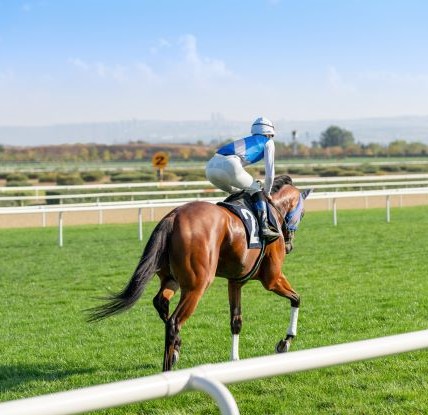 Life on the track is busy. Thoroughbreds extend an enormous amount of energy into their daily workouts and races, and so need to be fed higher starch feeds with elevated minerals, and in much higher quantities than virtually any other horse. Their days are very structured – it starts before the sun comes up and they spend a lot of time each day eating from large-hole hay nets and hanging out with their friends in the barn. Moving to a new home, and essentially a new career, can be a major stressor for the thoroughbred. Rightfully so, as we humans would also need some time to adapt if we up and left our job and our friends all at once.
Feeding the OTTB should be directed at minimizing any extra stressors during this time, which includes nutritional stressors. Find out what the horse has been eating on the track (both forage and feed) and try to get your hands on some of it for the initial weeks you bring the OTTB home. Feeding the same diet for the first few weeks, in a reduced amount, helps to avoid an immediate nutritional stress to compound the environmental stress they may go through adjusting to a new home.
---
Nutritional changes – keep it slow.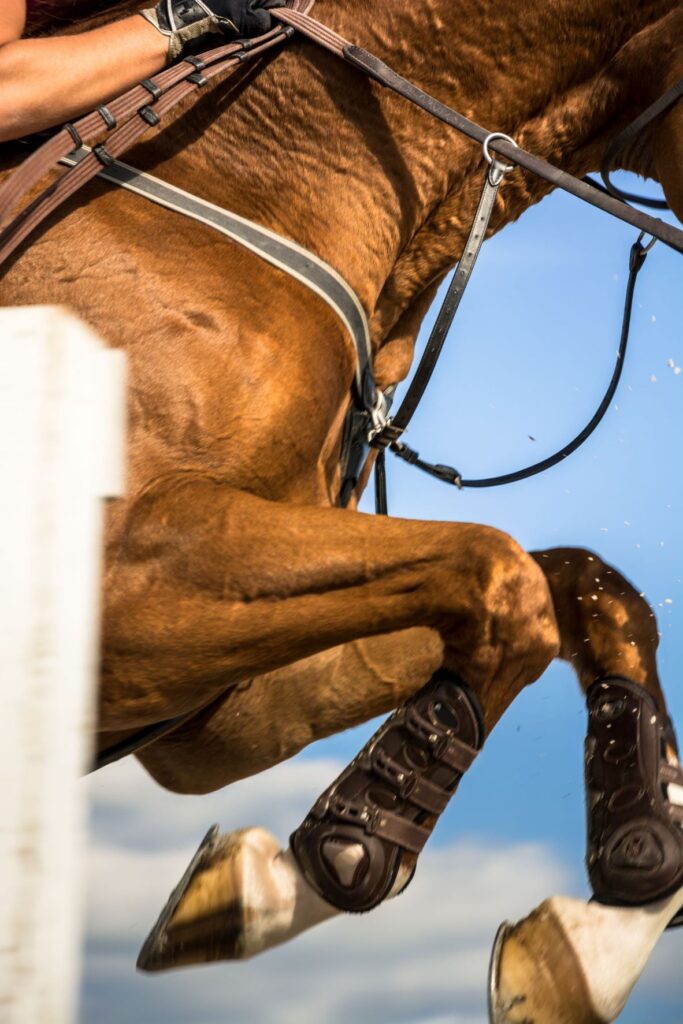 At the risk of sounding like a broken record (again!), any nutritional changes should be made slowly so their digestive systems can safely adapt to their new program. After the initial first few weeks of the feed and hay they were on at the track, you can begin to slowly reduce that feed, while introducing the new.
One misconception of the transitioning OTTB is that they are no longer working as hard, so no longer need a high feed intake. This isn't always true as the thoroughbred generally has higher metabolic rates than other breeds, even at rest. While it is true they likely do not need such a high starch feed, as that gives them "hotter" race energy, it is very likely they still need increased calorie needs while they adjust to their new life.
Ideally, this now comes in the form of fat and fibre performance feeds, versus starchier race feeds. Cool energy in the form of fat and fibre energy is usually preferred for the OTTB as the breed is notoriously hot to begin with and not all pleasure riders are keen to restart a thoroughbred who has some extra energy built up.
---
Additional considerations.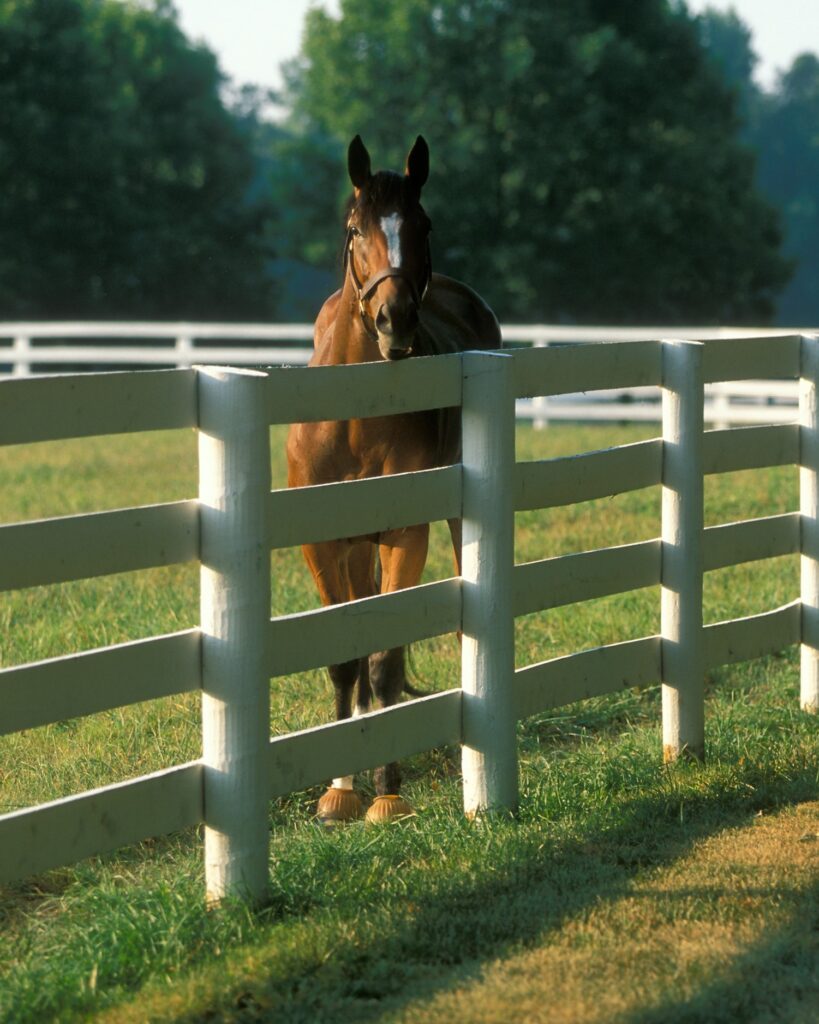 Give them time – both environmentally and nutritionally. While it is exciting to have your new performance prospect home, the incoming racehorse is undergoing a major lifestyle change. Many have spent most of their life working hard daily and being in stalls and are now unwinding and likely turned out often.
While the active racehorse may appear to be too skinny, with a BCS of 4-5, do not be in a rush to add weight. These race fit athletes are in prime condition coming off the track for their intended job. In a rush to see changes, many of us tend to want to jump from feed to feed in short periods of time. A good performance feed with quality protein, condensed calories and rounded vitamin and mineral contents will do its job if given a proper amount of time to do so. Consistency is key with equine nutrition.
The digestive system can also only do it's best with the condition it is in – a majority of racehorses suffer from ulcers at some point in their career. Having your vet come out to scope will go a long way in healing any existing ulcers and kick starting a healthy digestive system. Consistent forage intake will help prevent ulcers from returning as you and your new partner enter into your next career chapters together!
---
Thoroughbreds are not only masters on the track, but make fantastic second career horses in virtually any discipline. While finding the right feed program for your OTTB may take some trial and error, with consistency and knowledge of their needs your new partner will be ready to start their training in no time. Check out some of our go-to fat and fibre rations for the OTTB, below!

For more information or to schedule an on-farm call or hay analysis from one of our reps, visit our website, contact us, or email us directly at: happyhorses@masterfeeds.com
---
Product Spotlight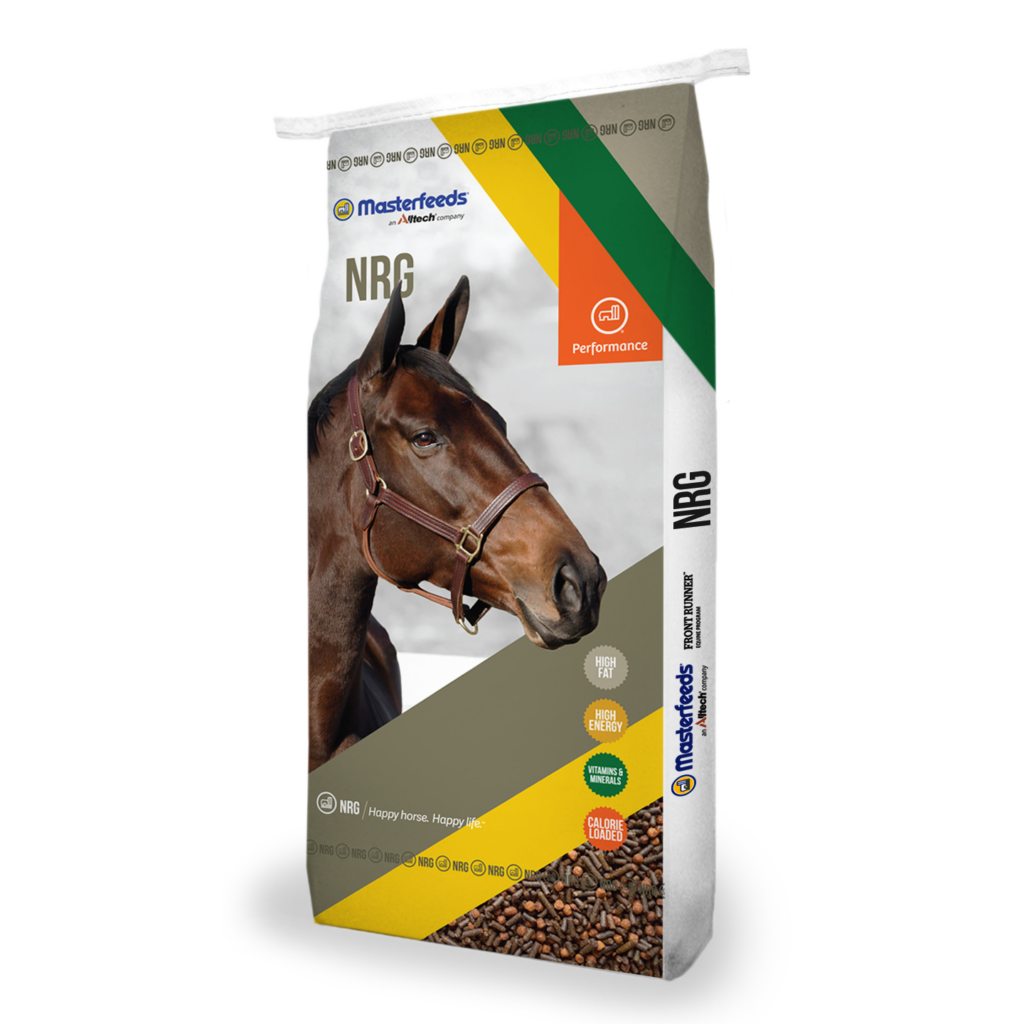 NRG (MULTI-PARTICLE) EAST | WEST
FOR HORSES IN INTENSE TRAINING
Masterfeeds NRG is loaded with calories and good working energy, this multi-particle ration is based on an oil coated fortified pellet and extruded bits, with a light coating of molasses. The fibre content is medium, with some starch and a very high fat content. The 12% fat from all vegetable sources, provides endurance energy, and is fantastic for maintaining weight on horses. It is completely balanced with vitamins and minerals and can be fed alone with hay. It is also often used as a high fat topdress.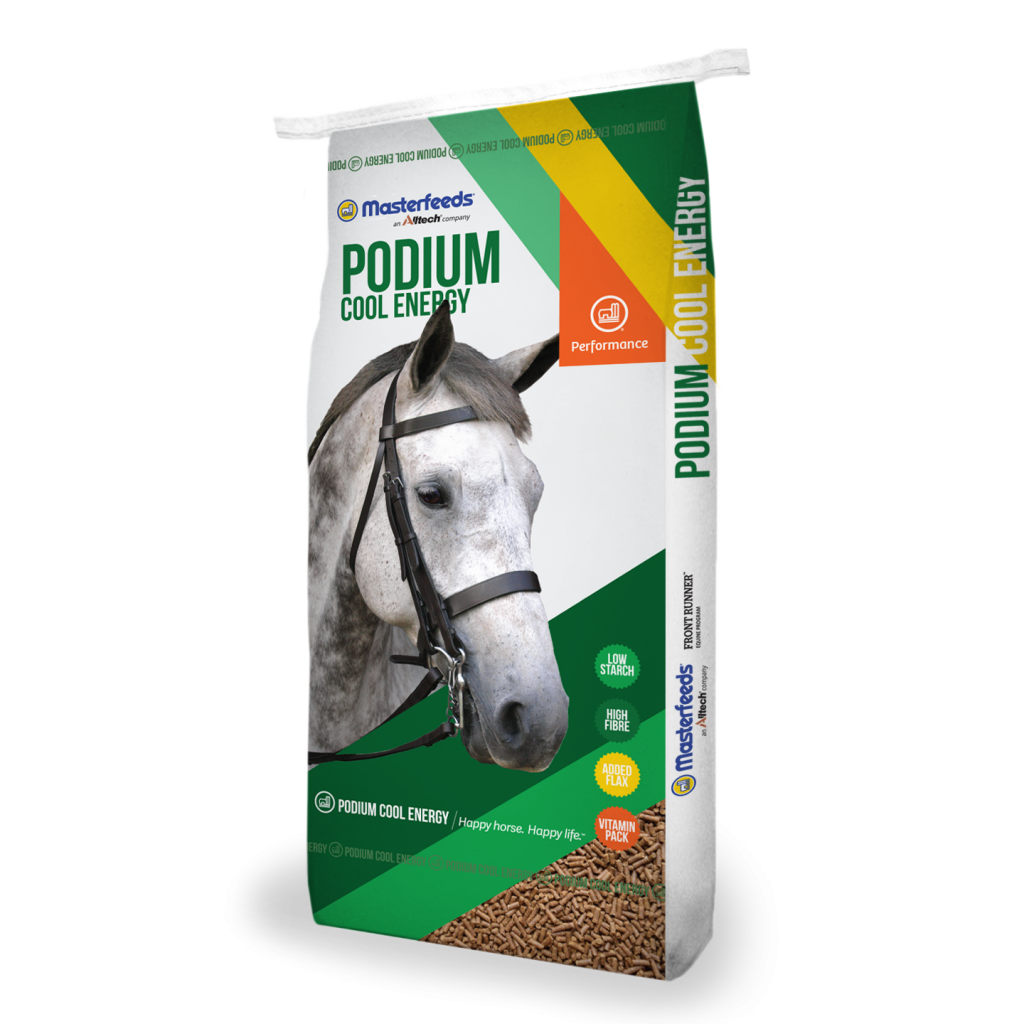 PODIUM COOL ENERGY (PELLET) EAST | WEST
FOR ALL TYPES OF EQUINE ATHLETES
Podium Cool Energy is a favourite with owners and trainers looking for a very low starch feed for high performance athletes. With proven results in reducing ulcer incidence and tying up, it is a great choice for standardbred racehorses, eventers, and any trainers and riders looking for an ultra low starch ration for working athletes. Added flax provides an excellent source of Omega-3 and it is fortified with our premium vitamin mineral pack for a complete and balanced feed.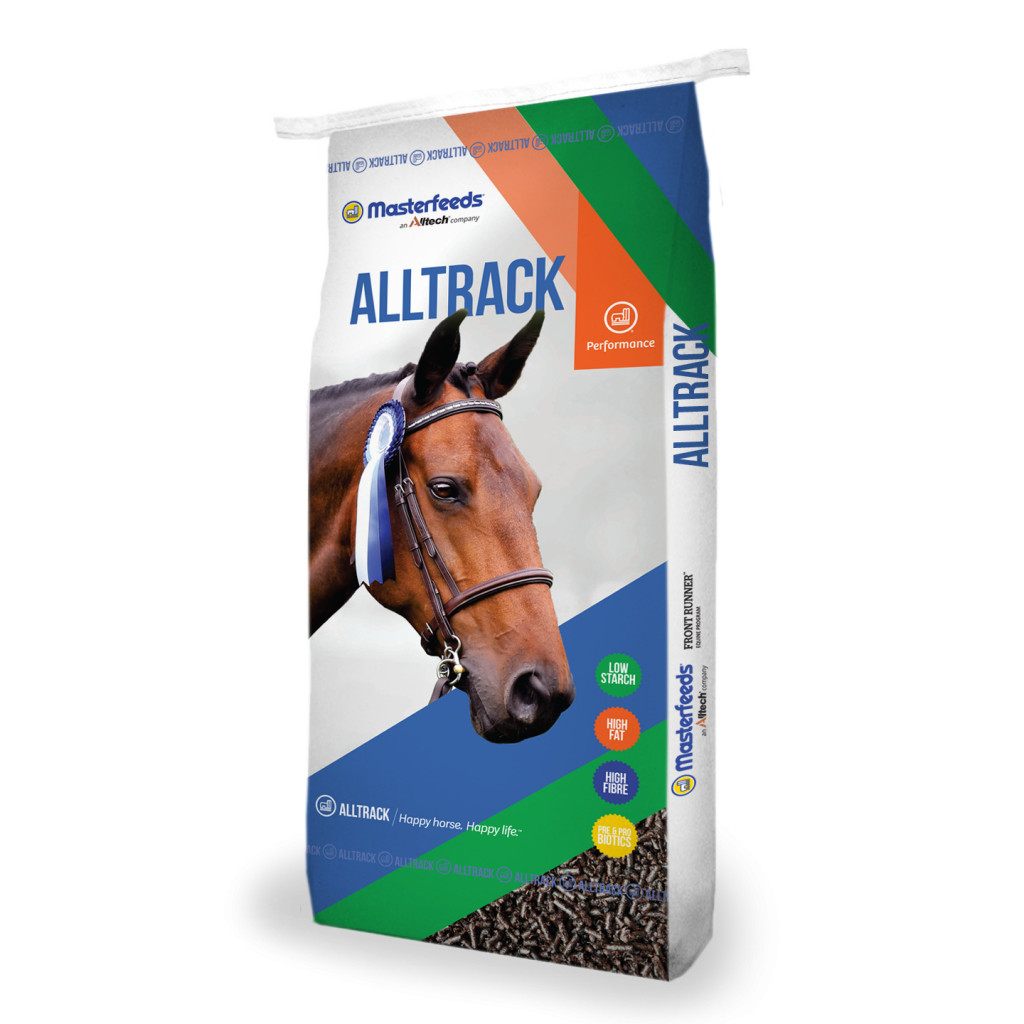 ALLTRACK (TEXTURIZED) EAST | WEST
FOR ALL TYPES OF EQUINE ATHLETES
Alltrack (texturized) is a great choice for owners and trainers looking for a very low starch texturized feed for high performance athletes. A blend of high quality fibres, beet pulp and soft pellets fortified with protein, vitamins and minerals and blended with oil and molasses makes a palatable complete and balanced feed. It promotes good digestive and muscle health to keep your horses feeling great and ready for all sports and all tracks.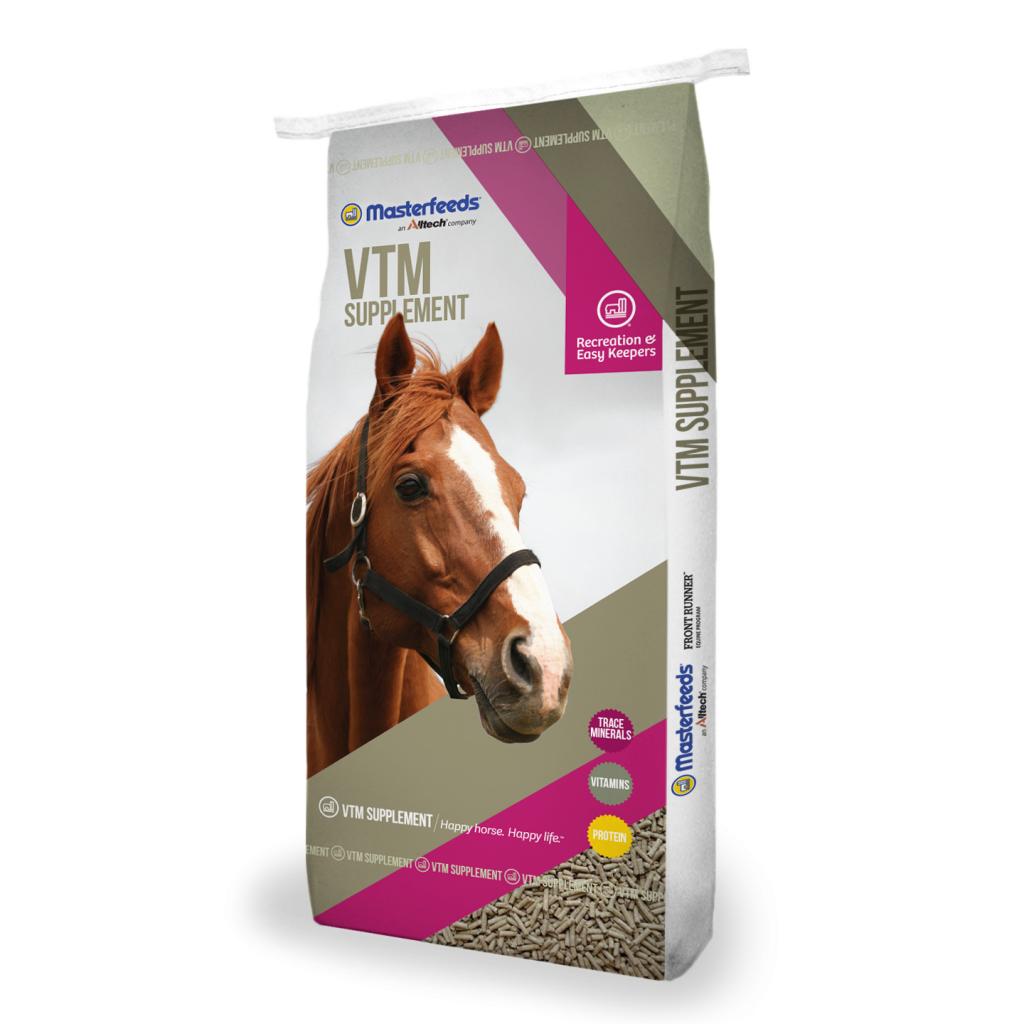 VTM SUPPLEMENT (PELLET) EAST | WEST
FOR ALL CLASSES OF HORSES WHEN EXTRA NUTRIENTS ARE REQUIRED
Masterfeeds VTM (pellet) is a trace mineral and vitamin supplement with elevated protein. It can be mixed with grains to make your own ration or topdressed on complete feeds to add additional minerals, vitamins and protein. Very palatable and versatile, it's a great choice for all classes of horses when extra nutrients are required.
---
Product Spotlight
---