In this special edition of our Happy Horse Newsletter, we recap what was an absolute monster of a Hambletonian Day 2022 at the Meadowlands in New Jersey for some Masterfeeds' fed horses. In a world of early mornings and late nights, and injuries and gait breaks, race days that end in records broken and underdog success are few and far between. The Hambletonian card on August 6, 2022 was one of those rare days that trainers and owners dream of and was a day in which Masterfeeds' fed horses secured over $926,000 in purse money in a matter of hours.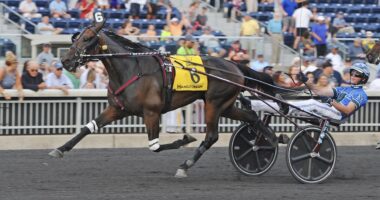 ---
The Year of the Underdogs
Anyone who follows horse racing knows that the previous two years have been a struggle on those in the race industry. When the world stopped, horses still needed to be worked and taken care of, while many races came to a halt. Cancelled or shortened seasons put a wrench in many plans, so it only seems fitting that 2022 brings with it a string of long shot wins. Does the name Rich Strike ring a bell on the thoroughbred side of racing earlier this year?
On August 6, 2022, the best of the standardbreds arrived to race at the mecca of racing in New Jersey – the Meadowlands. Besides the Little Brown Jug for pacers, the $1 million Hambletonian for trotters is a race that trainers dream of winning.
Trainer Jim Campbell is no stranger to the race, having won in 1995 with Tagliabue, but this year he was overcoming enormous odds. This year, Cool Papa Bell, aptly named after the baseball player who is thought to have been one of the fastest in history, headed to the gate at 52-1 odds. When he edged out the favoured Joviality S, the 52-1 upset became the largest statistical upset in the Hambletonian history.
To make Jim's day even sweeter, his other trainee Fashion Schooner followed in her dam's footsteps and won the Hambletonian Oaks ($500,000) for the girls in 1:51.2. A win in this race is equally impressive, let alone considering Fashion Schooner got handed the 10th post position and she has just begun coming into her own as she was out with illness for a majority of her two year old season.
As the trainer of the winners of both the Hambletonian and the Oaks, Jim joins just two other trainers in history in claiming both victories in the same year.
And, right when you would think the golden day of a horse trainer had been achieved, there was also a third trainee of Jim's who came back after a break in the eliminations to secure the win in the $38,500 Continentalvictory. Unbelievably enough, Misswalner Fashion also pulled off the upset at 21-1 odds and again from the 10th post position.
For Jim and the owners, this day was truly once in a lifetime, and a nod to the underdogs and small guys in the game who persevere and stick together through the good and the bad – and in this case, the absolute improbable.
---
Consistent Performance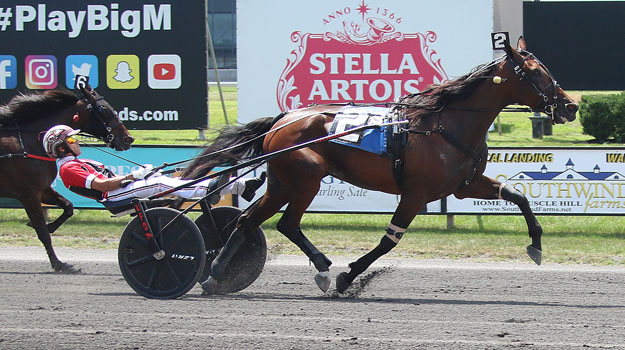 Jim wasn't the only trainer with an unforgettable Hambletonian day. Renowned trainer Richard "Nifty" Norman sent out Masterfeeds' fed and brilliant four-year-old Bella Bellini in the $145,000 Steele Memorial. Not only did she secure the win, she did so in a lifetime best and new stakes record of 1:49.4.
To give an idea of how her four-year-old campaign is going, Bella Bellini is now 6-2-3 in 11 starts, increasing her lifetime wins to 17 (in 37 starts) and increasing her earnings to over $1.6 million. When you think of a solid and reliable racehorse, Bella Bellini continues to fit the mold and produce consistent results for her connections.
Also winning for Nifty was Kobes Gigi in the $173,000 Lady Liberty. Named after the late basketball star and his daughter, Kobes Gigi was another huge upset win, at whopping 51-1 odds from a tough post 8. The win increased her stats to a respectable 10th win from 29 career starts.
---
Hambletonian day 2022 was certainly (and literally) one for the record books. With seemingly insurmountable odds, bad luck of the draw in post positions, and some of the toughest fields that standardbred racing offers, Masterfeeds' fed horses triumphed and took us and their connections on a wild ride of track and race records and upsets.
Masterfeeds would like to thank our dealer in New Jersey, M&N Farms, for supplying our feeds, and the many talented trainers who place their trust in us to fuel their champions.
Here's to the underdogs, and never giving up against the odds!
---
Product Spotlight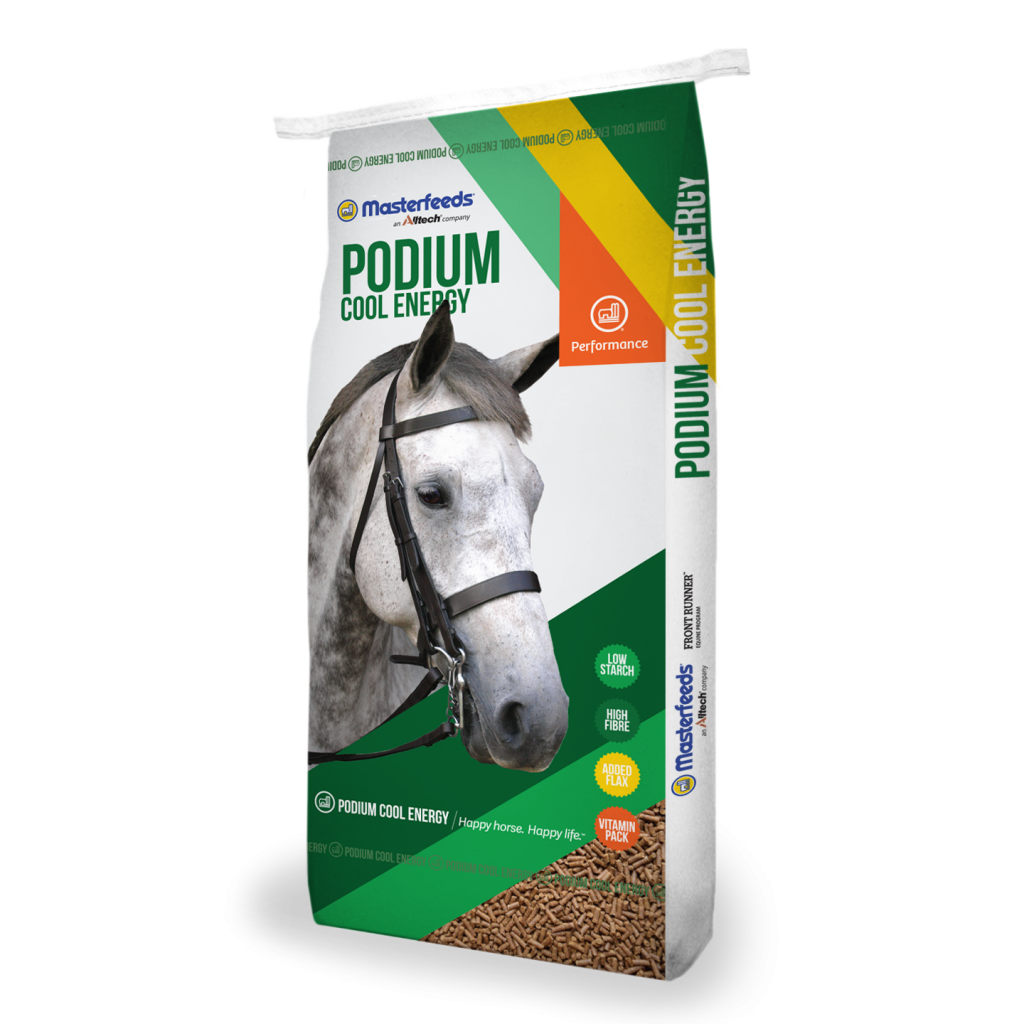 Podium Cool Energy is a favourite with owners and trainers looking for a very low starch feed for high performance athletes. With proven results in reducing ulcer incidence and tying up, it is a great choice for standardbred racehorses, eventers, and any trainers and riders looking for an ultra low starch ration for working athletes. Added flax provides an excellent source of Omega-3 and it is fortified with our premium vitamin mineral pack for a complete and balanced feed. EAST | WEST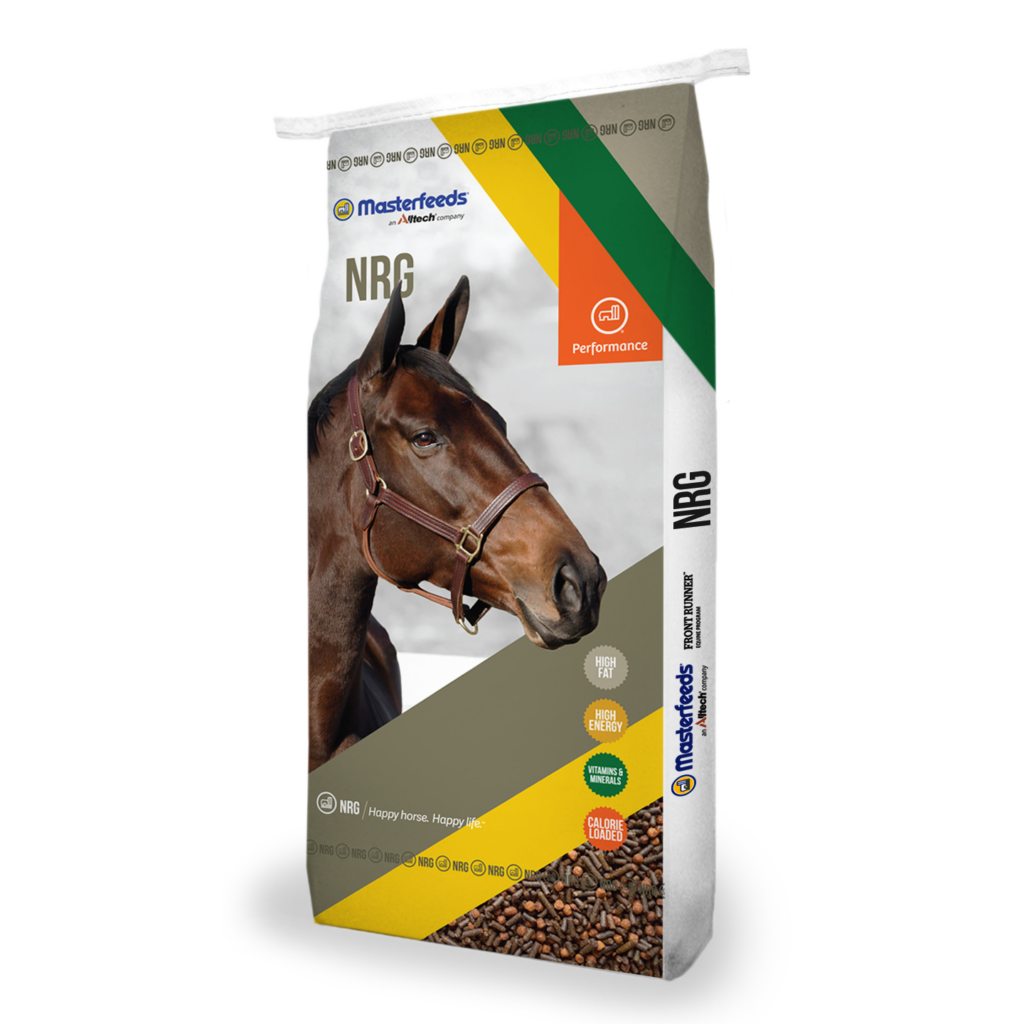 Masterfeeds NRG is loaded with calories and good working energy, this multi-particle ration is based on an oil coated fortified pellet and extruded bits, with a light coating of molasses. The fibre content is medium, with some starch and a very high fat content. The 12% fat from all vegetable sources, provides endurance energy, and is fantastic for maintaining weight on horses. It is completely balanced with vitamins and minerals and can be fed alone with hay. It is also often used as a fat topdress. EAST | WEST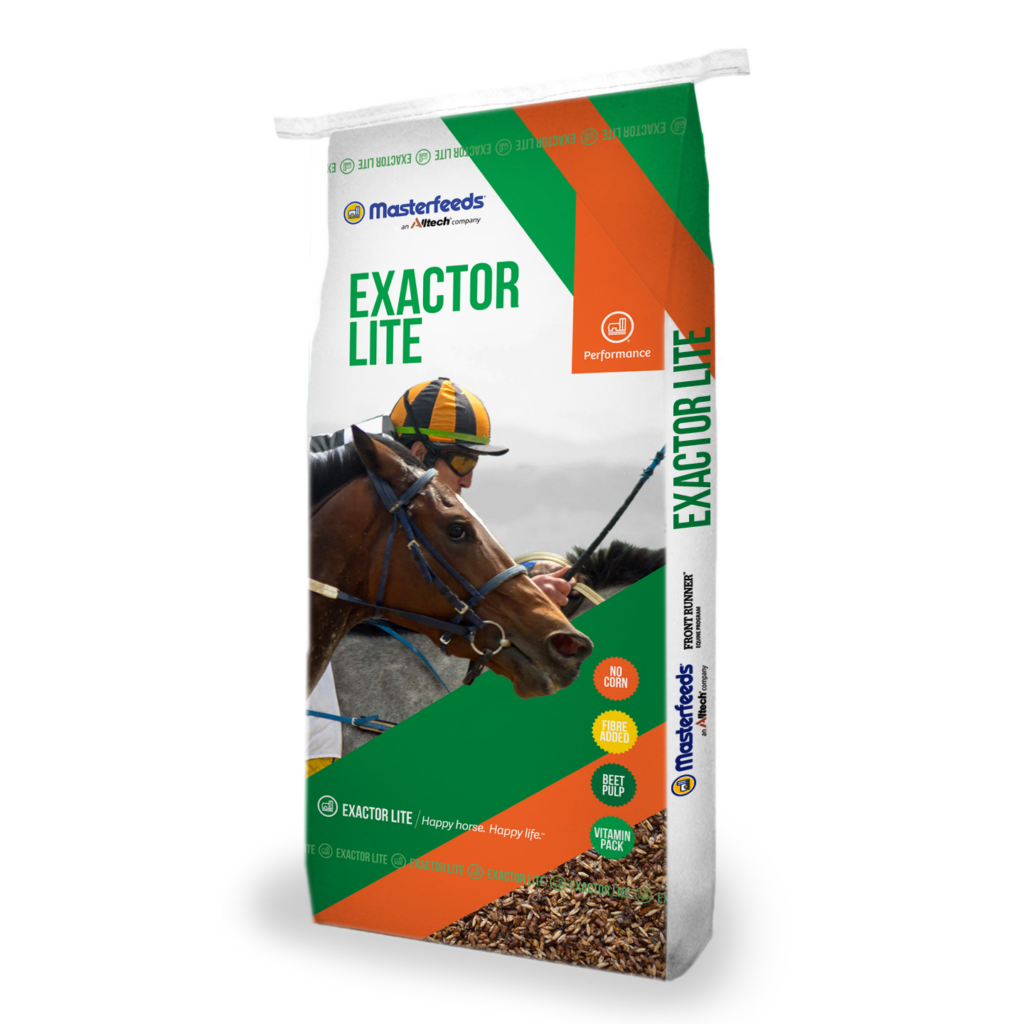 Masterfeeds Exactor Lite (texturized) is our gold standard ration for the race horse and the needs of the high performance trainer looking for a very palatable, no corn, fibre added, texturized feed. Very popular with thoroughbred trainers and well liked across the industry for hard working horses that are fussy eaters and horses with sensitive digestive tracts. This feed is oat and barley based with a supplement pellet containing our premium vitamin mineral pack. It is blended with shredded beet pulp and rich with molasses. EAST | WEST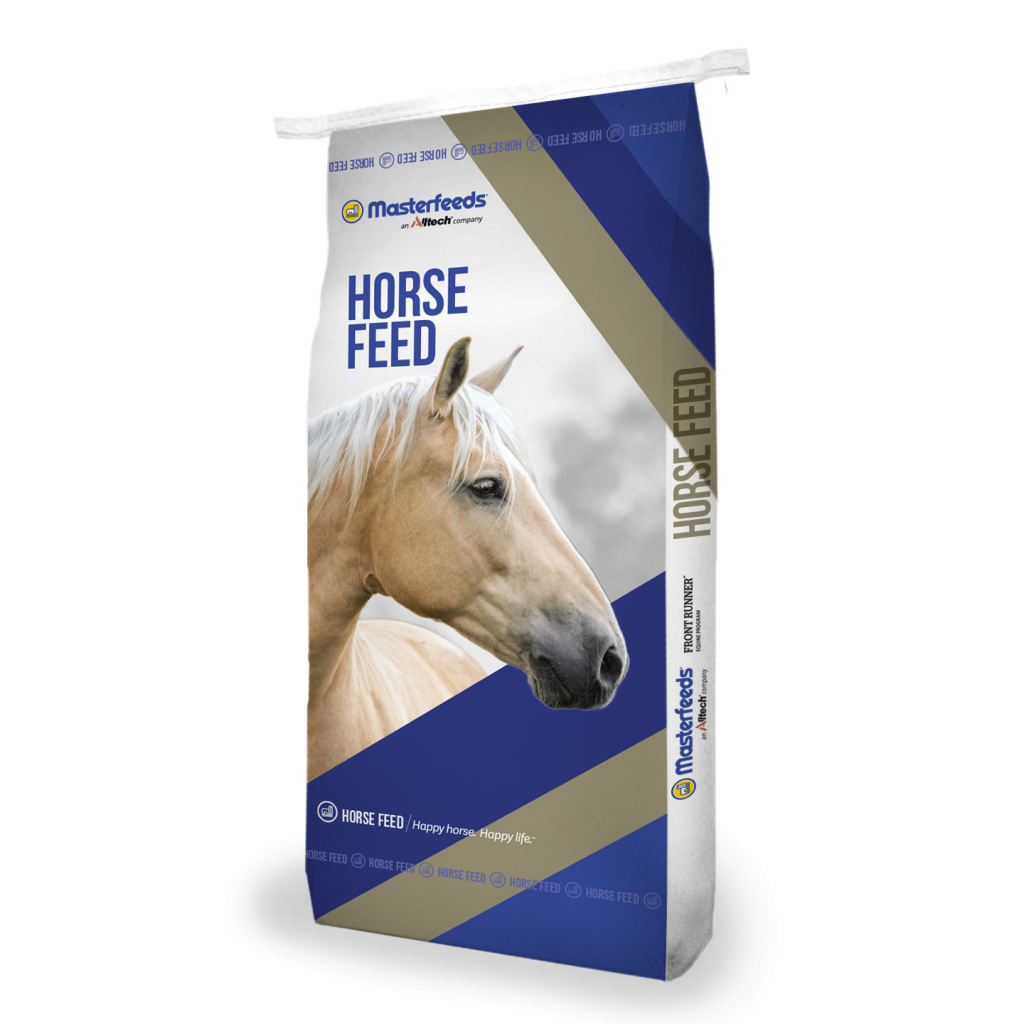 Masterfeeds Loose Horse Mineral and Loose Horse Mineral (G) are formulated for typical mixed forage feeding programs. They are designed for horses fed a forage program predominantly based on hay. Loose Horse Mineral supplies extra vitamins and minerals that are needed during times of stress or when extra nutrients are needed required. EAST | WEST
---
Related Posts
---