In a good growing year, a quality hay can be enough to get a mature, inactive horse the nutrients they need for maintenance. But what about those whose lifestyles demand higher nutrient intake? Or when a poor crop year threatens horse owners with a looming shortage or lack of quality hay?
---
Of all the things we can control with our horse management, the weather is not one of them – particularly when it comes to the availability and quality of hay following a difficult growing season. While western Canada faces an imminent shortage of hay available due to drought, eastern Canada is likely to see lower quality nutrients as variable temperatures, humidity and moisture made the timing of baling a challenge throughout the spring and summer. With pasture waning and the need to introduce hay to horse diets as winter quietly approaches, concerns about availability and quality have begun to surface. Luckily, armed with a little bit of knowledge about why horses need hay and the alternatives that exist, horse owners can utilize a variety of tools to get through this tough supply season.
The essential need for fibre.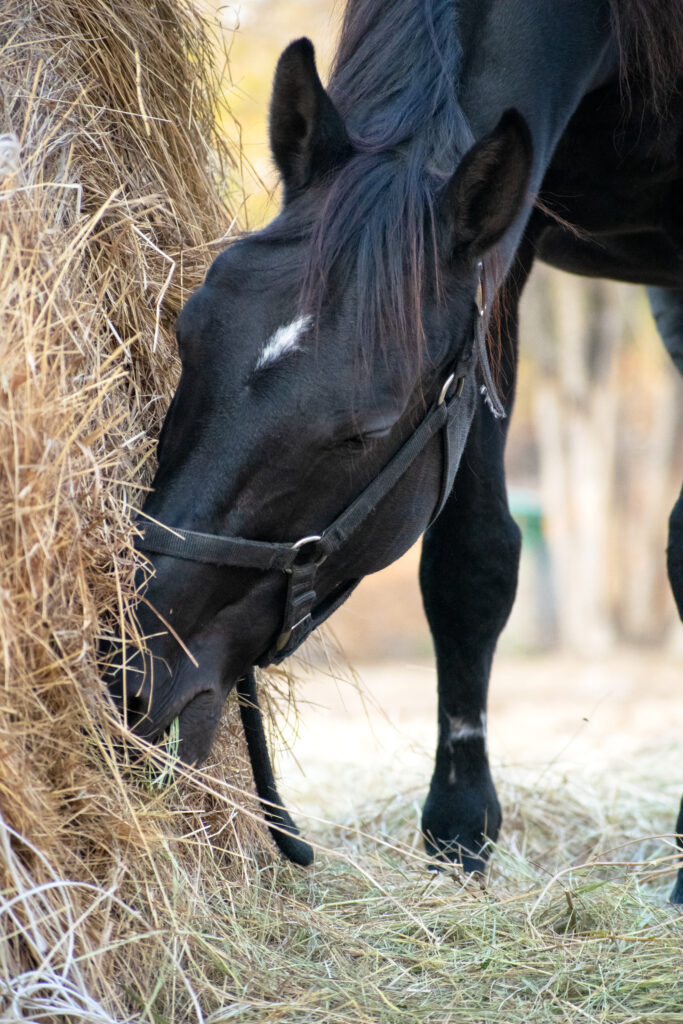 Horses require hay (or forage) in their diets to keep their digestive tract happy and flowing. In fact, they need a lot of it – approximately 1.5-2% of their bodyweight per day should be forage – which is about 15-20lbs for your average 1000lb horse! Not only is this a substantial quantity of fibrous material, it needs to be a relatively constant supply for various reasons.
Horses have small stomachs that continuously secrete gastric acid. If the stomach lies empty, this can splash up to more sensitive areas causing gastric ulcers. Chewing long stem hay itself provides the horse with saliva to help buffer this and assist in feedstuff travel through the digestive tract, as well as preventing boredom and by association unwanted stereotypies (cribbing, wood chewing, etc.).
And finally, of most importance, is the fibre itself. Horses, unlike humans, are hindgut fermenters. While non-structural carbohydrates and proteins are digested in the small intestine, long stem fibre continues through to the hindgut where it is fermented by an incredibly diverse microbial population. These microbes thrive on fibrous material, creating energy and an overall happy digestive tract. A lack of fibre can be the cause of a variety of digestive upsets for our equine friends. From an evolutionary perspective, then, hay shortages can be a challenge for the health of our horses. Keeping these points in mind, there are two key strategies we can implement to help extend and replace fibre sources when need be.
---
Hay replacement strategies.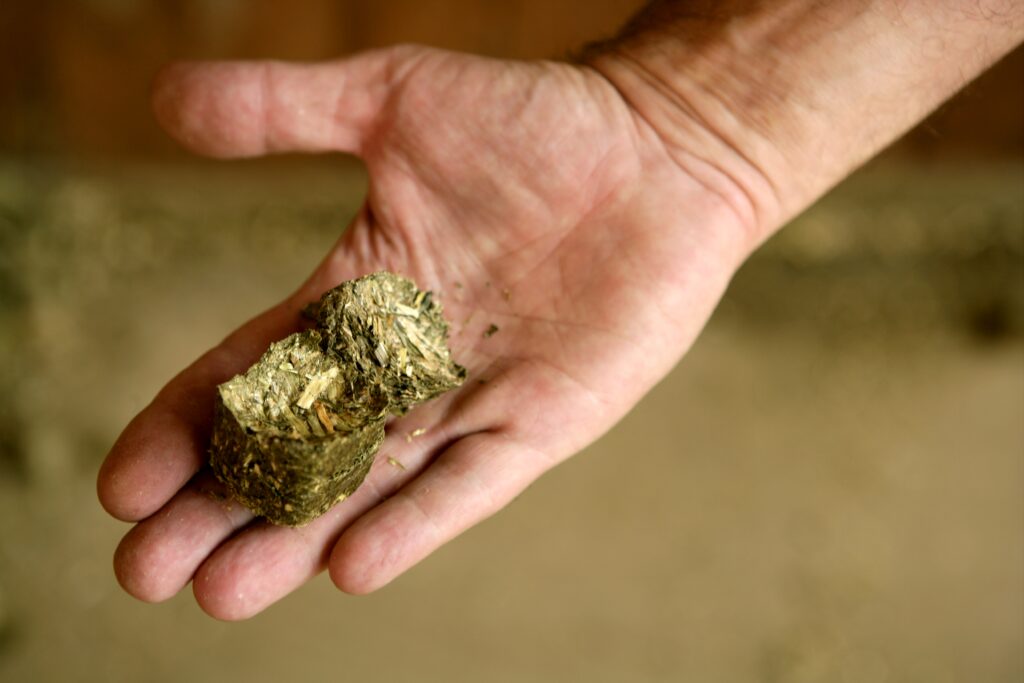 Conserve what hay you do have.
Horses have a habit of wasting hay, particularly from round bales in the field or small squares in their stalls. An effective strategy for ensuring continuous access to hay while simultaneously reducing waste is to use slow feed nets or feeders, preferably fed below the shoulder.
Use a hay replacer product or secondary fibre source as a portion of their forage.
A second way of conserving existing hay, using hay replacers can give your horse a good source of fibre while being frugal with supply. Products such as Rx Roughage, hay cubes and beet pulp are great examples of super fibres that can be fed in lieu of a few pounds of hay. Keep in mind that the horse should not be without food for more than a few hours, so replacement products should be fed in frequent, small meals similar to their grazing behaviour with forage.
Supplementing poor quality hay.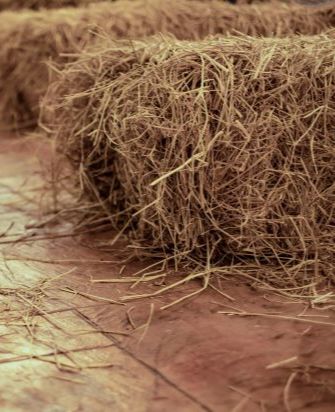 For those lucky enough to have ample hay supply, a poor growing season may still mean that quality may be lower than expected, as nutrient content is based on maturity and harvesting, as well as species.
A hay analysis is an excellent starting point to determining what nutrients may be lacking. Good quality hay in Canada usually is a little low in certain nutrients to begin with, so when faced with more mature cuts, horses need vitamin and mineral supplementation to top up their requirements – particularly those in hard work or challenging life stages (performance horses, reproductive animals, growing horses and aging horses). These types of horses will require both calorie supplementation, as well as vitamin and minerals to ensure they are able to keep up with demands placed on their bodies.
However, we can't forget about those easier keepers who may be in low level activity or retired. Although these particular horses do well on a good quality hay, they often need a ration balancer to make up for nutrients that aren't available – protein and microminerals in particular. Fed alone, these supplements can fill in the holes where hay quality falls short so you can rest assure knowing they are meeting minimum nutrition requirements.
---
Knowing that fibre is a critical part of equine nutrition, owners facing shortages or quality issues may be concerned about their horses' health for the upcoming winter weather. With replacement strategies and ration balancers available, there are various ways to conserve existing forage stocks while ensuring your horse is receiving adequate nutrients. Check out some of our go-to featured products to top up hay rations, below!

For more information or to schedule an on-farm call or hay analysis from one of our reps, visit our website, contact us, or email us directly at: happyhorses@masterfeeds.com
---
Product Spotlight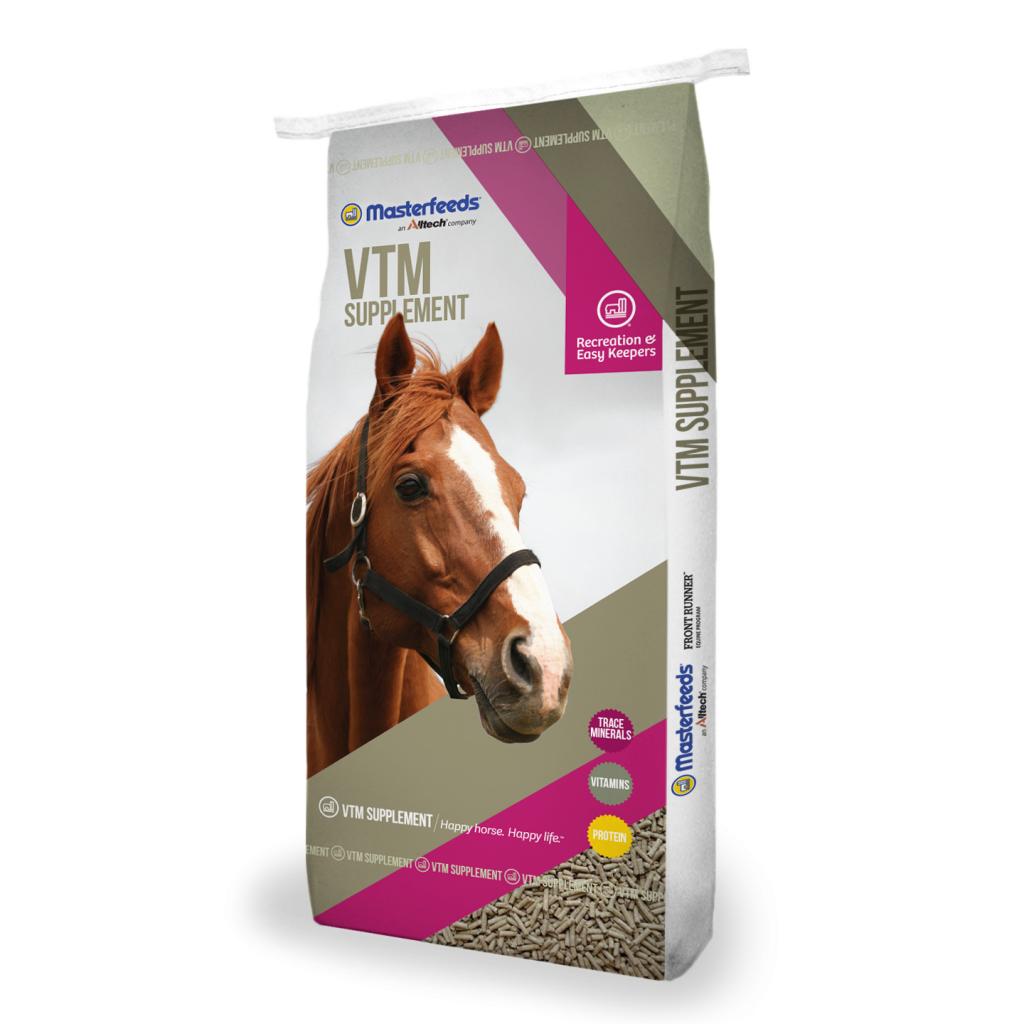 VITAMIN/MINERAL SUPPLEMENT (PELLET) EAST | WEST
FOR MAINTENANCE AND LIGHT PERFORMANCE HORSES
VTM is a trace mineral and vitamin supplement with added protein. It can be mixed with grains to make your own ration or topdressed on complete feeds to add additional vitamins, minerals and protein. Very palatable and versatile, it's a great choice for all classes of horses when extra nutrients are required.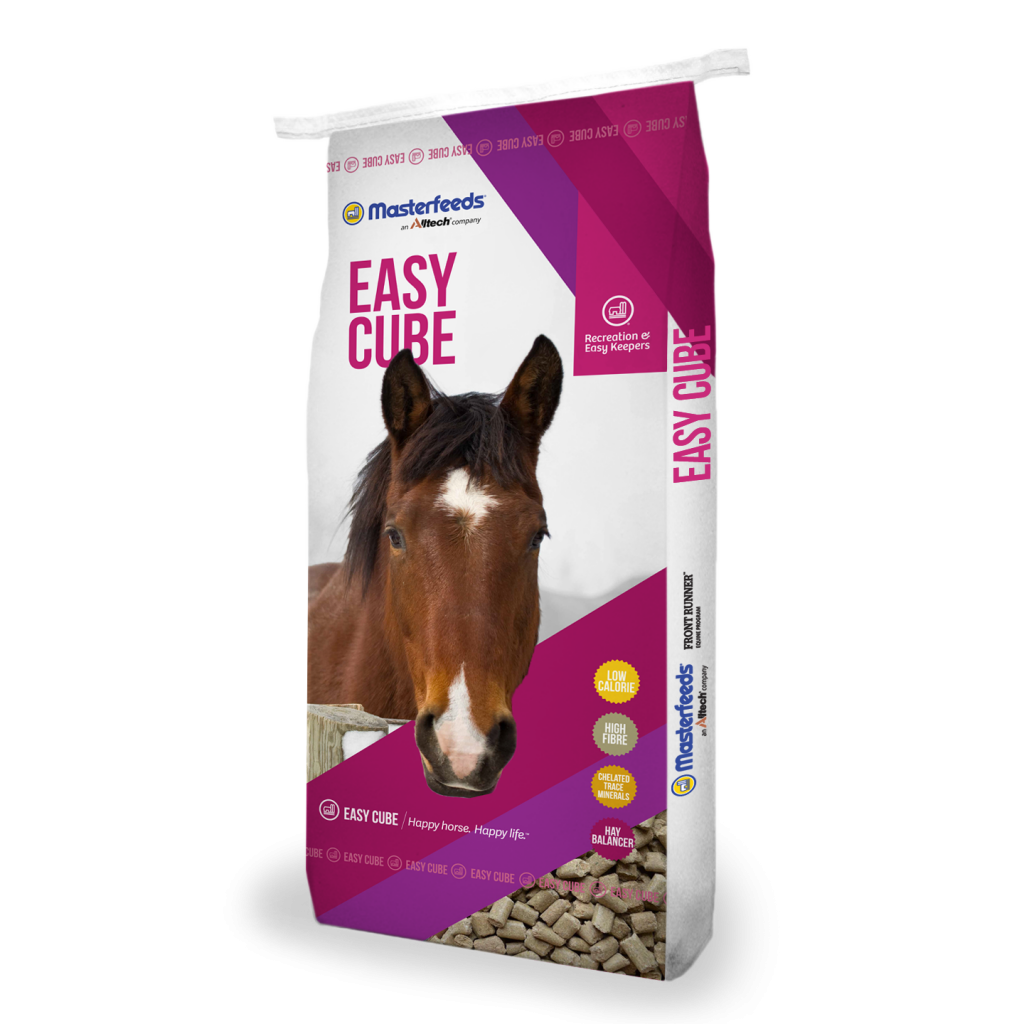 EASY CUBE (CUBE) EAST
FOR EASY KEEPERS AND EXTRA NUTRIENTS
A 12% protein vitamin and mineral supplement designed to be fed with hay for horses who need little to no grain to maintain weight. Easy Cube can be fed alone or as a vitamin and mineral topdress in addition to other feeds.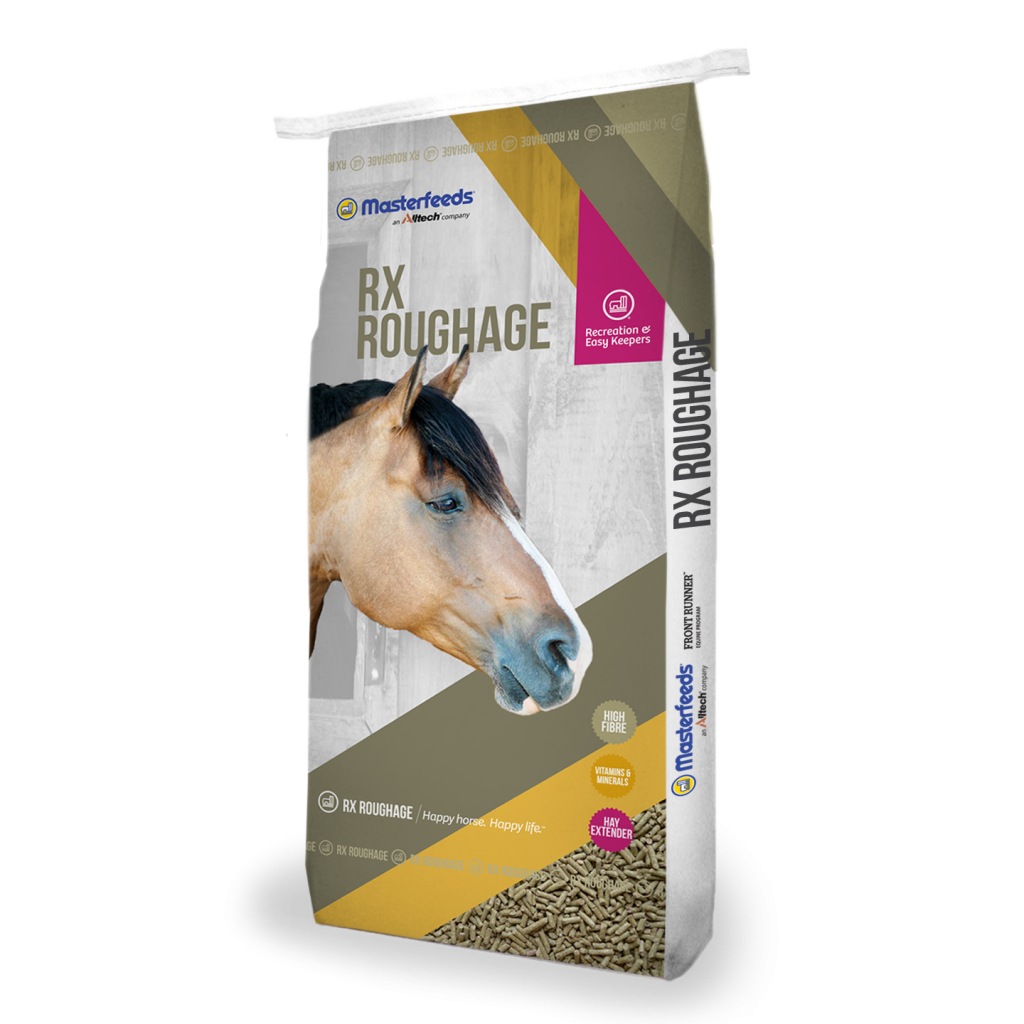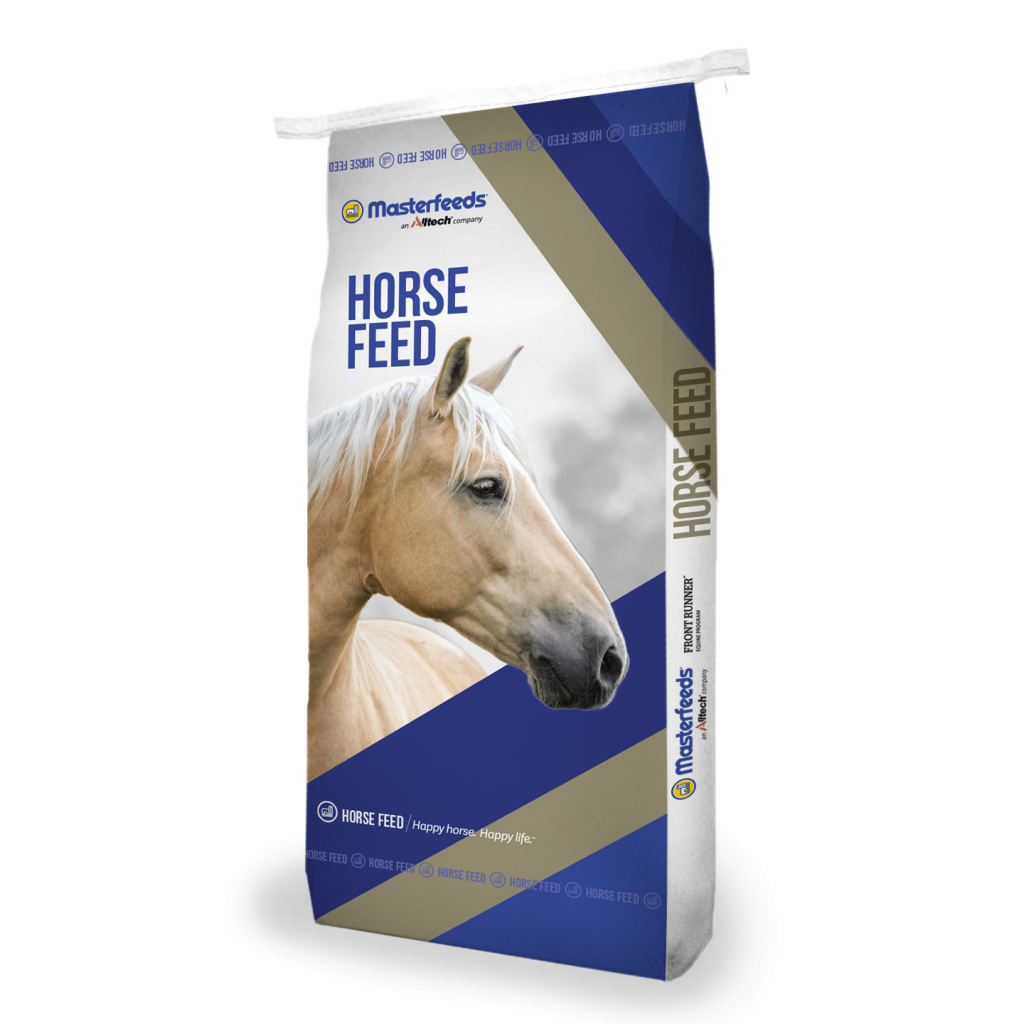 LOOSE HORSE MINERAL EAST | WEST
FOR EXTRA NUTRIENTS FOR GROWING OR HEAVILY WORKED HORSES
Formulated for typical mixed forage feeding programs. Designed for horses fed a forage program predominantly based on hay. Loose Horse Mineral supplies extra vitamins and minerals that are needed during times of stress or when extra nutrients are needed for growing or heavily worked horses.
---
Related Posts
---