If you're like most and love horses but don't always love science – this is the blog for you! Without getting into too many details, we want to go over some of the very cool attributes and fun facts of the equine digestive system and how we can feed in order to keep horses happy and healthy, while also being cognizant of their evolutionary functions. One thing to keep in mind as we go along is the extraordinary size of the entire equine system. Although horses are much larger than humans, they have even more organs packed into their body than we do – more than double the length if you were to place them side-by-side, start to finish! This long travel for food digestion is packed with twists and turns (and the inability to vomit), so it's easy to see how impaction colics and digestive upsets can occur in our strong, yet fragile, equine partners. The digestive process always starts with the point of entry, and so begins the beginners guide to the equine tract:
---
Down (or up!) the hatch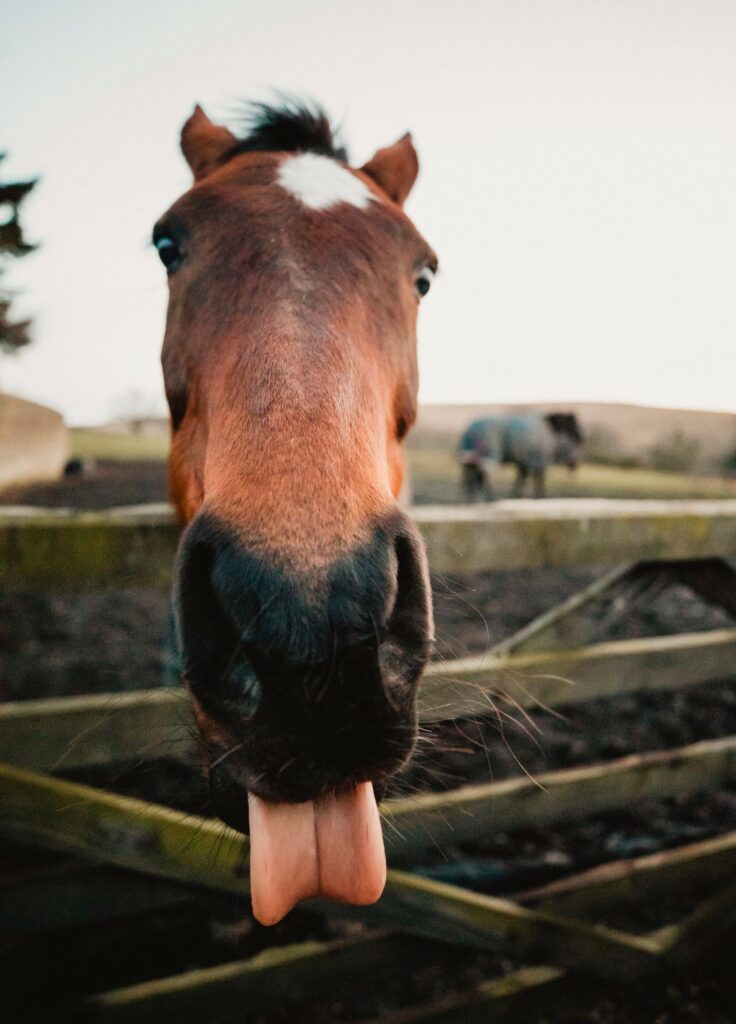 Horse lips are not only soft and cute – two of their most important functions are sifting through food and helping push it back to the molars, along with help from the tongue, for all that chewing they do while grazing a majority of their day. Chewing of continuous forage is essential to the equine – not only does it make sure tough stalks are ground to prevent impactions and keeps the stomach full, but the chewing action produces saliva which is essential to lubricate the entire travel through the digestive tract and helps to keep ulcers in check. Healthy teeth and access to free-choice forage are imperative to a healthy start to the digestive process. If you have a horse who "bolts" their feed, soaking helps get the fluids in them needed to prevent choke and to ensure safe travels down the GI tract.
Horses naturally graze with their heads down, so food is then transported up the esophagus by strong muscle contractions called peristalsis where it arrives rather quickly to the stomach. The one fact that non-horse people are always surprised about when discussing horses is the fact that they cannot vomit. The stomach is located at an angle to the esophagus that makes regurgitation impossible, which is why digestive issues can be so scary in horses. The stomach is also incredibly small for such a large animal – it empties quickly, but continuously produces acid even if there is no food present. If the horse stomach is not kept relatively full of fibrous material, acid can begin splashing up to the upper region of the stomach (squamous) whose lining is less protected than the lower region (glandular) where it is produced, creating ulcers. Continuous trickle feeding and smaller, more frequent meals are best practices for humans to adapt to the evolutionary needs of the horse while providing nutrition.
---
Intestines and the hindgut
Humans may have long intestines in relation to body size, but we pale in comparison to the almost 70 feet of small intestine that horses house. For such a long section of the digestive tract, food travels rather quickly through here and is the site where most carbohydrates and proteins are absorbed by enzymes in a similar manner to humans. After that long (but quick) travel, food continues on to the hindgut – a series of folded areas where fibre digestion takes place. This is where horses get their classification of "hindgut fermenters". This area is home to a huge population of microbes and bacteria species that are needed to breakdown food that horses cannot themselves and, unlike the quick travel of the intestines, food stays here for hours.
Water and vitamins are heavily absorbed here, while fibre is broken down by the microbes producing calories and even creating heat for warmth in the winter. If dehydrated, this is the likely area of the horses' tract that is the location of impaction colic.
The cecum is the main vat housing all those microbes, whose populations vary depending on what the equine diet consists of. Ideally, most non-structural carbohydrates will be absorbed in the foregut by enzymes, but often some slip through to the hindgut when large or high NSC concentrated meals are fed. The microbes that breakdown fibre in the cecum are not the same that breakdown NSC – those that are keen on NSC breakdown can flourish over those that breakdown fibre if horses are continuously fed high concentrate diets or single, large meals in a day, and this can often result in acid, colic or laminitis. The goal in any feed program is to make sure the fibre population is happy and flourishing in the cecum which is achieved by ensuring horses always have a healthy intake of fibrous material in their diet.
Keeping an eye on your horses' poop balls is a good indication of their overall health since this is the end of the digestive process. Diarrhea is the usual result of undigested food – chronic is more concerning than acute, since we all know those horses that get very stressed (and poopy!) and show day. On the other hand, if you notice your horses' poop balls are very dry, you should increase their water intake by providing loose salt in their diet and keep a close eye to be sure there are no impaction colics.
---
What this means for feeding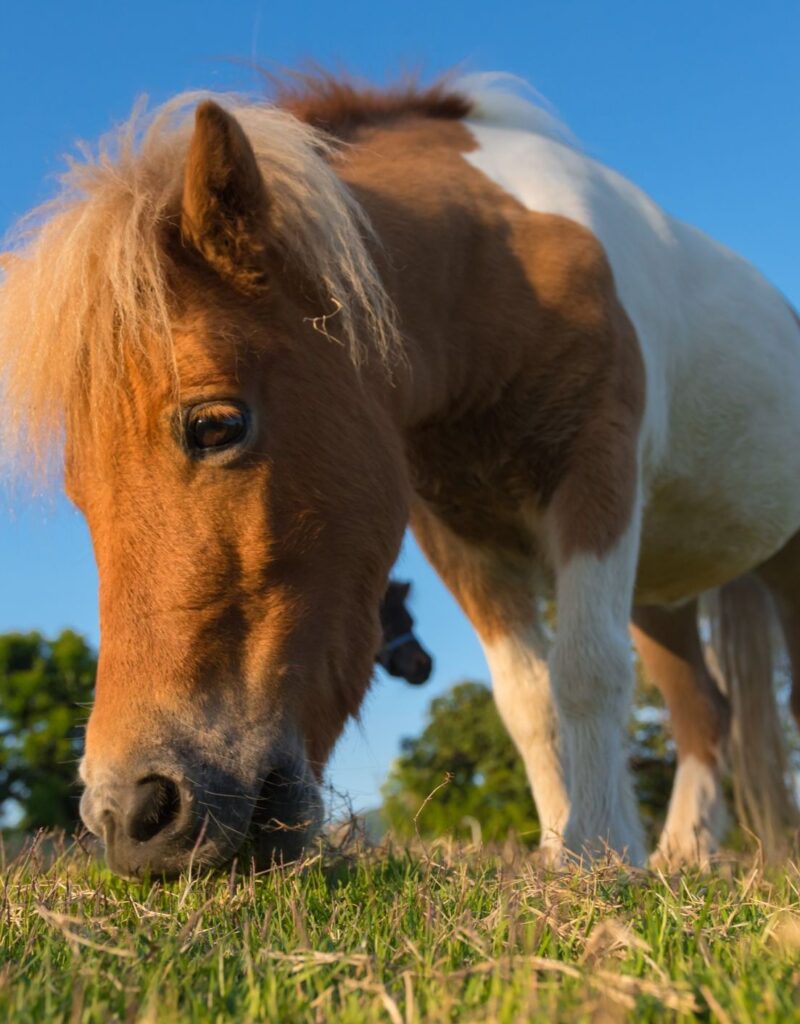 The equine digestive tract is fascinating, unique, and full of twists and turns (literally), which leads us to feed to our horses' needs. Although modern horses live a much different life than their ancestors, their digestive process is very much the same and needs to be the main consideration when providing diets. We want to be cognizant of their natural process, while also providing the requirements for the active horse of today. The most important nutrient always has been, and always will be WATER. As food passes through the equine tract, it is continuously absorbing moisture. Since it has such a far way to go in some pretty tight places, it is imperative that horses are hydrated to prevent impactions.
Saliva produced by chewing forage provides additional lubrication through travels – access to long stem forage as often as possible is an essential requirement for any equine diet. Not only does the chewing start the process with lubrication, remember that fibre is what is digested for hours in the cecum and what keeps the microbial population happy. For those that have trouble chewing, such as seniors, a fibre replacement product must be included in the diet. Also keep in mind that the microbial population is very sensitive to changes – all feed changes should be done slowly, even with pasture and hay.
Because the stomach is so small and needs to be constantly full, smaller and more frequent meals are best practice. Most horses require extra calories and nutrients in order to perform, so being able to provide two or three smaller concentrate meals will optimize the absorption of vitamins and minerals while also making sure most NSCs are absorbed before reaching the hindgut. The inclusion of organic form, chelated trace minerals in our diets means less is flushed out and more is being utilized.
Creating a happy, healthy horse means providing a feed plan that caters to both their evolutionary instincts as well as their specialized modern needs in sport and recreation. A journey through the horse digestive system is helpful in understanding the needs of your herd to further improve welfare, and our Masterfeeds equine representatives are always here to help customize a program for your herd. Check out some of our go-to featured products that are high fibre, low starch, for a healthy hindgut, below!

For more information or to schedule an on-farm call or hay analysis from one of our reps, visit our website, contact us, or email us directly at: happyhorses@masterfeeds.com
---
Product Spotlight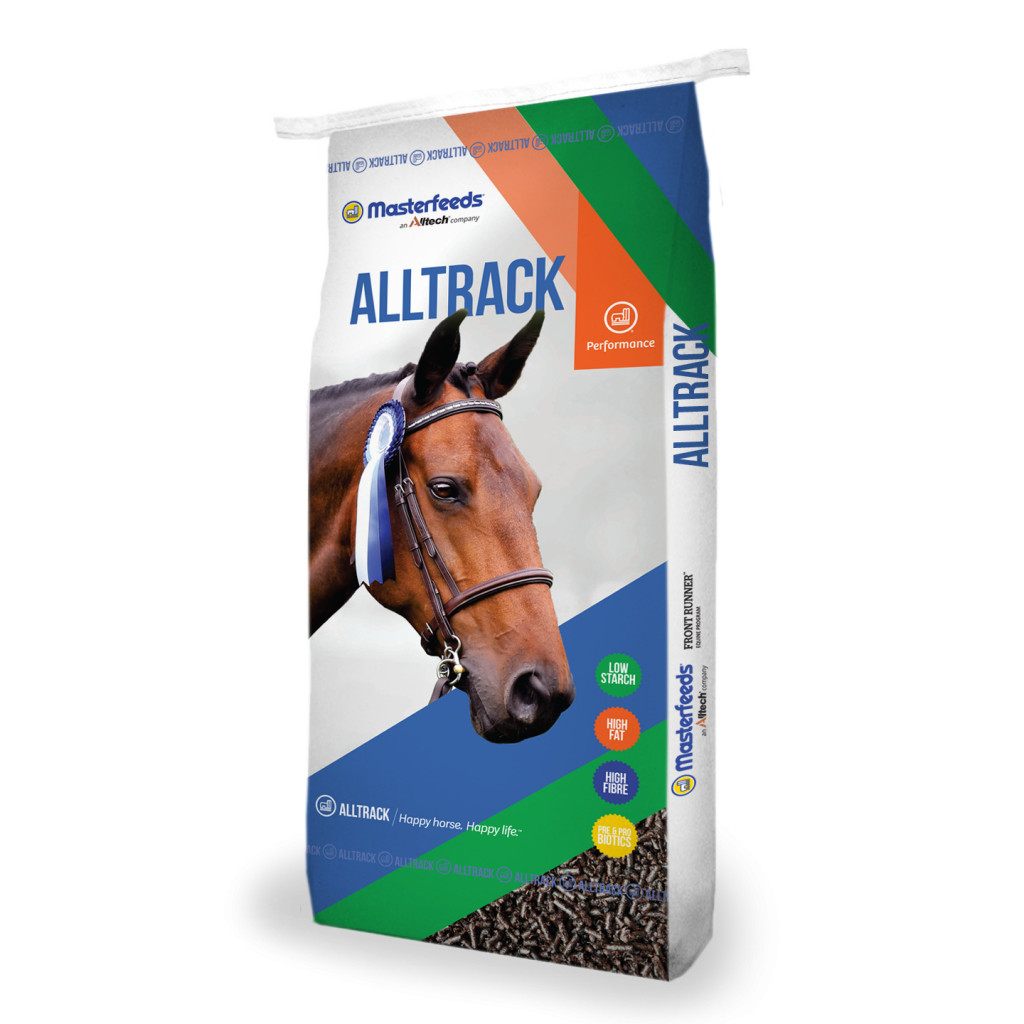 ALLTRACK (TEXTURED) EAST | WEST
FOR ALL TYPES OF EQUINE ATHLETES
Alltrack is a great choice for owners and trainers looking for a very low starch texturized feed for high performance athletes. A blend of high quality fibres, beet pulp and soft pellets fortified with protein, vitamins and minerals and blended with oil and molasses makes a palatable complete and balanced feed. It promotes good digestive and muscle health to keep your horses feeling great and ready for all sports and all tracks.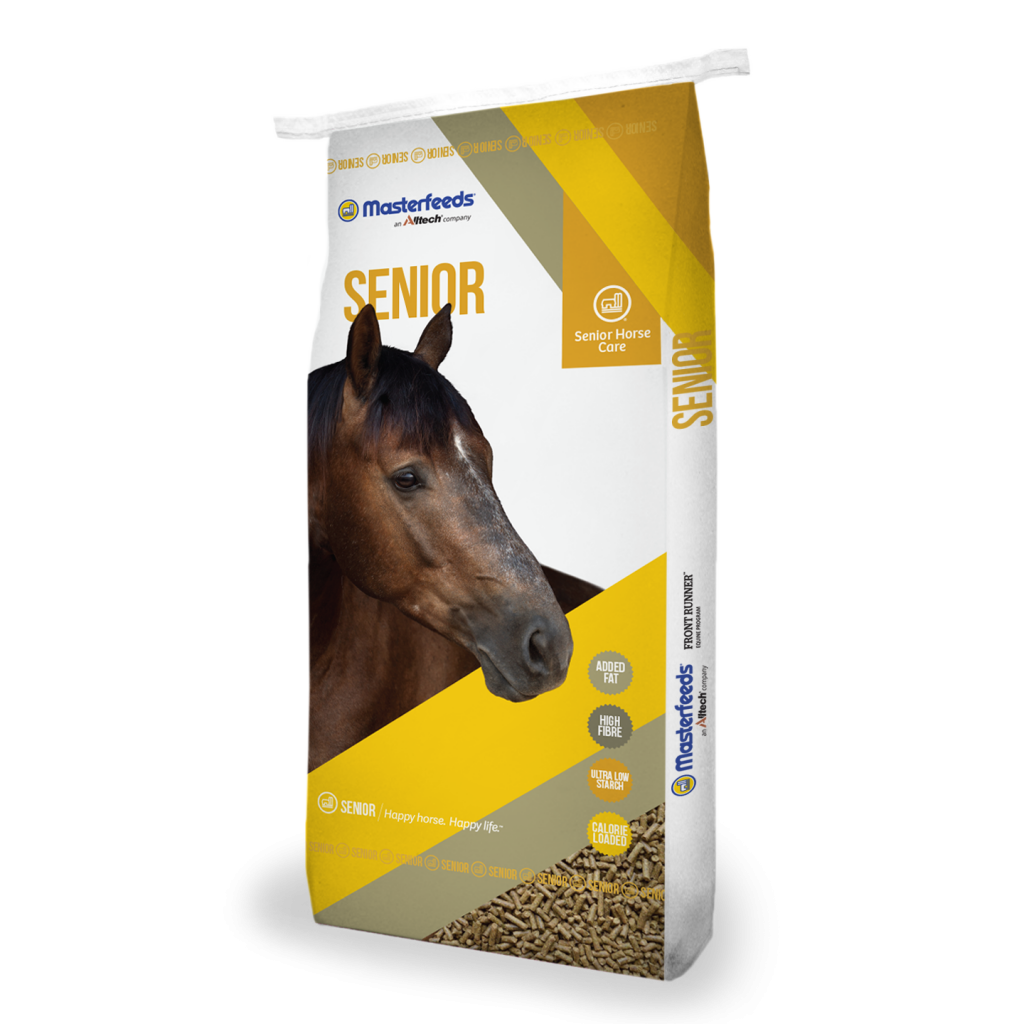 SENIOR (PELLET) EAST | WEST
FOR THE SENIOR HORSE OR PONY
Masterfeeds Senior is one of our lowest NSC complete feeds. It is ideal for the senior horse and also works very well for horses needing a low starch ration with added fat. The premium high calorie digestible fibre sources blended with 6% fat from all vegetable sources makes it a safe choice for working, pleasure, or retired horses who are very sensitive to added starch in their feed and need a low glycemic ration.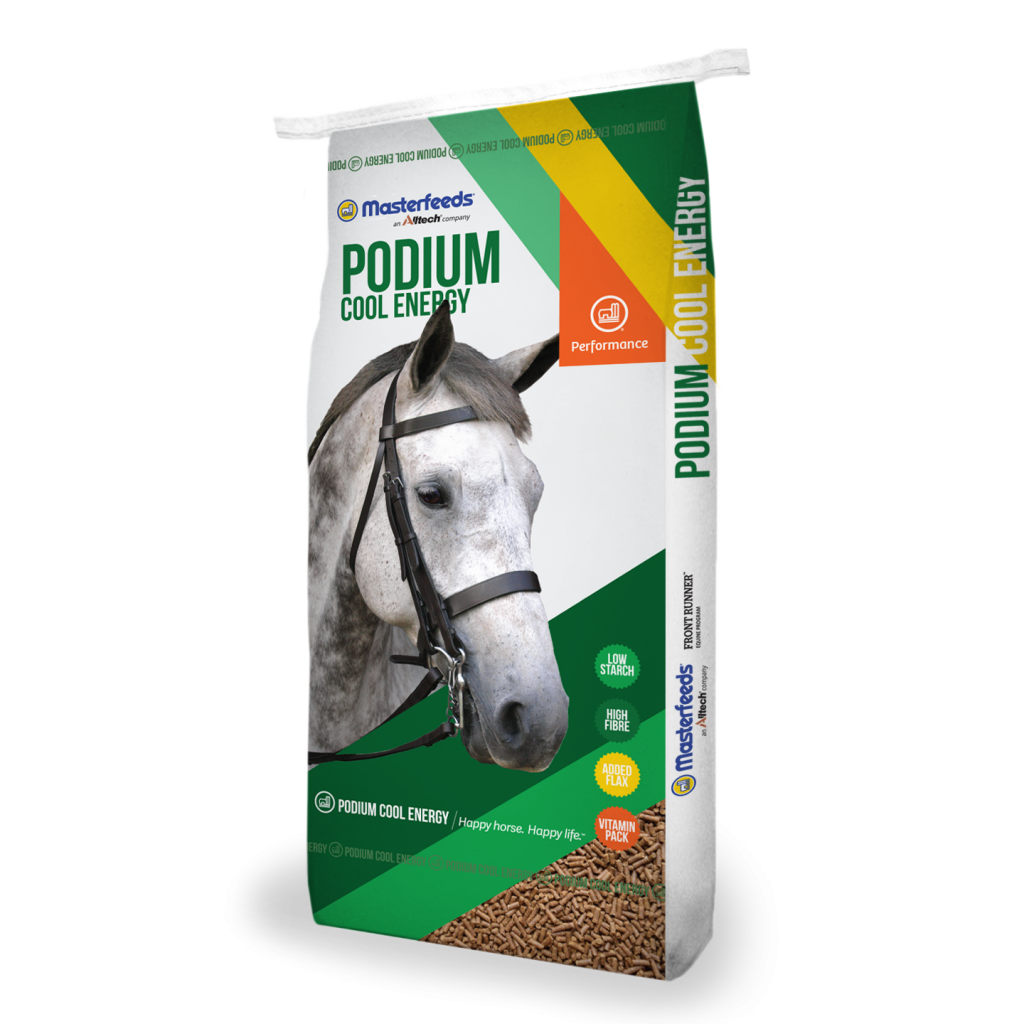 PODIUM COOL ENERGY (PELLET) EAST | WEST
FOR ALL TYPES OF EQUINE ATHLETES
Podium Cool Energy is a favourite with owners and trainers looking for a very low starch feed for high performance athletes. With proven results in reducing ulcer incidence and tying up, it is a great choice for standardbred racehorses, eventers, and any trainers and riders looking for an ultra low starch ration for working athletes. Added flax provides an excellent source of Omega-3 and it is fortified with our premium vitamin mineral pack for a complete and balanced feed.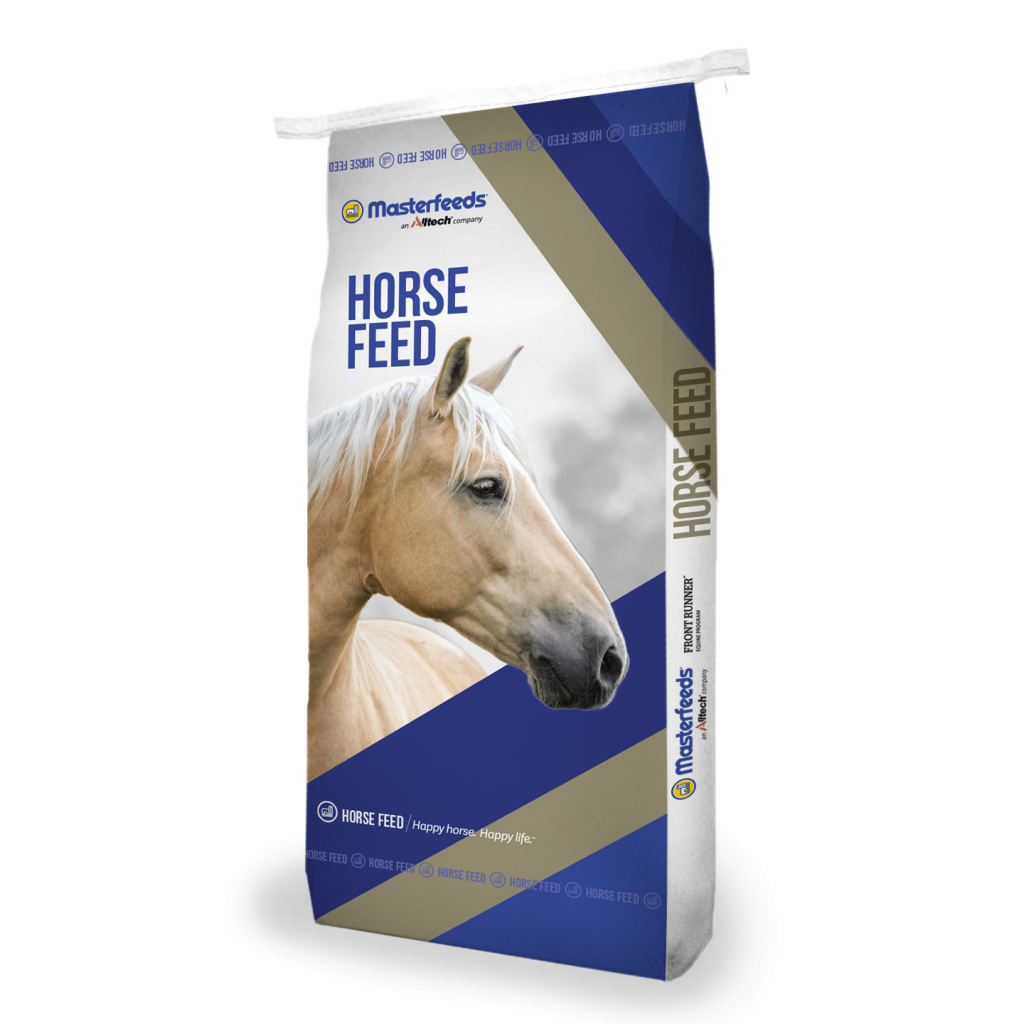 FAT 'N' FIBRE (PELLET) EAST | WEST
FOR MAINTENANCE & LIGHT PERFORMANCE HORSES
Masterfeeds 12% Fat 'n' Fibre is a complete and balanced 12% protein, higher fibre added fat ration. Fat 'n' Fibre is a controlled starch feed at a budget friendly price point. It is a perfect choice for riding schools, boarding stables and riders and trainers looking for a good, basic fat and fibre ration.
---
Product Spotlight
---