One of the more frustrating issues horse owners face is having multiple horses with a wide range of body condition scores, even though they have a similar base nutrition program. In an ideal world, the same diet would work for our entire herd to keep them in their best shape. In the real world, however, horses are just like humans in that their energy requirements differ based on the individual. Small adjustments in feed can make a major difference depending on the needs of each horse in your herd. Check out the adjustments we recommend for your underweight or overweight horses.
---
What's the difference?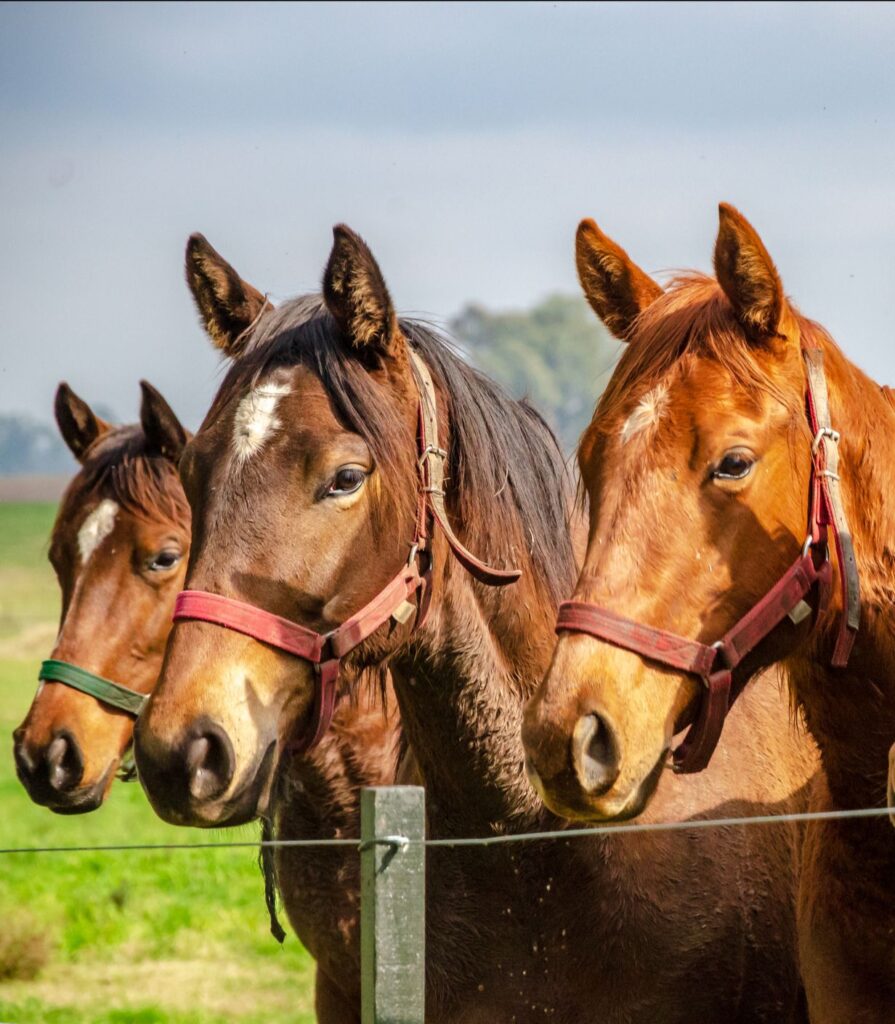 There are a multitude of factors that contribute to whether your horse is a hard keeper or an easy keeper to consider as well as taking a look at nutrition requirements and programs. Some of those factors are in our control, while others not so much. Take for example, horse health management – these are some of the things that we can make changes to or have to consider to keep up on to ensure horse health:
Is your horse up to date on their worming program?
Do they suffer from ulcers or diarrhea from an otherwise healthy tract?
Does your horse have adequate pasture or forage? Are herd dynamics playing a role?
Is your horse getting routine teeth floating and dental checks?
What is their activity level?
On the other side, there are factors that we have to consider that are out of our control, but very much play a role in the overall health of your horse and what their energy requirements may be. These include but are not limited to:
The weather – as much as we would like, we can't control the fluctuating seasons of Canada!
Breeds and genetics – hot-blooded horses will naturally burn more energy with their high burst nature.
Nervous horses vs. calm horses.
Two of the "same" horses could potentially have very different metabolic and digestive efficiency in general. Don't we all have that one friend who can eat enough for two but is still stick thin? Regardless of the factors that are in or out of our control, horses that are either underweight or overweight can be managed and a nutrition program can be created for each and every one of them, even if their base program is the same.
---
The Underweight Horse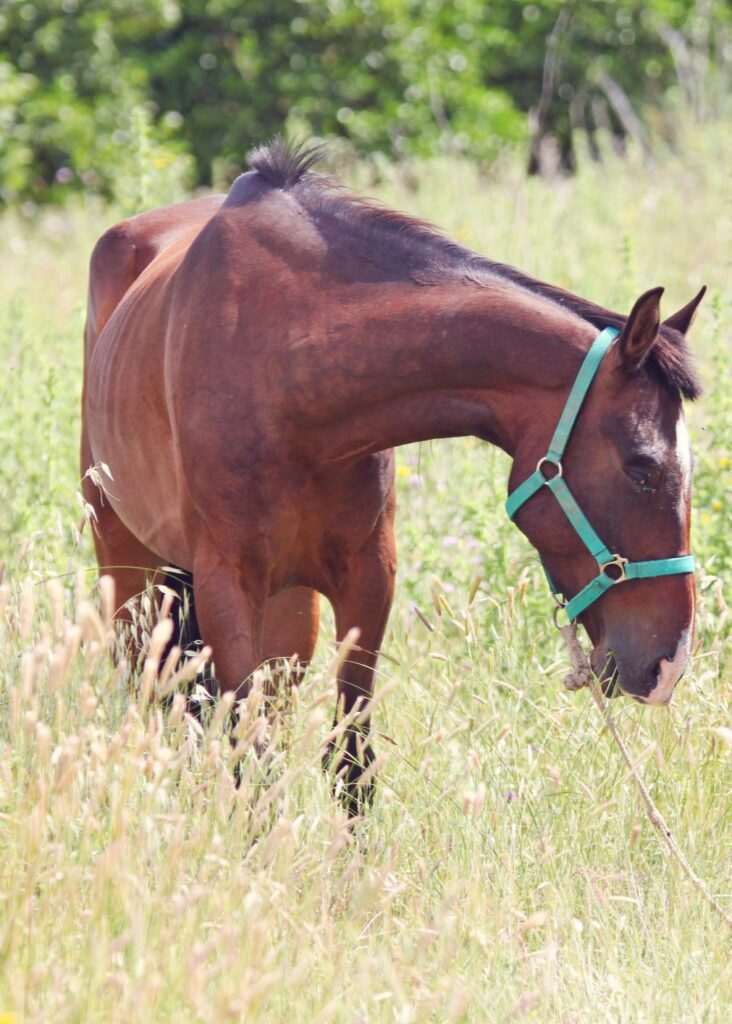 The proverbial "hard keeper" is a type that many a horse owner knows or has known. These are the horses that can easily swing from a healthy weight to seemingly skin and bones and who require extra calories sometimes year round. We love OTTBs, but they usually fit into this category, and life stage needs to be considered – is the horse now lactating or a senior? Horses can be thin due to a variety of factors including breed, age, and activity level. For example, thoroughbreds are naturally a thin breed, senior horses suddenly start having trouble keeping weight, a light-working leisure horse will keep weight easier than the demands placed on a high-level competition horse.
Whatever the case may be, the underweight horse is ingesting fewer calories than they are expending in energy – whether that be working hard or just trying to keep warm during cold weather. When losing weight, they have begun using fat stores for metabolic processes and biological functioning, which is also why muscle wasting can generally be seen with weight loss.
In order to gain weight on a thin horse, we need to increase the fat in the diet so they are ingesting more calories than they are expending, essentially doing the opposite of what is happening currently. The first step is to make sure the horse always has access to fresh, clean water and to introduce free choice hay that is less mature, and more leafy, which generally means it is higher in nutritional content and calories. A nice alfalfa or alfalfa-timothy mix is ideal. Introducing hay is imperative, however, there is an upper limit to the quantity of hay that a horse can consume in a day. This is why the next step is to introduce a fat concentrated meal or top-dress multiple times a day.
Fat has many more calories than forage does, so high-fat concentrates fed over multiple meals is an ideal addition to the underweight horse as many products not only contain the fat needed for weight gain, but have added pre and probiotics to promote healthy digestion and nutrient absorption of the new diet. When introducing new feeds, we always recommend to make slow changes so your horse can adapt and their sensitive tracts are not overwhelmed.
---
The Overweight Horse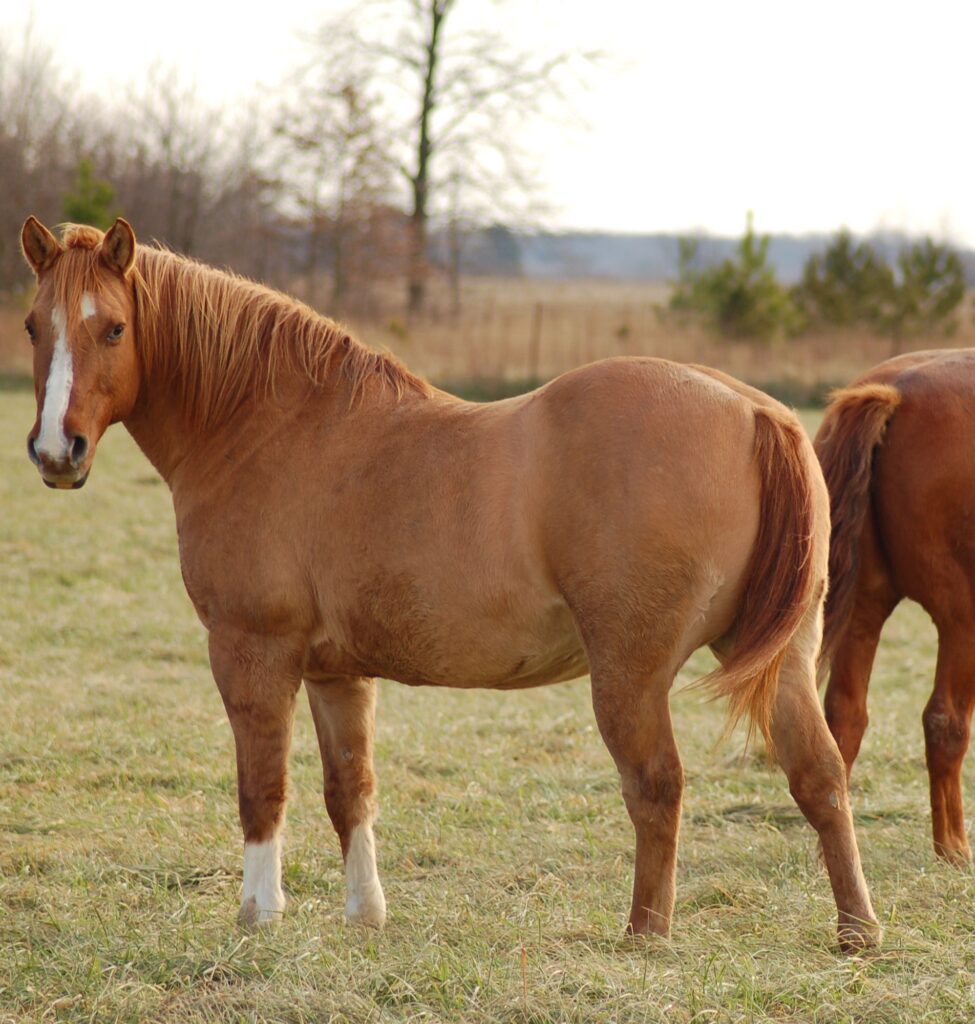 "More to love" sounds nice, and it's easy to think we are doing the right thing having a horse that is overweight compared to underweight, but prolonged extra weight on your horse can do damage on their digestive system as well as impact their respiratory system and put stress on their limbs and joints. Considering horses already have a lot of weight to carry around on four small legs, adding excess weight is a recipe for disaster.
Overweight horses are also at risk of equine metabolic syndrome and laminitis due to accumulation of fat from too many calories and not enough exercise. EMS is manageable, but it is much better to try to prevent the issue rather than to fight it later on in your horse's life. The first step is to identify if your horse is overweight; sometimes seeing your horse on a daily basis means you don't always notice when they have packed on some pounds.
A horse of healthy weight should have coverage of the spine and ribs in which they cannot be seen but can still be felt when pressed. A horse that is starting to be considered overweight will have visible fat pockets along the withers and shoulders, and will often have a crease down the spine with a generalized softness to the hindquarters. For more reference, take a look at the standard Henneke scale, widely used as the body condition scoring standard of horses.
The next step to reducing the weight of your horse is to limit the amount of calories coming in. The overweight horse is consuming more fat than their body can burn, and therefore added fat is not ideal in their diet. You should be looking for a diet that is lower in fat than the current one you have – or example, if your current concentrate has an 11% fat, you should consider switching to a feed that has 6% fat or lower which generally means less calories. If you have an obese horse, it would be wise to remove concentrates entirely.
Forage is always the main component of the equine diet, so removing the excess calories from high fat concentrates will help reduce weight. However, good quality forage in Canada still likely falls short on the necessary vitamins and minerals your horse requires, so a hay sampling and added vitamin/mineral supplement for a balanced diet is suggested.
---
Many things are out of our control when it comes to weight gain and weight loss in our horses, but with good management and small changes in nutrition, any horse can get back into proper shape in no time. Check out our featured high and low fat products below to get you started with that horse's weight gain or loss!

For more information or to schedule an on-farm call or hay analysis from one of our reps, visit our website, contact us, or email us directly at: happyhorses@masterfeeds.com
---
Product Spotlight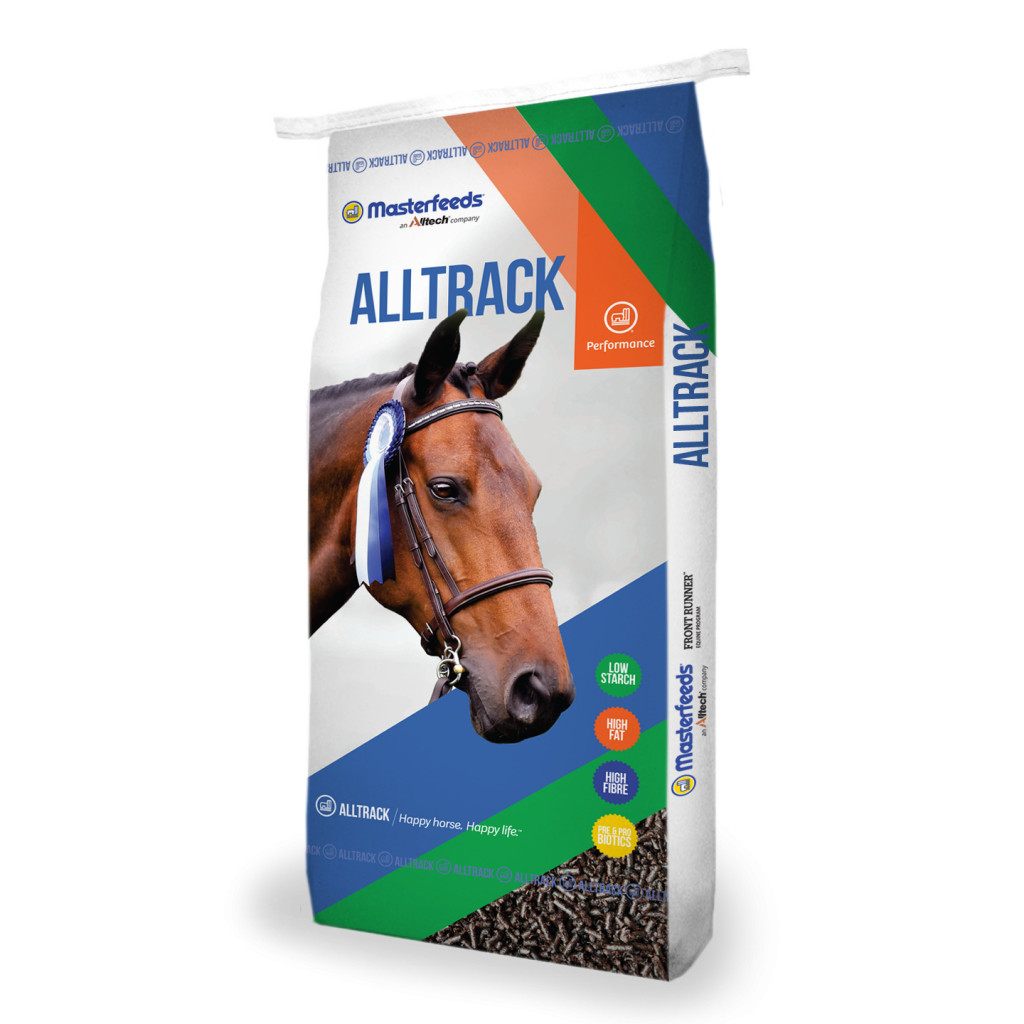 ALLTRACK (TEXTURIZED) EAST | WEST
FOR ALL TYPES OF EQUINE ATHLETES
Alltrack is a great choice for owners and trainers looking for a very low starch texturized feed for high performance athletes. A blend of high quality fibres, beet pulp and soft pellets fortified with proteins, vitamins and minerals blended with oil and molasses makes a palatable complete and balanced feed. It promotes good digestive and muscle health to keep your horses feeling great and ready for all sports and all tracts.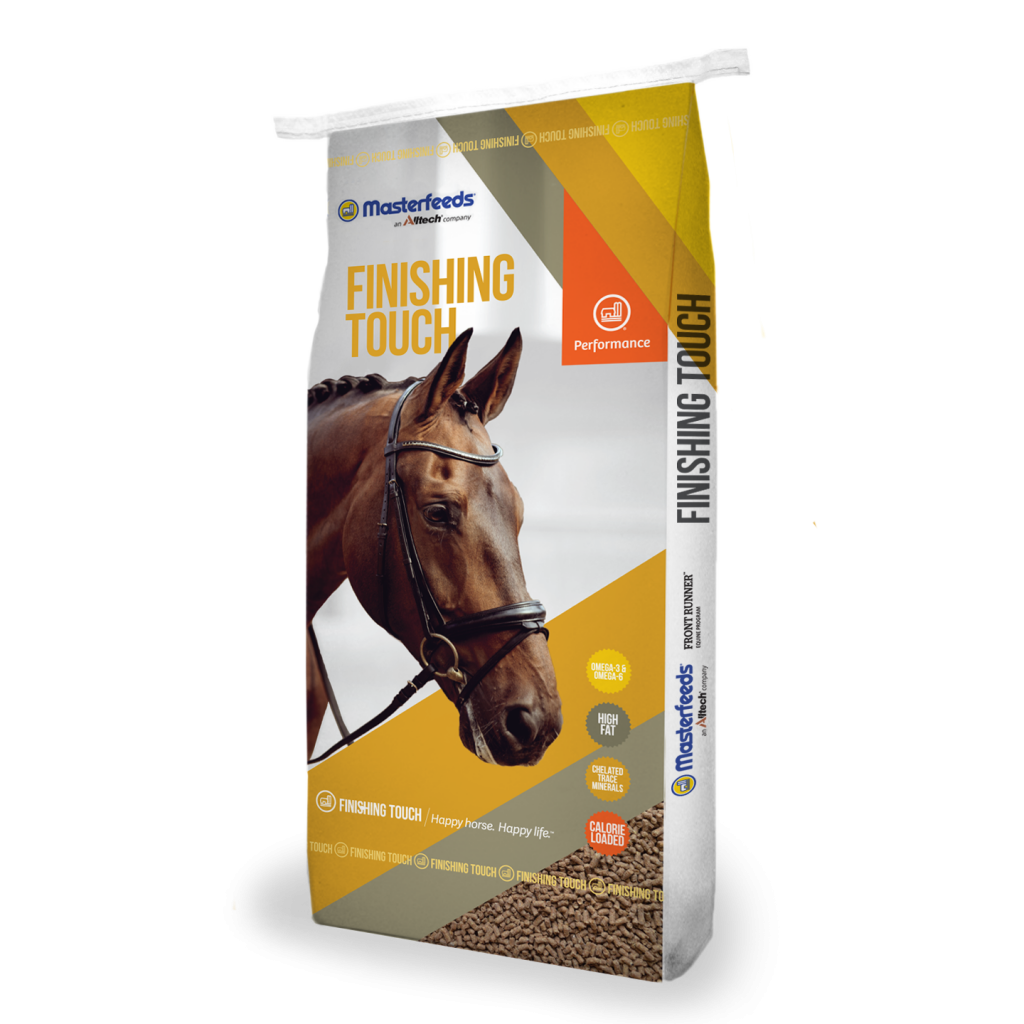 FINISHING TOUCH (CRUMB) EAST | WEST
FOR IMPROVED PERFORMANCE, WEIGHT GAIN & COAT CONDITION
Masterfeeds Finishing Touch is a smart energy addition to any developmental diet. This high fat supplement is designed to be top-dressed on a balanced complete feed to increase the caloric density of the diet and add fat calories as an energy source. A very palatable formula, beneficial to any horse for improved performance, weight gain and coat condition. It's an excellent choice for extra fit and finish and for enhancing fertility.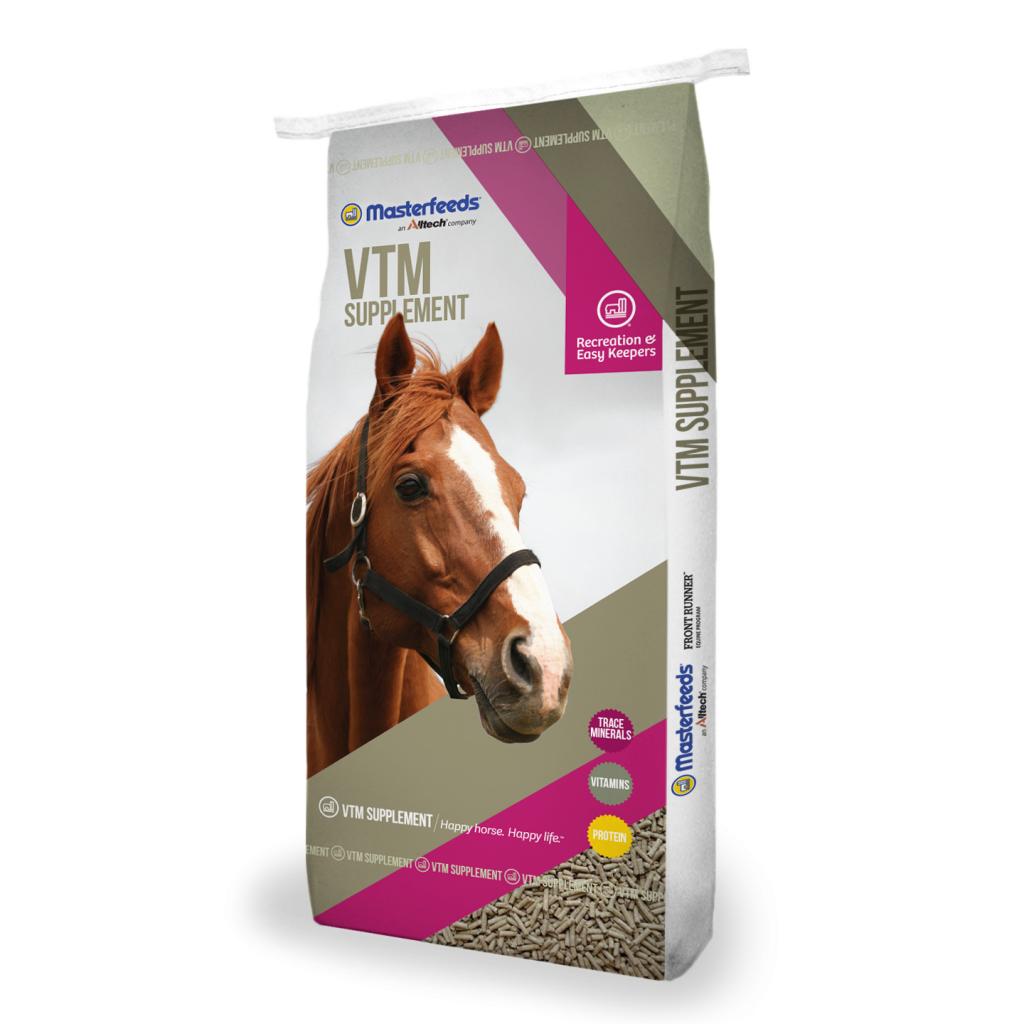 VITAMIN/MINERAL SUPPLEMENT (PELLET) EAST | WEST
LOW CALORIE SUPPLEMENT
VTM is a concentrated option for horse owners looking to feed protein, vitamins and minerals in a small package. This pellet can be mixed with grains to create a complete ration or fed alone as a highly fortified "diet" ration for horses not needing extra calories or energy.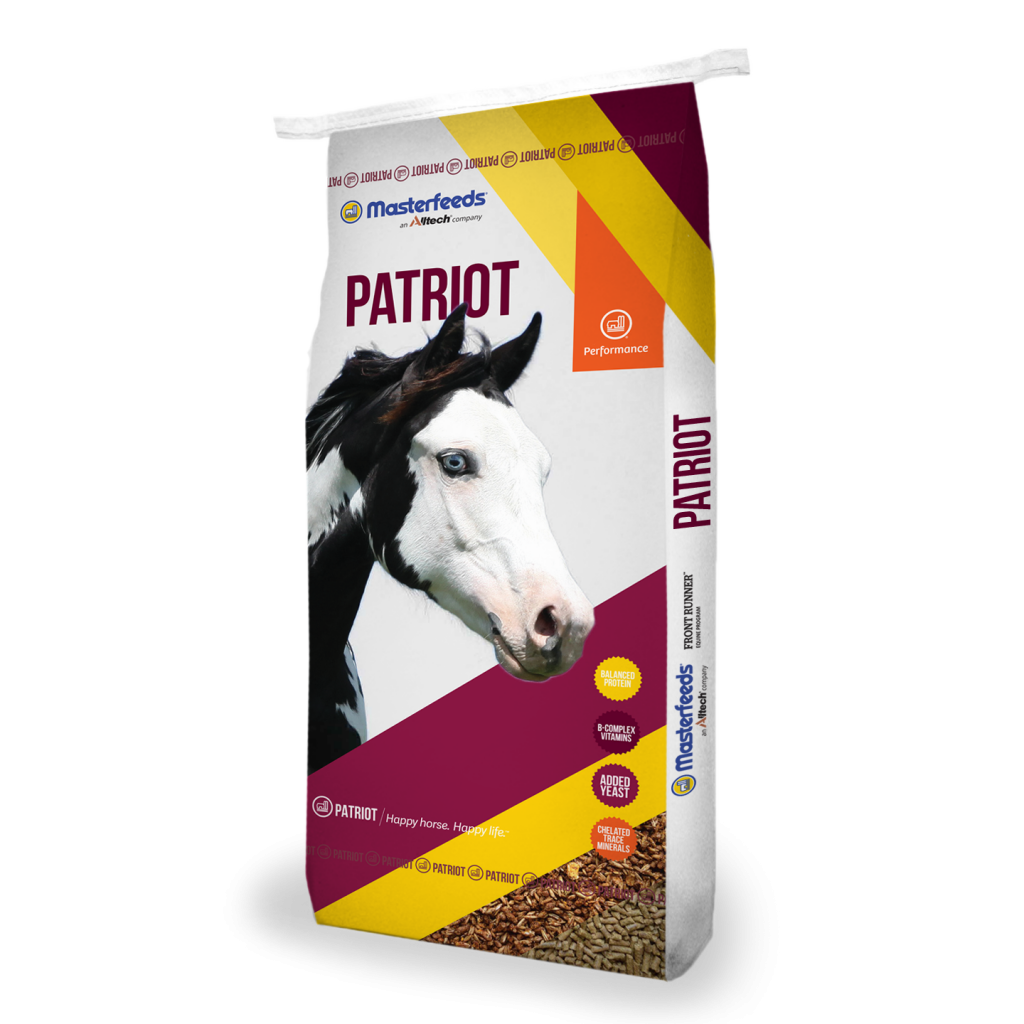 PATRIOT (PELLET/TEXTURIZED) EAST | WEST
FOR ALL TYPES OF EQUINE ATHLETES
Patriot is a high quality feed specifically designed for the pleasure, low-intensity performance horse, or those who are relatively easy keepers. This feed is fortified with vitamins and minerals at appropriate levels to meet their basic needs.
---
Product Spotlight
---