Parasites in horses are present from the very moment they are born. Mares immediately pass parasites onto their babies by their constant contact. This is why we have our ever favourite scheduled deworming routines with our four-legged best friends that goes on for their entire lifespan. Parasite infestation can cause real trouble in your horses' digestive system and effect their overall health, no matter what you feed them. An individualized deworming schedule helps keep these ever present parasites controlled, but did you know that you can also practice farm management techniques to minimize parasites on the ground? Here are some tips to do so:
---
Remove manure from pastures and dry lots frequently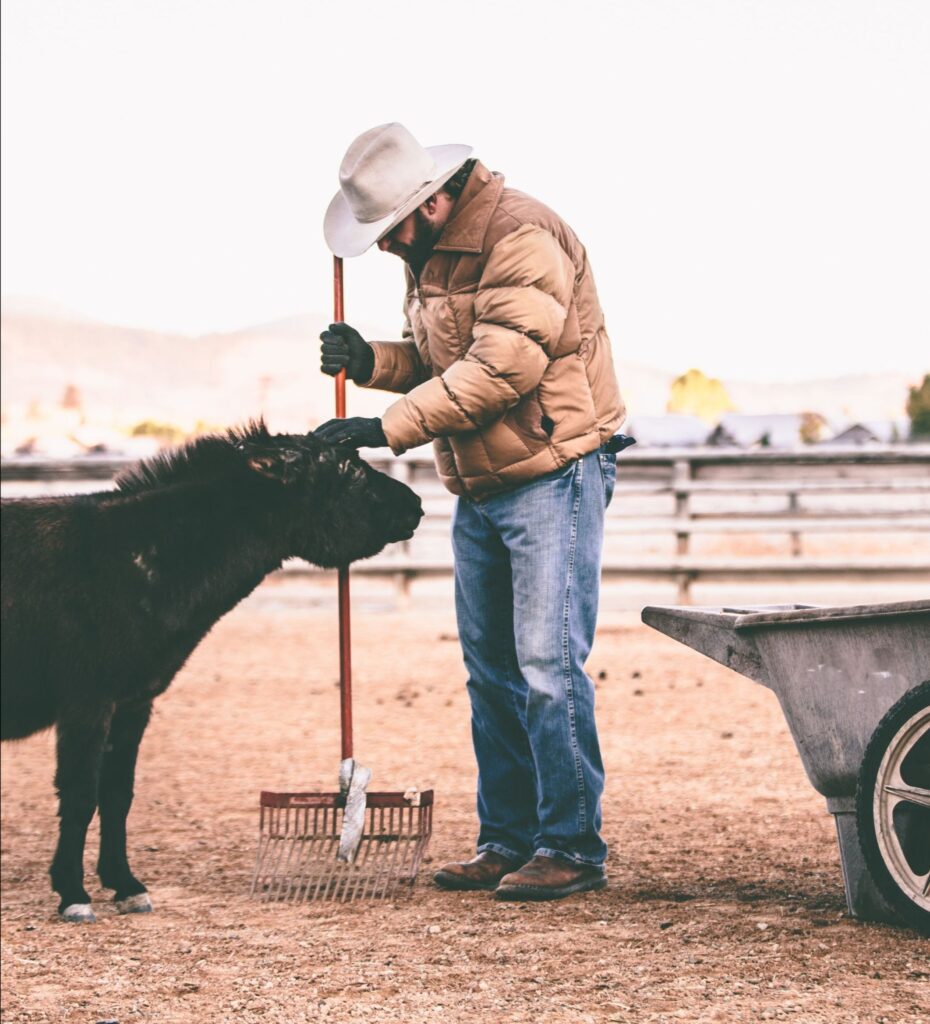 A seemingly tedious task, indeed, but if you can find the time to regularly remove manure from pastures, it will be worth the effort. This especially holds true in cases where there is going to be overgrazing. In nature, horses will naturally avoid manure areas while grazing to minimize their contact with these parasites. In reality, with the domesticated horse, it's likely that there are many horses to one smaller pasture. One way to utilize that manure you removed? You can compost it – in which the high heat generally kills the parasite cycle – and reuse it as a fertilizer in gardens and green areas.
---
Mowing or harrowing
This is ideal in climates that are dry and hot. The mowing of the pasture makes the parasites more likely exposed to heat, which will prompt them dying off. This method also assumes that there is a rotational grazing method being used on the farm as the pasture should have time to regrow for grazing before the horses are put back on. Grazing low to the ground is a significant culprit for parasite ingesting, so healthy pastures are essential. Putting horses back in fields that have freshly harrowed manure can also have the adverse effect of actually spreading more parasites if not given time to die off. Mowing at the end of the season before winter is also ideal, as parasites have been found to survive and be insulated in long, snow covered grasses.
---
Cross-species grazing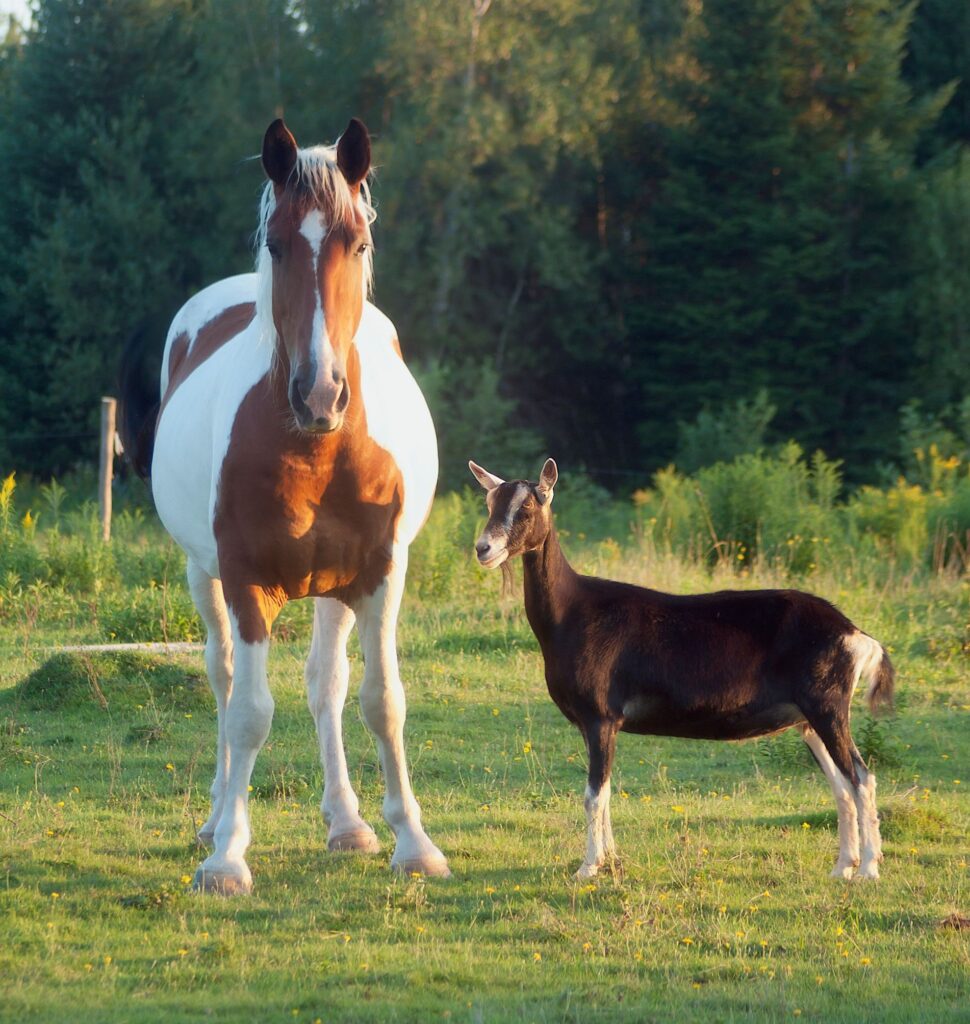 Ever look out at a pasture and see low grasses, speckled with taller patches that have been allowed to grow and not grazed on whatsoever? Those spots are generally manure piles avoided by horses naturally staying away from where they defecate. The grass near these piles will continue to grow as the rest of the pasture is grazed by the horses where preferred. One way to help even out the pasture and reduce parasites in the tall areas is to cross graze among farm species. Cattle and goats graze other areas and will often pick up the tall areas left behind by horses.
This is beneficial in three ways. The first is the parasites that infest horses cannot survive in cows, goats, sheep, or other ruminants, with a few exceptions. The second is that this grazing of higher grasses leaves the worms more vulnerable to sun exposure and therefore, death (as described in mowing, above). The third is that goats are really fun to have on farm!
---
Rotate pastures
Rotational grazing is beneficial to overall pasture health, but also to minimize parasite contamination. The lower the horse eats to the ground, the more likely they are eating near contaminated areas since many parasites can only hang out near the bottom of the plant. If you are able to employ rotational grazing methods, where horses are only grazing in one area for a small amount of time, and therefore never grazing too close to the ground, you can also minimize transmission.
---
Keep similar parasite-load horses in the same pastures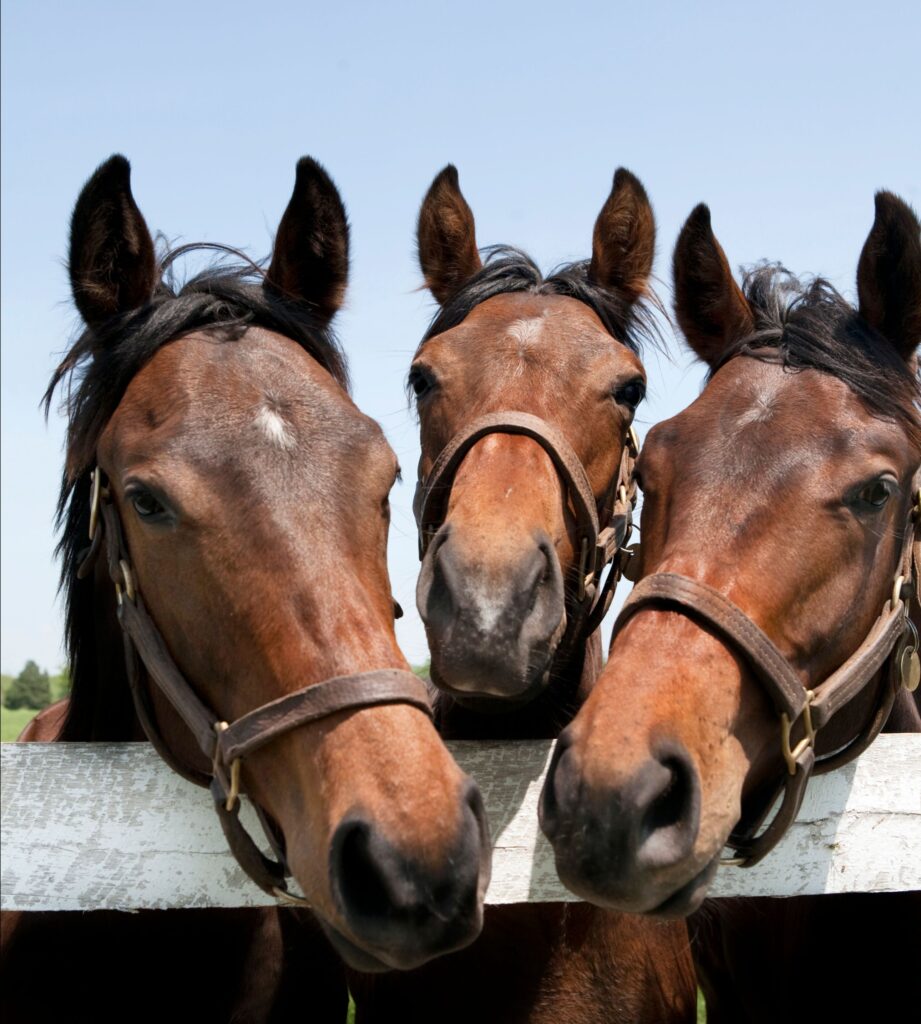 Some horses on the farm will have high fecal egg counts (parasite loads), while others do not contribute much at all to parasites on the farm. This can be determined by your local veterinarian through individual testing. Keeping those with high FECs and those with low FECs in the same pastures can help you manage their worming programs and know which pastures and paddocks to pay more attention to. With the proper worming program with your vet, you can hopefully get all members of the herd on a similar level and reduce the overall parasite load.
---
Keep hay and grain in dry lots off the ground and away from manure
Since we know that a parasites are spread in low graze areas, the same goes for feeding hay and grain. Not only does feeding off the ground help reduce the chances of sand colic and respiratory issues, it ensures that horses do not have to eat near parasite-filled manure they've moved around if you haven't had a chance to pick up the paddocks lately. An added bonus to using a feeder is that hay waste is reduced substantially with less blown away or stomped upon.
Individualized deworming plans may seem tedious at first, but in the long run can save money and make sure you are using the right medication for your horses' parasites and minimize the amount of dewormer used on your horses. Check out our Guide to Deworming Your Horse complimentary blog for a few other management tips to help manage your horses' parasite loads for happy, healthy horses!

For more information or to schedule an on-farm call or hay analysis from one of our reps, visit our website, contact us, or email us directly at: happyhorses@masterfeeds.com
---
Product Spotlight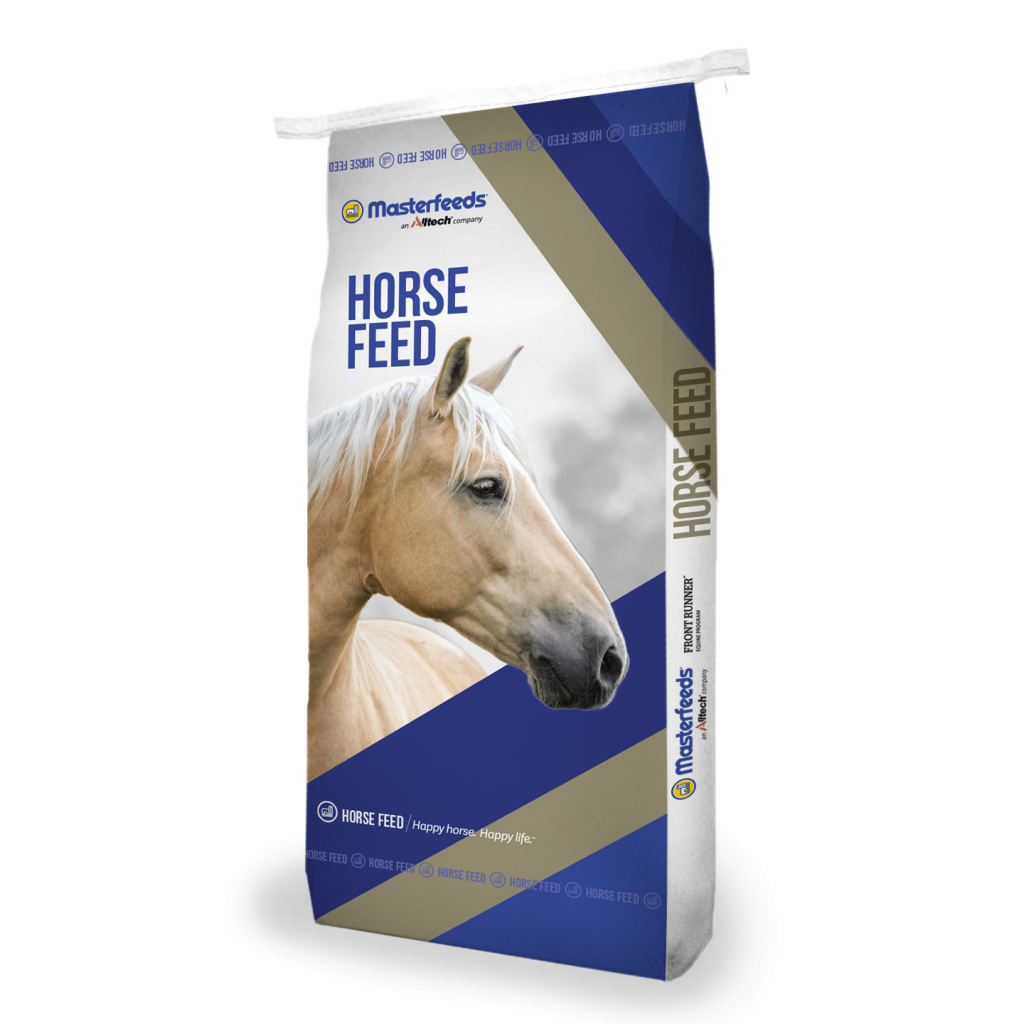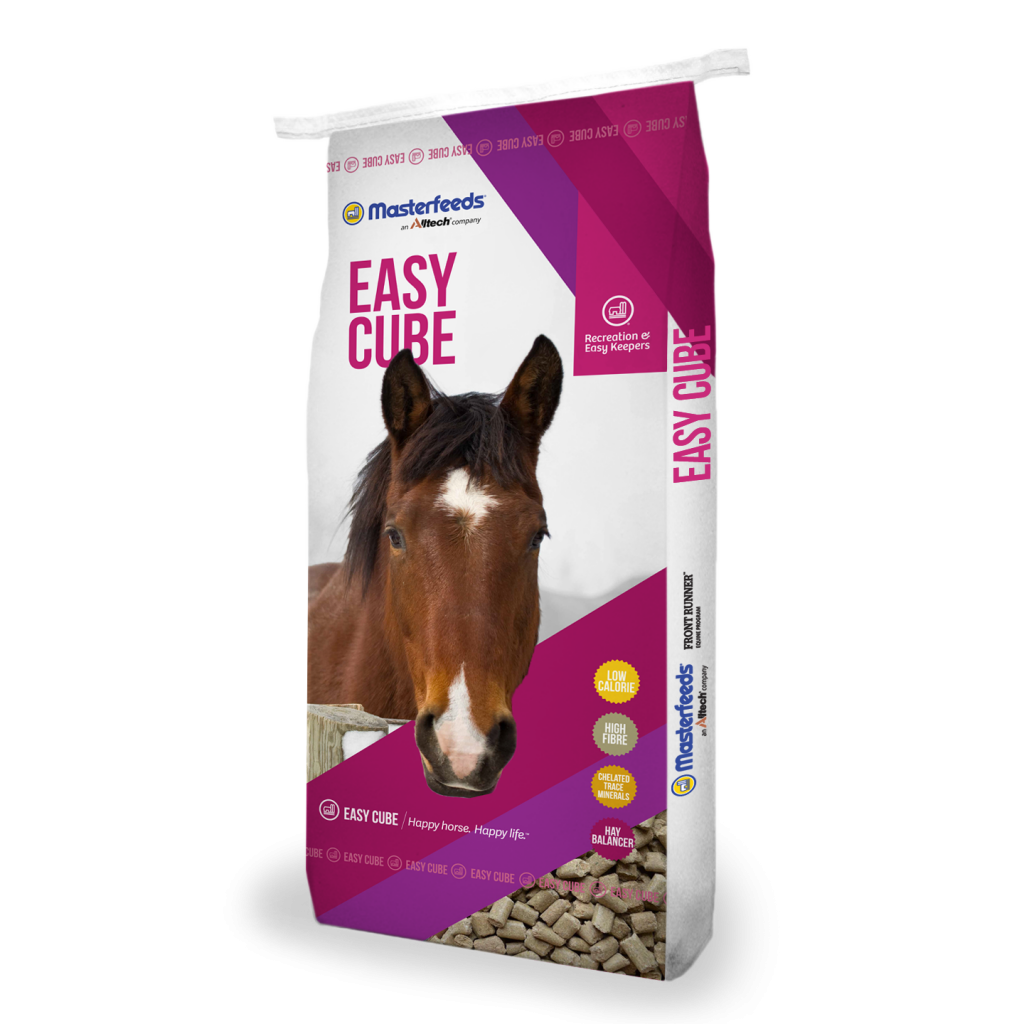 EASY CUBE (CUBE) EAST
FOR EASY KEEPERS AND EXTRA NUTRIENTS
A 12% protein vitamin and mineral supplement designed to be fed with hay for horses who need little to no grain to maintain weight. Easy Cube can be fed alone or as a vitamin and mineral topdress in addition to other feeds.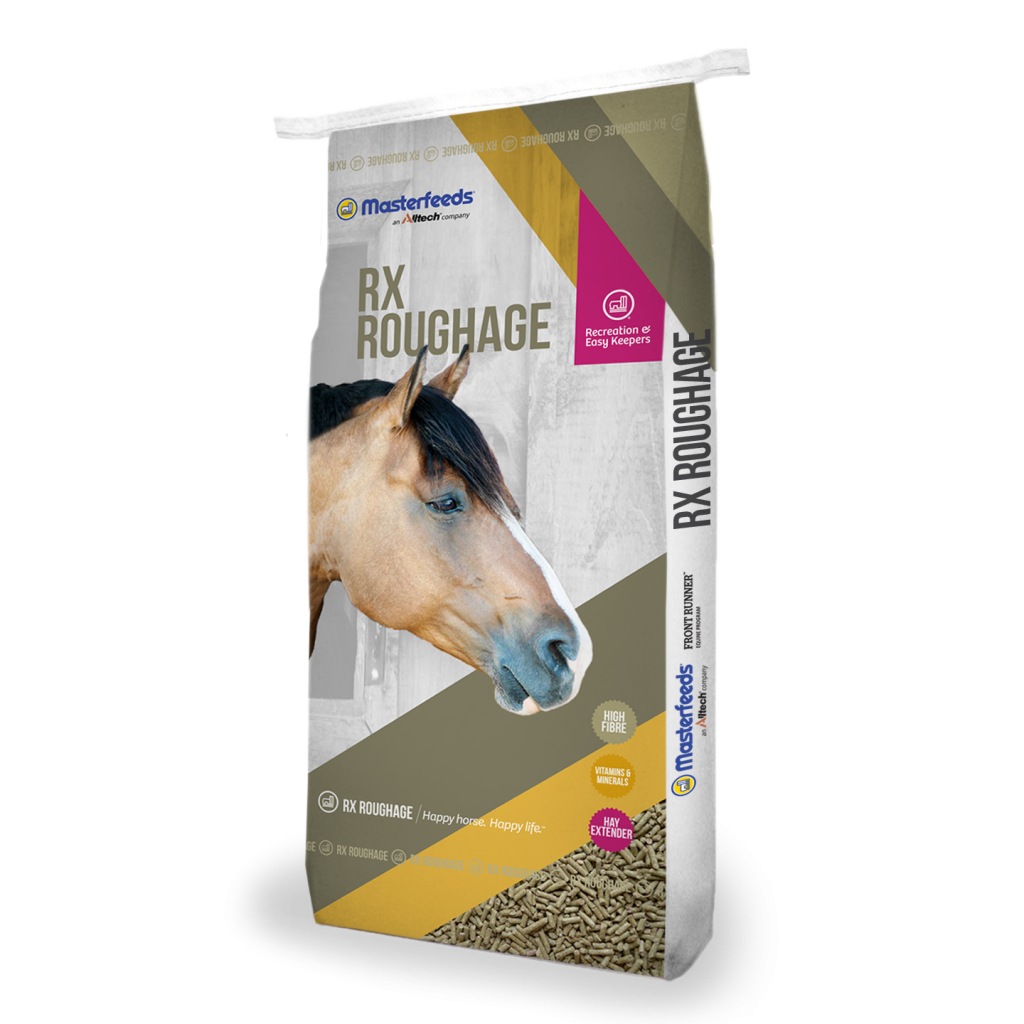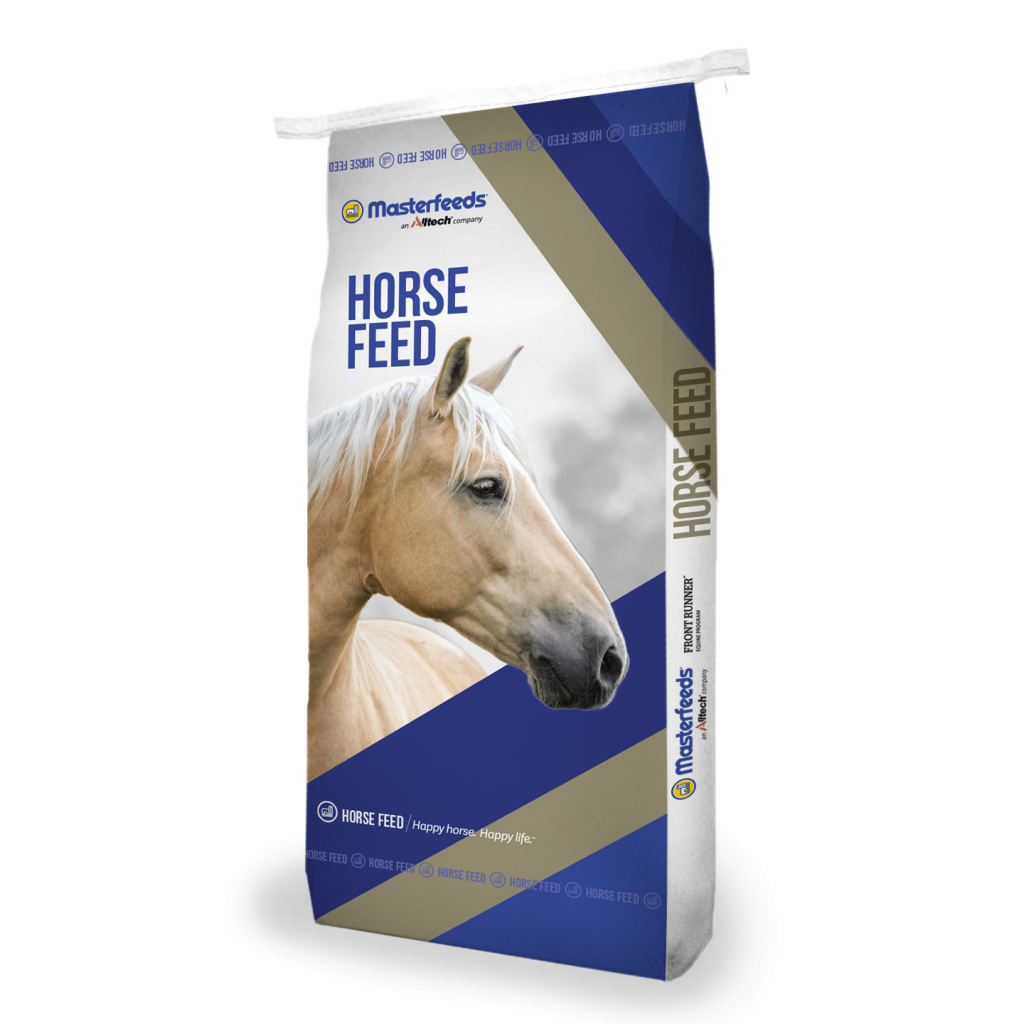 ---
Product Spotlight
---