What's in a name, anyway? While Shakespeare was referring to surnames in that line to mean that names are arbitrary labels, the same can be said for most naming conventions. In particular, we're talking about feed names (of course). Feeds designed for senior horses generally include so in their name, but that doesn't mean those are the only appropriate choices for aging horses – especially those who are still very active thanks to lifelong improved health care and management. In our latest blog, we're going to chat about the nutritional needs of the active senior and dive into qualities to look for in a feed that may be the best choice for your equine partner, even if it's not obvious in the name!
---
Active Protein and Mineral Requirements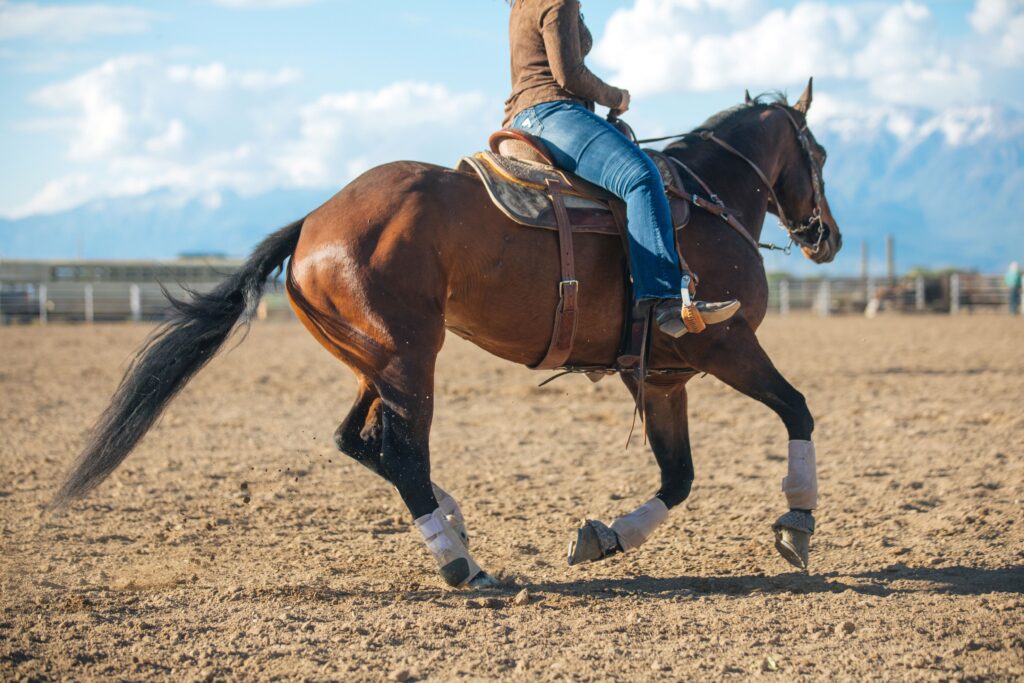 All horses require protein in their diet, particularly growing, active, or senior horses. Since the active senior horse fits in to two of those categories, they can certainly benefit from a moderately higher protein content in their diet (between 12-14%) to help maintain healthy muscle. However, crude protein doesn't always tell the full story of their needs. When it comes to protein, quality is more important than quantity – some protein sources, such as alfalfa and soybean meal, have better essential amino acid profiles and therefore will be better digested and utilized.
Along with protein for muscle health, minerals in the equine diet play a crucial role in supporting the musculoskeletal system of the equine athlete while also providing senior horses with immune supporting functions. Antioxidants help protect cells from damage and a well-balanced ration provides adequate levels of vitamins and minerals to fuel the equine body at maintenance.
Don't be scared away from "performance" feeds for your active senior simply because they are labelled as such – these feeds are often produced with the best quality protein (with added lysine and methionine) and contain elevated copper, zinc, selenium and vitamin E which inhibit pro-inflammatory pathways in the horse. Bonus points if the mineral sources are highly bioavailable, organic form sources, as reduced function in the digestive system of the senior means they need the opportunity to digest the most nutrients out of each and every meal.
---
Gut Health and Condensed Calories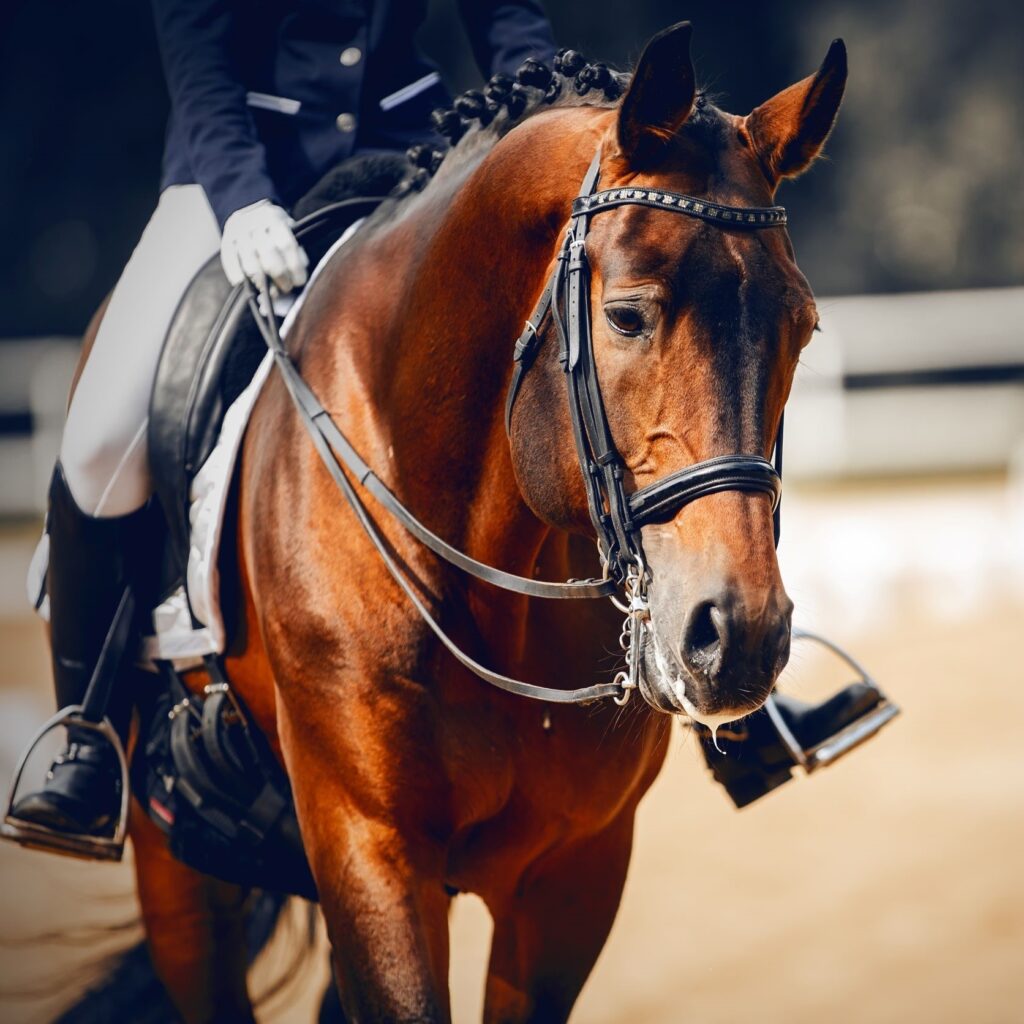 As horses age, so too do their digestive systems. Add dental wear to these age-related changes and the ability to keep weight and condition on your active senior could suddenly become quite a challenge. Reduced function in both the small intestine and the hindgut means that inorganic minerals can bypass absorption in the foregut and there is potential reduced ability of the hindgut to ferment fibre. Fat and fibre feeds (regardless of their name) will be the senior athlete's very best friend for conditioning – these energy dense options are loaded with good working calories through fat sources and extra fibre for supporting optimal gut health.
Due to their condensed nutrient profile, these types of feeds are excellent at going to the extra mile for weight gain with each kilogram fed. Smaller meals can be fed to your senior to help ensure he or she is getting as much out of their nutrition as possible when their system may be having a bit of trouble pulling nutrients from food in the first place. Pre and probiotics support gut function and often come added into feeds formulated for horses in many stages of life – such as seniors and athletes!
Fibre, of course, is the crown jewel of equine nutrition. Each and every horse, regardless of age of activity, requires approximately 1.5% of their bodyweight per day in roughage or otherwise fibrous material. For example, a 500kg horse would require approximately 6.5kg of hay per day. Not only does this keep the gut happy and moving, but fibre provides many calories that the athlete can benefit from, particularly the senior athlete.
For those who have worn teeth or other dental issues, consider adding super fibres such as beet pulp or soy hulls, hay cubes or hay extender products. As you've likely guessed, many fat and fibre feeds also contain these ingredients – and with the added benefit of fat for energy they provide excellent rounded nutrition for aging horses.
---
Thanks to better equine management, senior horses are living longer, more active lifestyles than ever before. Senior athletes have a sensitive digestive tract that require a diet that meets their changing needs while also providing good working energy energy on a daily basis – sometimes this means looking to a performance feed, even without "senior" in the name! With good nutritional management, seniors can spend many extra years in the show ring, happy and healthy. Check out some of our best options for the senior athlete, below!

For more information or to schedule an on-farm call or hay analysis from one of our reps, visit our website, contact us, or email us directly at: happyhorses@masterfeeds.com
---
Product Spotlight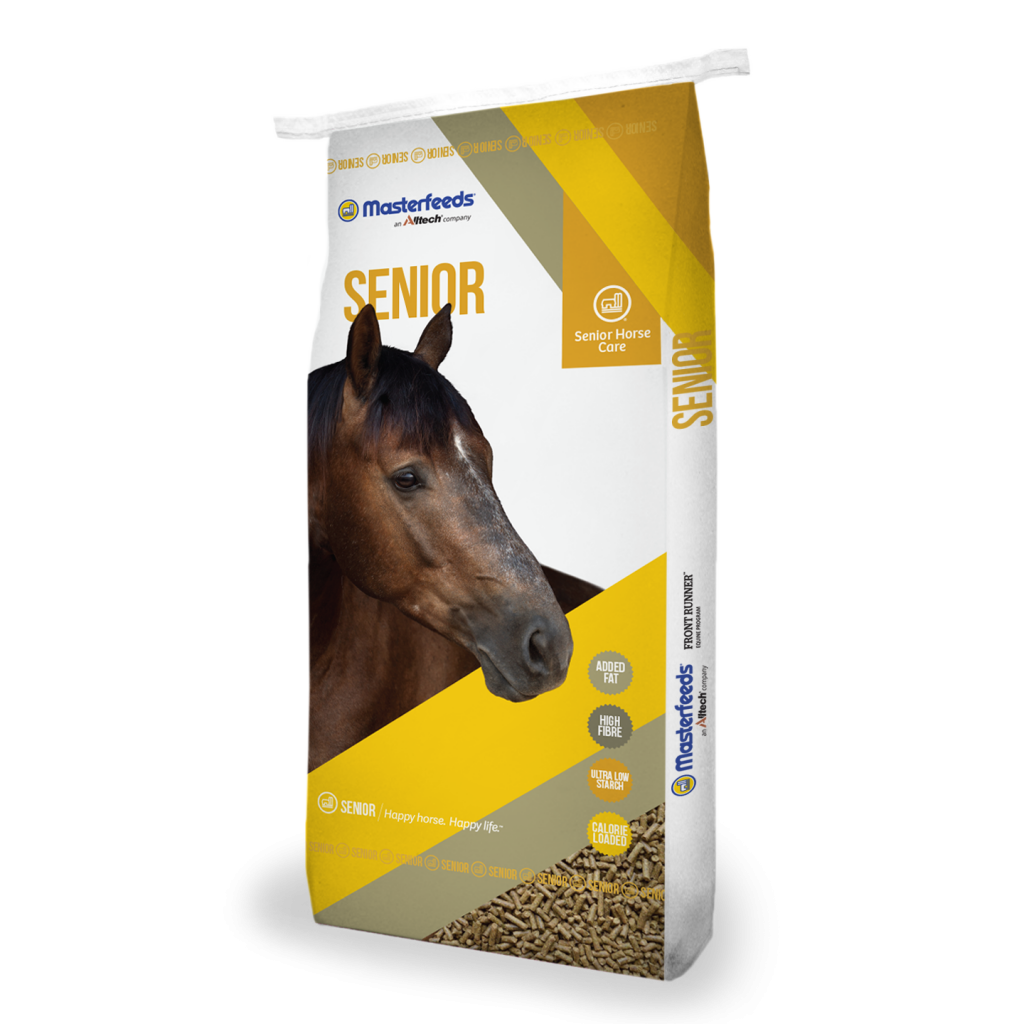 SENIOR (PELLET) EAST | WEST
FOR THE SENIOR HORSE OR PONY
Masterfeeds Senior is one of our lowest NSC complete feeds. It is ideal for the senior horse and also works very well for horses needing a low starch ration with added fat. Digestible fibre sources blended with 6% fat makes it a safe choice for working, pleasure, or retired horses who are sensitive to added starch in their feed.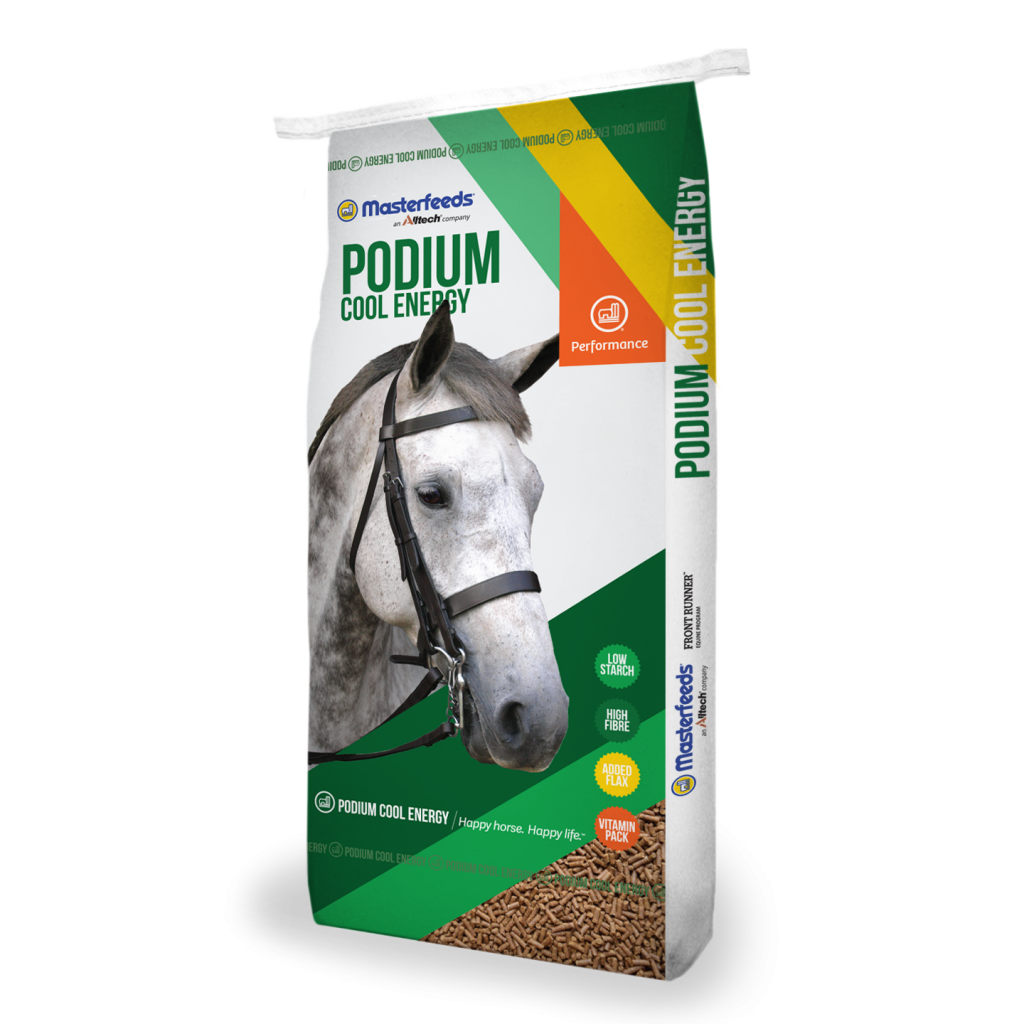 PODIUM COOL ENERGY (PELLET) EAST | WEST
FOR ALL TYPES OF EQUINE ATHLETES
Podium Cool Energy is a favourite with owners and trainers looking for a very low starch feed for high performance athletes. With proven results in reducing ulcer incidence and tying up, it is a great choice for working athletes.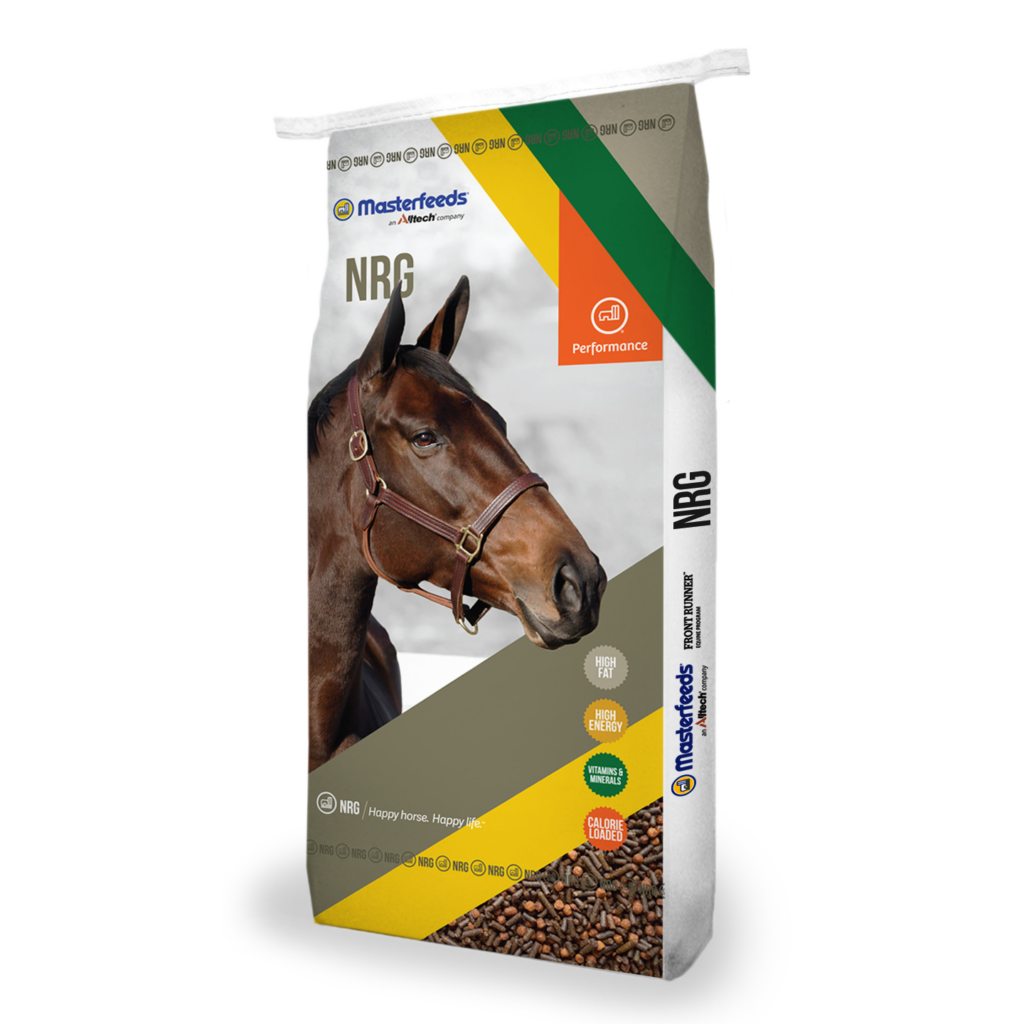 NRG (MULTI-PARTICLE) EAST | WEST
FOR HORSES IN INTENSE TRAINING
Masterfeeds NRG is loaded with calories and good working energy. The fibre content is medium, with some starch and a very high fat content. The 12% fat from all vegetable sources, provides endurance energy, and is fantastic for maintaining weight on horses.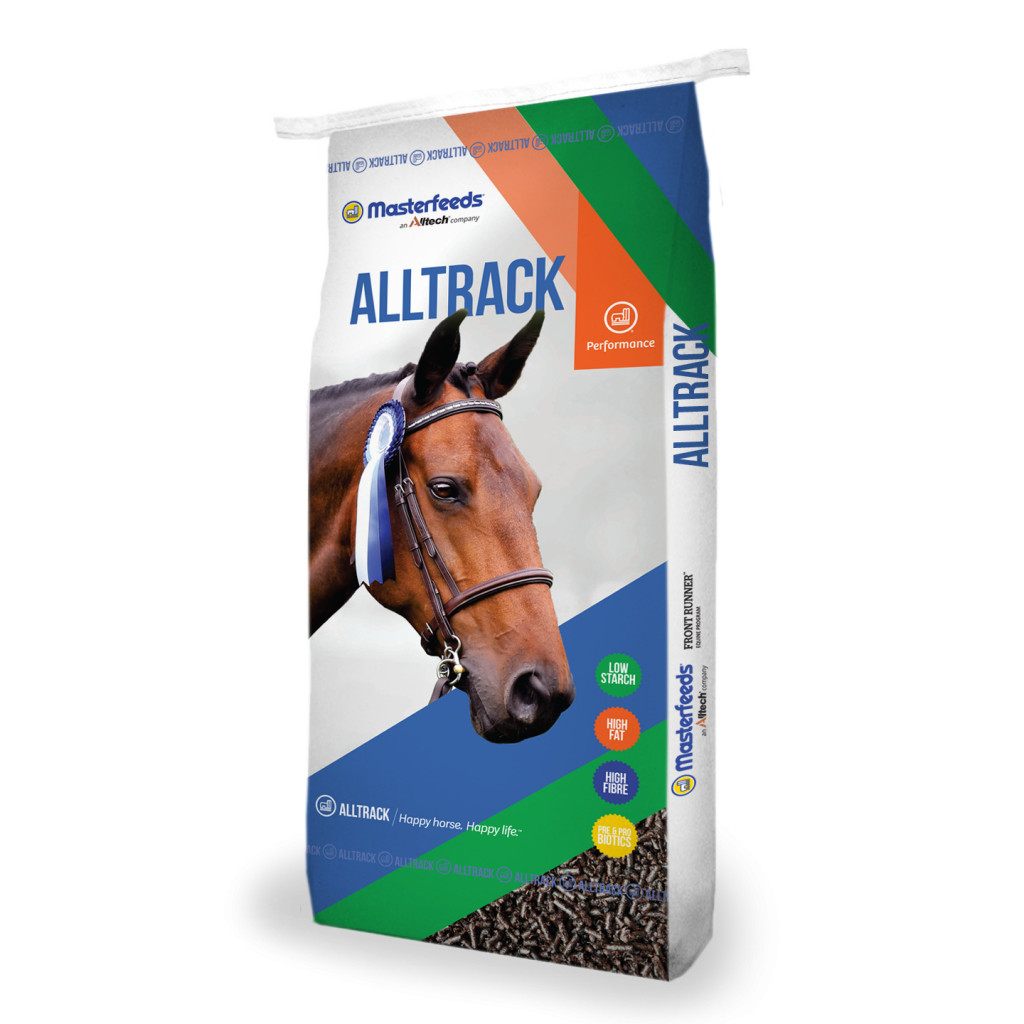 ALLTRACK (TEXTURED) EAST | WEST
FOR ALL TYPES OF EQUINE ATHLETES
Alltrack is a great choice for owners and trainers looking for a low starch texturized feed for high performance athletes. A blend of high quality fibres, beet pulp and soft pellets fortified with protein, vitamins and minerals and blended with oil and molasses makes a palatable complete and balanced feed promoting good digestive and muscle health.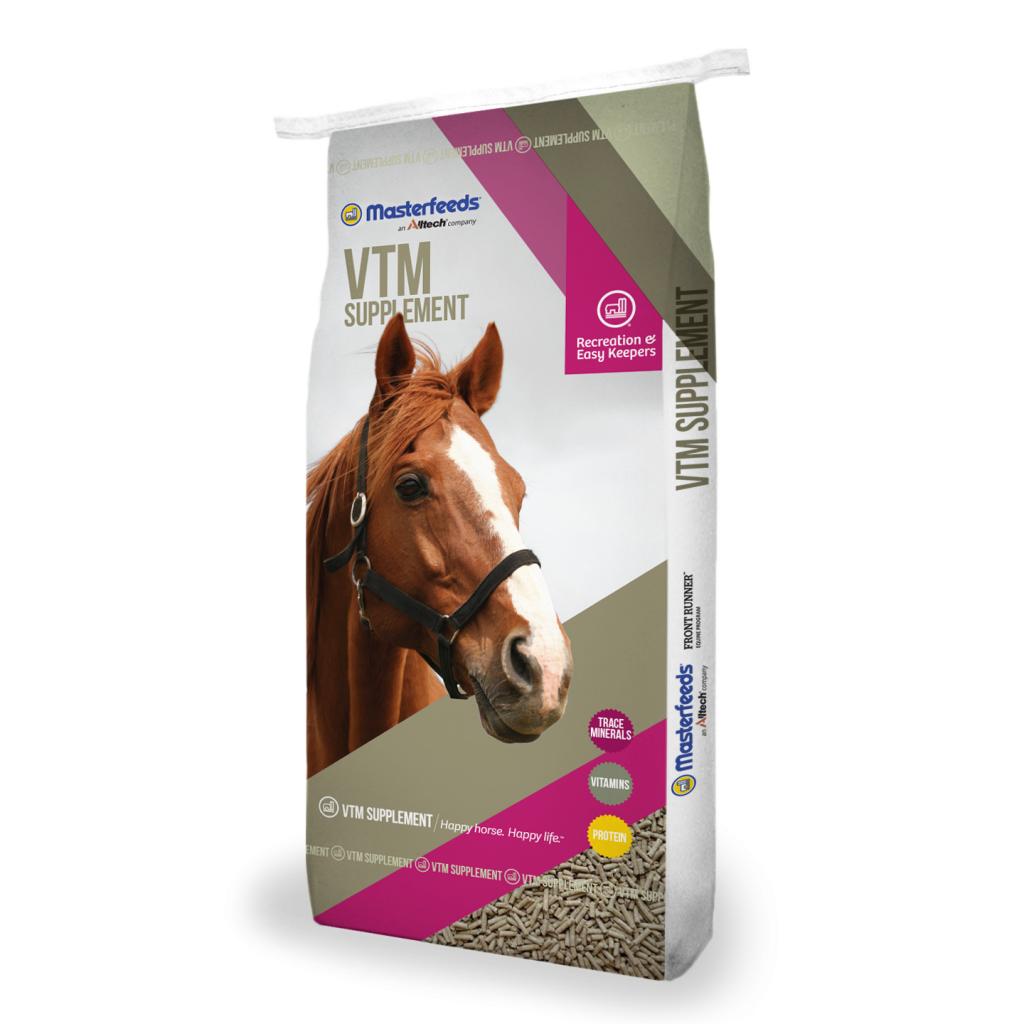 VITAMIN & MINERAL SUPPLEMENT (PELLET) EAST | WEST
FOR ALL CLASSES OF HORSES WHEN EXTRA NUTRIENTS ARE REQUIRED
Masterfeeds VTM (pellet) is a trace mineral and vitamin supplement with elevated protein. It can be mixed with grains to make your own ration or topdressed on complete feeds to add additional minerals, vitamins and protein. Very palatable and versatile, it's a great choice for all classes of horses when extra nutrients are required.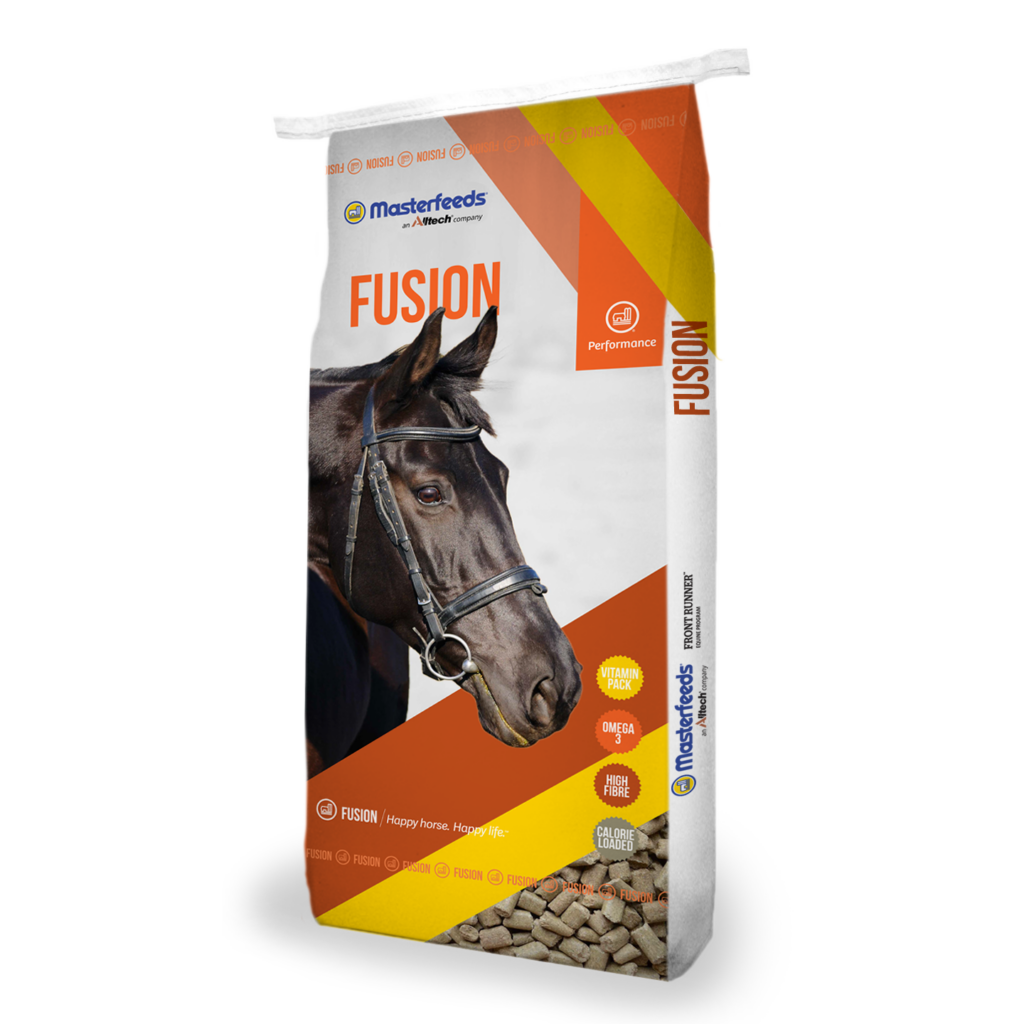 FUSION (CUBE) EAST
FOR ALL TYPES OF EQUINE ATHLETES
Fusion combines fat, fibre and a high level of calories in a very palatable complete feed cube. Added flax provides an excellent source of Omega-3. It's a great choice for owners and trainers looking for a controlled starch premium ration in cube form. Fortified with our premium vitamin mineral pack, Fusion is a complete and balanced feed.
---
Related Posts
---