In this special edition of our Happy Horse Newsletter we highlight one of our current champion customers, Amigo Volo. Trained by Richard "Nifty" Norman for Pinske Stables and David Miller, the petite but fierce trotter has already earned over a million dollars in his two years on the track, leaving larger competitors in the dust and racking up awards and world records along the way.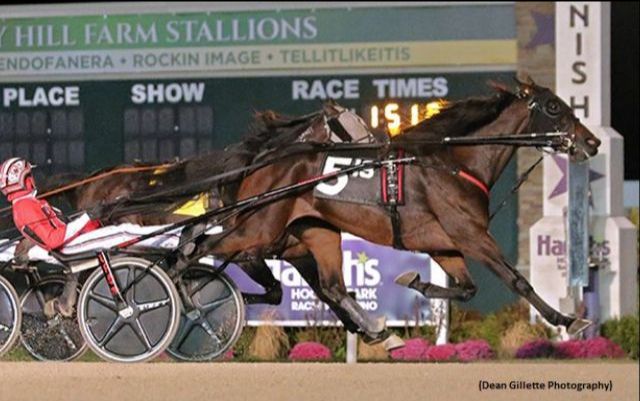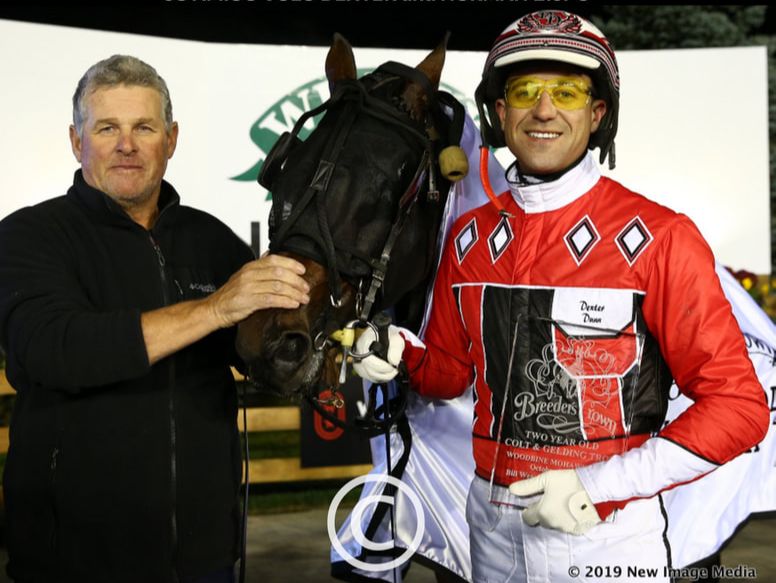 ---
If you've ever had the chance to attend a standardbred yearling sale anywhere in North America, you know the buzz behind certain hip numbers. Horses are brought in and out of their stalls while trainers and their prospective buyers examine the confirmation of those who have already been ticked off as potentials in their sale book due to an excellent proven pedigree.
One such pedigree is that of Amigo Volo. Sired by Father Patrick, a $2.5 million dollar lifetime winner and recent nominee to the Living Horse Hall of Fame, Amigo Volo turned out to have the confirmation to match the pedigree that owner Karl Pinske was looking for at the 2018 Lexington Yearling Sale. The only catch? He was a little smaller than expected. But, at the right price, and with the approval of trainer Nifty Norman who had trained a full brother to Amigo Volo, Pinske's son Carter went ahead and purchased the little colt. Two years later, with a career that includes multiple world records, Breeders Crown wins and a Dan Patch Award – Amigo Volo has shown that size may have less to do with the making of a champion than expected.
---
Two-Year-Old Season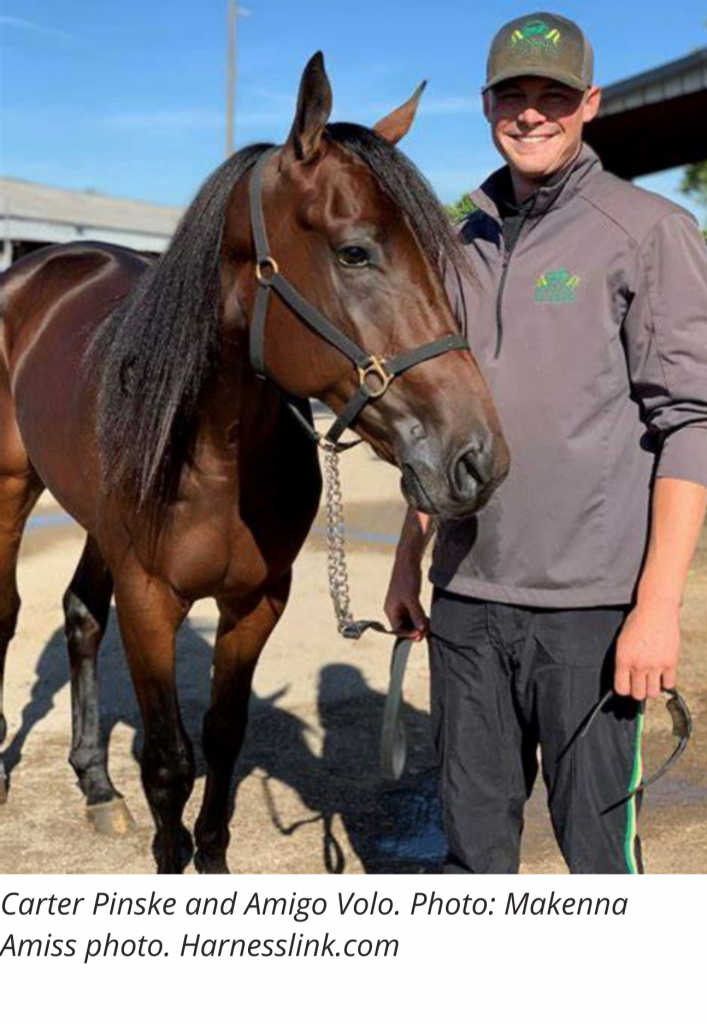 His two-year-old season was nothing short of amazing, even if it didn't start out that way. His debut at The Meadowlands on July 29, 2019 had him finishing in 8th place, which one wouldn't exactly say is a spectacular outing. Two weeks later, however, he broke his maiden at The Downs at Pocono and continued to have an incredible fall season that many would envy.
Hitting the board 8 times of 12 starts, winning 6 of those and earning over $500,000, Amigo Volo also secured a world record of 1:52.3 at Red Mile, as well as a Breeders Crown elimination track record of 1:51.2 at Hoosier Park. He followed that up winning the Breeders Crown for two-year-old trotters.

While Pinske and Norman were amazed by Amigo's first year out, they were rightfully skeptical that he would have a three-year-old season that would be as incredible, let alone arguably even better. 2020 brought another track and world record for Amigo Volo as he raced a mind-boggling 1:50.2 in the $162,000 Matron. He made a return to the Breeders Crown, where he was able to defend his title as champion by winning the $500,000. To top it off, he was awarded the top trotting three-year-old Dan Patch Award, and finished the 2020 season second on the U.S. Trotting Association Top Performers List for all ages. To say that Amigo Volo has a fierce competitive spirit in a small, but mighty package is an understatement.
---
Fuelling Champions
It continues to be debated as to what makes a great racehorse – size, speed, stamina, genetics, heart – but it goes without saying that good management and connections certainly help a racehorse to achieve results to the best of their ability. One of the greatest thrills for us at Masterfeeds, is being trusted by some of the best trainers in the game to feed their champion horses. Nifty Norman is one of those trainers, who is coming off a personal best year for his stable, partly in thanks to Amigo Volo.
As a trainer who pays close attention to every horse in his stable, Nifty takes notice of what works and what doesn't with each. Podium Cool Energy has been the feed that works for Amigo Volo – providing the energy required for training and racing complete with organic trace minerals to support overall body functions and health. The bonus is the palatability in a pelleted feed, as racehorses can be known to go off and on their feed during the racing season. As Nifty told us at the tail end of 2020, "Amigo Volo looks as good now as he did the start of the year. He has been raced all over the country and no matter where he goes, he's never lost his appetite. I give Podium full credit for that." We take pride in understanding the demands placed on equine athletes, and in return, we get to tag along on some of the most inspiring careers in horse racing.
Amigo Volo is without a doubt one of those special horses. Pinske views him as a parallel to the story of Rudy, the college football underdog due to his size, while Nifty thinks you can just never tell what they have inside based on their size alone. For Amigo Volo, what he has inside is a fierce competitiveness that has led to a successful career so far. Masterfeeds and M&N Farms, our dealer in New Jersey, are beyond happy and thankful to be the trusted feed provider for Nifty Norman.
Masterfeeds would like to congratulate Amigo Volo and his connections on a successful 2020 season and wish him good luck in the 2021 season!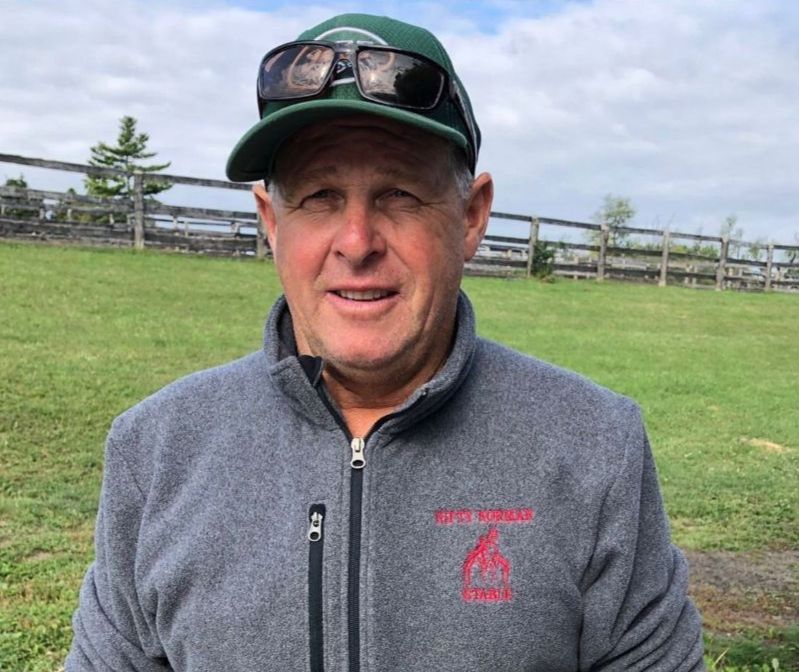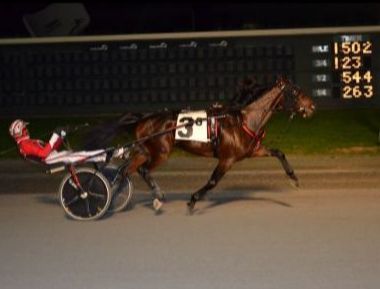 ---
Product Spotlight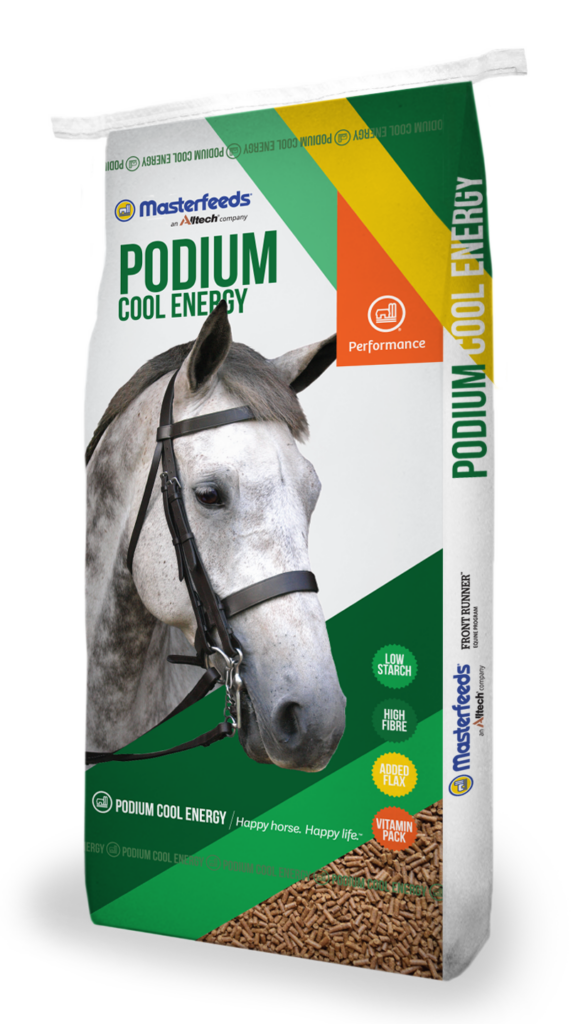 Podium Cool Energy is a favourite with owners and trainers looking for a very low starch feed for high performance athletes. With proven results in reducing ulcer incidence and tying up, it is a great choice for standardbred racehorses, eventers, and any trainers and riders looking for an ultra low starch ration for working athletes. Added flax provides an excellent source of Omega-3 and it is fortified with our premium vitamin mineral pack for a complete and balanced feed.
---
Related Posts
---