The Impressive Career of an Unlikely Champion
In this special edition of our Happy Horse Newsletter we bid farewell to one of our loyal customers, thoroughbred sprinter Imperial Hint, who retired in 2020 at the top of his game, and who we thank for taking our Masterfeeds team on an unforgettable journey.
As the "David" to a many number of "Goliaths", Imperial Hint shows that a big heart is often the magic ingredient that makes a champion.
---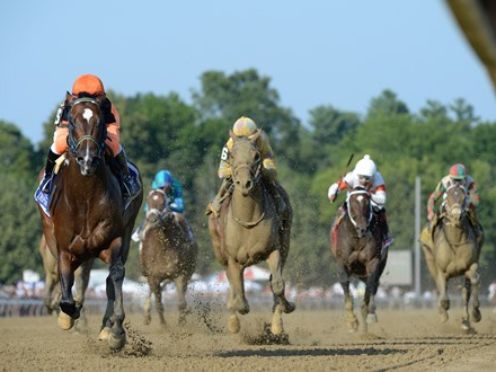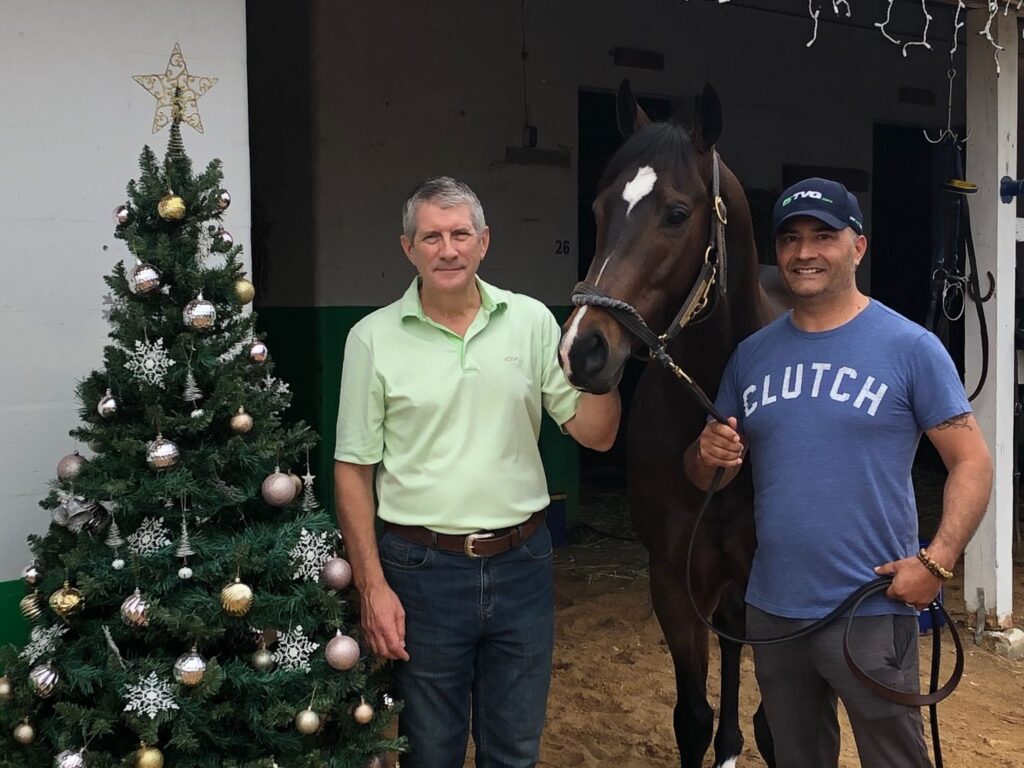 Looking at the small bay sprinter in his stall or out in the field, you have to wonder how Imperial Hint could possibly have held his own in fields full of bigger, taller thoroughbreds. At 15.2 hands, the fondly nicknamed "Little Rocket" proved over a spectacular four-year career that size is truly not the only winning factor in a racehorse. Sired by Imperialism, Imperial Hint stands out from his pedigree in his level of success as a Grade 1 champion, a track record breaker, and 3x Eclipse award nominee.
Retiring with career earnings of over $2.2 million, Imperial Hint took us all on a thrilling journey across three different countries, winning 14 of 25 starts with multiple 2nd and 3rd placings – all with his Masterfeeds Exactor Lite in tow. This is his underdog story, one that starts with thoroughbred trainer Luis Carvajal Jr. following his gut instincts.
---
The Early Days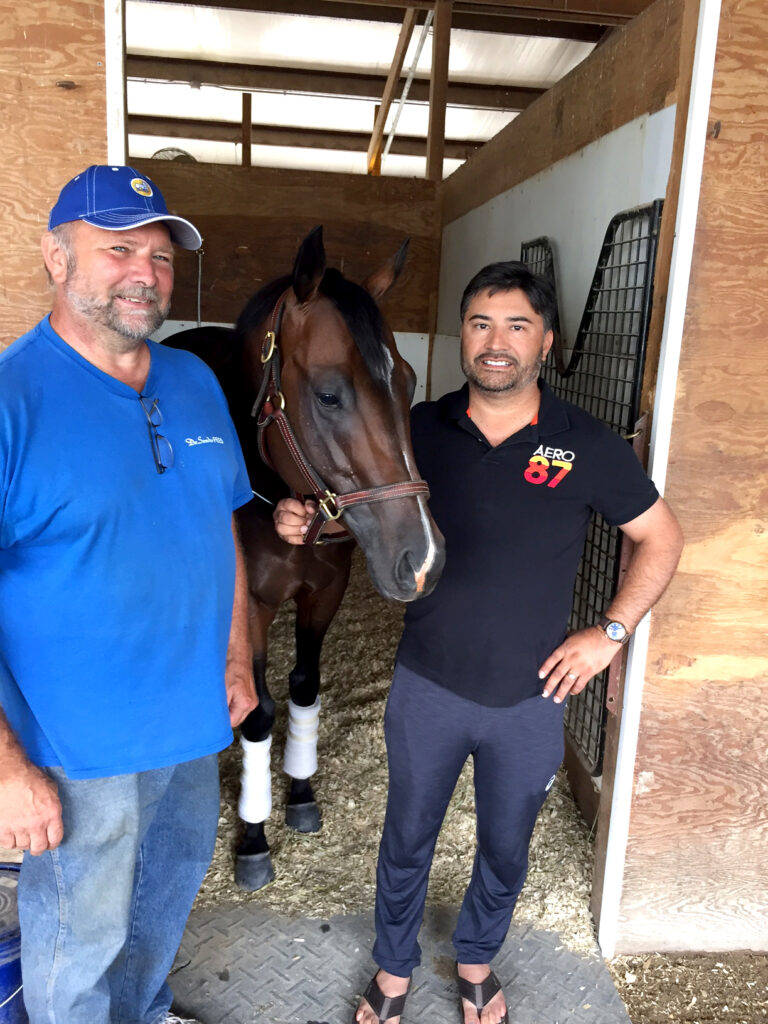 In 2015, while viewing two-year-olds at Shady Tree Farm in Ocala, Florida for owner Raymond Mamone of New Jersey, Luis noticed Imperial Hint. He was not the colt Luis had originally come to look at, and he was small. But he had eye appeal. There was just something about him that Luis liked. However, bringing this colt home and putting him in training at Monmouth Park didn't pan out as Luis had hoped. Imperial Hint was nervous and hard to handle. Quitting with him for the year proved a wise decision, as he broke his maiden at Tampa Bay Downs as a three-year-old by six lengths.
During his three-year-old campaign, Imperial Hint won four out of eight starts. Yet in his last start, it was easy to tell something about the colt was off. He was fit and looked sound, but he raced poorly, which was uncharacteristic. That's when Henry DeSandre of Desandre Feed in Cranbury, New Jersey offered a free bag of Masterfeeds Exactor Lite to Luis.
Imperial Hint immediately took to the Exactor Lite, and his performance improved. His 2017 started positively, as he won the General George Sprint at Laurel Park in February. After this win, the connections received a personal invitation to travel to Dubai to race in the World Cup Sprint in March – all expenses paid. Unfortunately, though he had been ready to compete, Imperial Hint developed an infection and had to be scratched from the race.
His next race was the Smile Sprint at Gulfstream Park on July 1, 2017 for a purse of $250,000 and a "Win and You're In" race for the Breeders' Cup Spring in November. He was unraced since mid-February, but Imperial Hint did not disappoint. Jockey Javier Castellano kept him along the rail the entire trip, and he won by five lengths drawing away. Imperial Hint performed well at the 2017 Breeders Cup, coming up 2nd just behind fellow champion, Roy H.
---
The Take Off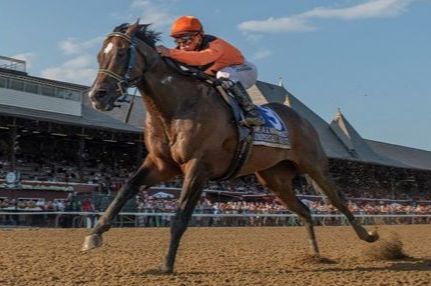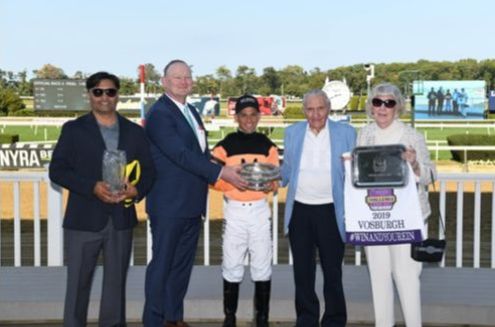 2018 was the year in which the Little Rocket truly launched. After winning a pair of races early in the year, Imperial Hint captured both the Grade 1 Alfred G. Vanderbilt Handicap at Saratoga in July and the Grade 1 Vosburgh Stakes at Belmont in September. Once again, Imperial Hint qualified for the Breeders' Cup Sprint at Churchill Downs, where he placed 3rd to finish off a champion year.
With his eyes on the prize in Dubai, Luis took Imperial Hint overseas to compete in the $2.5 million Golden Shaheen, where he placed an impressive 3rd in a spectacularly different climate. With a strong start to the 2019 season, it was time for Luis and the Little Rocket to turn their attention back to defending their titles in the Grade 1 races at home.
First up was the $350,000 Alfred G. Vanderbilt Handicap at Saratoga on July 27th – a race open to three-year-old horses and older on a dirt track of six furlongs. At the age of six, not only did Imperial Hint defend his title from the previous year, he did it so insistently that he broke a 47-year-old track record, 1:07.92, well ahead of the runner up.
Next was the $300,000 Vosburgh Stakes at Belmont in September. In defending his second straight race, two years in a row, Imperial Hint took off out of the gate, and recorded another victory. After another pair of Grade 1 back-to-back wins in 2019, Luis looked ahead once again to the Breeders' Cup Sprint, this time held at Santa Anita, and a chance to hand a second loss to the 2019 Sprinter of the Year Mitole. However, as luck would have it, Imperial Hint developed a foot blister shortly before the race and was scratched – although Luis was confident that the Little Rocket was ready to showcase his explosion once again for that race.
---
The Retirement Landing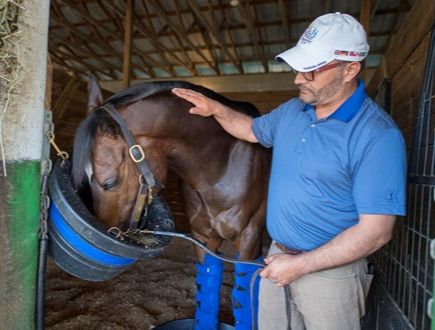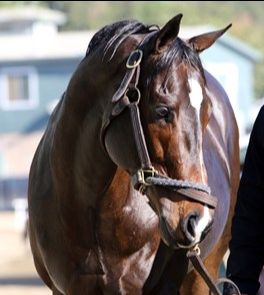 2020 has proven to be a difficult year for many of us. Imperial Hint, now a much older horse compared to most in racing, still had the heart of a champion. In February, Luis took the little bay colt to Saudi Arabia to compete in the Saudia Cup Sprint. Imperial Hint proved not to like the track, and did not place in the top three. Not to be disappointed, Luis set his eyes back on the $2.5 million Dubai Golden Shaheen in March. After safely shipping in and doing some breezing, it was announced that the race would go on without spectators, as the global pandemic of COVID-19 was spreading. A few short days later, the race was cancelled entirely, and the American horses shipped back to the U.S.
On May 31st, 2020, after speaking with owner Raymond Mamone, Luis decided that it was the right time to retire Imperial Hint. Retiring sound, but with some wear and tear, was the best option. Luis wanted Imperial Hint to retire a champion and didn't think he deserved to race below where his heart was.
Not only did Imperial Hint outperform his pedigree in his four-year career, he did so as one of the world's best sprinters. He won multiple Grade 1 races – some back to back – and he was also nominated for the Male Sprinter Eclipse Award three years in a row from 2017 to 2019. The Little Rocket, with a huge heart and loads of talent always had his Exactor Lite in tow, and so our staff was also along for the ride to cheer him on.
We have been privileged to be a part of many great careers of great horses, and Imperial Hint certainly took us on a rocket ride that we will never forget. We thank Henry DeSandre for dropping off that first bag of Exactor Lite, and Luis Carvajal Jr. and Raymond Mamone for trusting Exactor Lite to bring out the best in one of the world's fastest thoroughbreds.
Imperial Hint has taught us that size and pedigree can only get a racehorse so far. Luis looks for that extra special "something". Although he may not know exactly what that is, nor may he ever, trusting his gut instinct got him that horse in his stable with the heart of a champion and results that proved he truly was. Happy retirement, Imperial Hint!
---
Product Spotlight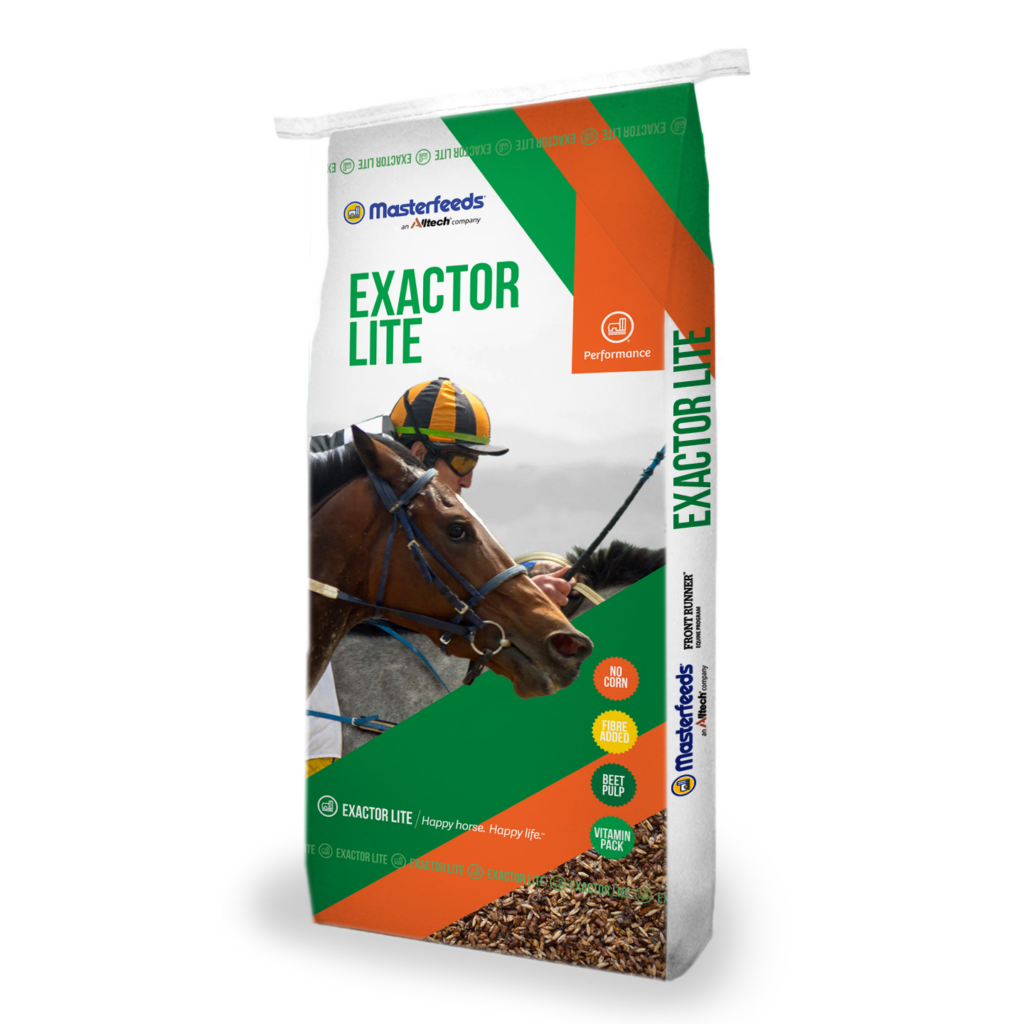 Masterfeeds Exactor Lite (texturized) is our gold standard ration for the race horse and the needs of the high performance trainer looking for a very palatable, no corn, fibre added, texturized feed. Very popular with thoroughbred trainers and well liked across the industry for hard working horses that are fussy eaters and horses with sensitive digestive tracts. This feed is oat and barley based with a supplement pellet containing our premium vitamin mineral pack. It is blended with shredded beet pulp and rich with molasses.
---
Related Posts
---