Rite-Lix Altosid® IGR.01 Beef Cattle Mineral Block
For the Prevention of Horn Fly Infestation
Net Weight: 90.7 kg Product #: 816026 / 816027 – BIO-RITE™
---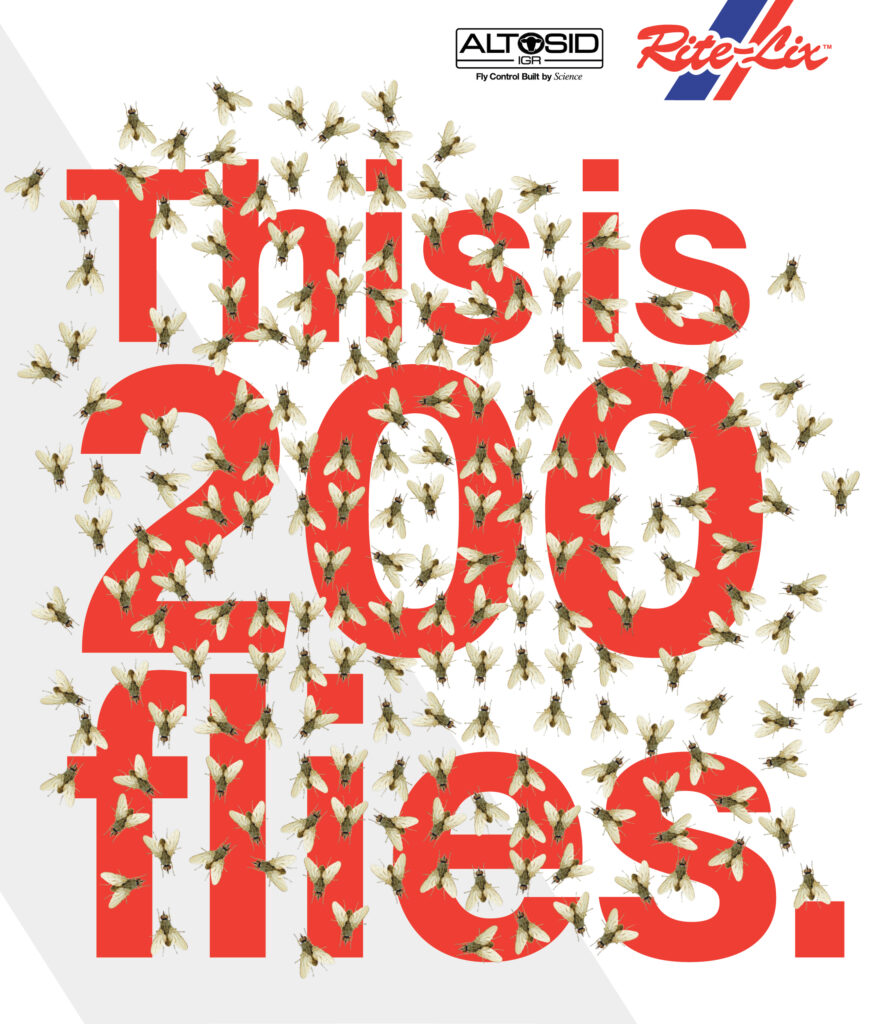 Horn flies can quickly explode to a population of over 4,000 flies per animal.
Horn flies emerge when average daily temperatures reach 18ºC (65ºF) and can quickly get out of control. The economic threshold of diminishing weight gain returns is 200 flies per animal. Help protect your bottom line by using Rite-Lix™ with Altosid®IGR for 30 days before fly emergence through 30 days after the first frost. Following this protocol will help to prevent flies from multiplying and help increase average daily weight gain.
Rite-Lix™ block supplements with Altosid®IGR will help control horn flies and improve cattle comfort. Animals that are comfortable consume more feed and gain better.
Masterfeeds Rite-Lix™ Altosid® IGR.01 is a solid nutritional supplement containing 0.01% S-Methoprene Insect Growth Regulator for continuous feeding to beef cattle. It prevents the emergence of adult horn flies from the manure of treated cattle. Existing adult horn flies will not be affected.
Guaranteed Analysis:
Crude Fat (minimum)

3.0%

Crude Fibre (maximum)

3.0%

Calcium (actual)

8.9%

Phosphorus (actual)

4.0%

Magnesium (actual)

3.5%

Sodium (actual)

none added

Iodine (actual)

40 mg/kg

Copper (none added)

800 mg/kg

Manganese (actual)

3,200 mg/kg

Cobalt (actual)

10 mg/kg

Zinc (actual)

2,400 mg/kg

Vitamin A (minimum)

400,000 IU/kg

Vitamin D3 (minimum)

40,000 IU/kg

Vitamin E (minimum)

200 IU/kg
This feed contains added Selenium at 6.0 mg/kg.
---
Feeding & Management Instructions
Feed this free-choice supplement to beef cattle only. Start feeding before horn flies appear and continue use until cold weather marks the end of the horn fly season. Cattle should consume an average of 11 grams of this product per 45 kg of cattle body weight per day, which is equivalent to 113 grams per day for a 453 kg cow.
Assure cattle are not starved for nutrients prior to feeding.
This product contains added copper. Do not feed to cattle in close proximity to sheep or other species that have a low tolerance to supplemental copper.
Offer cattle one tub for every 15 to 25 head of cattle.
Remove all other self-limiting nutritional supplements while cattle are consuming this product.
Locate where cattle congregate (watering, loafing, shade areas).
Replenish on a regular basis as needed.
If intake is below 11 g per 45.36 kg cattle body weight per day, increase the number of feeding locations and/or change locations to areas more frequented by cattle.
If intake is above 11 g per 45.36 kg cattle body weight per day, reduce the number of feeding locations and/or change locations to areas less frequented by cattle.
Introduction of this product after adult horn fly infestation is established will require treatment of cattle with adulticides if elimination of the adult fly population is desired.
Who Uses: Used by producers who want to prevent horn fly infestations in their beef cattle.
Directions for Use: Use as a beef cattle feed-through pesticide.
---
Features & Benefits
Active ingredient – (S)-Methoprene (0.01%).
An insect growth regulator that prevents the emergence of adult horn files from the manure of treated cattle.
No added salt.
Allows salt to be fed separately and cattle to consume as required.